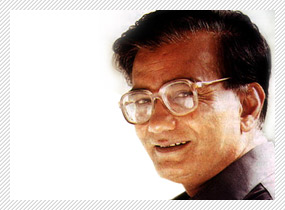 This is a movie that was made at a shoe string budget of Rs. 7 lakhs. Some of Bollywood's finest theatre and film talents, all at key stages in their careers, participated in its creation - Satish Shah, Naseeruddin Shah, Ravi Baswani, Satish Kaushik, Om Puri, Pankaj Kapur and Neena Gupta. The film got released in only four theatres on the first day in Mumbai. But today, in the world of social networking sites - with humor and slapstick not exceeding 140 characters and often being forgotten, Kundan Shah's 16 letters - Jaane Bhi Do Yaaron, are still the trending reason 29 years after its first official release. Yes, the cult classic is on the verge of a re-release in select PVR cinemas across India on November 2. Dark slapstick comedy was never so rib-tickling. Cult films have a pretty standard definition - they're movies that are often transgressive, marginal, disasters on first release, or drawn from genres never tried and tested before and which have attracted an exceptionally devoted and vociferous fan base. Jaane Bhi Do Yaaron is one such example. Yes, we all have behaved in eccentric and extraordinary ways watching this yesteryear gem. Be it a discussion at a pub over a drink with a few friends or rolling down the floor while watching the funniest climax scene while having dinner with family, a film like Jaane Bhi Do Yaaron proves yet again that cult drives only by breaking of various social and aesthetic taboos.
In this special interview with the director Kundan Shah, I relive the nostalgia of the cult in the making.
It can't get any more nostalgic than this, can it? Jaane Bhi Do Yaaron re-releasing after 29 years.
No, it isn't a nostalgic feeling for me that the film is releasing again in the restored version. The first time your film releases makes it special. Yes, I am happy and proud that it's now got the status of a cult film. That time there was a theatre called Bhahar. I went there to ask the usher how it was playing. He said it's not doing good. The film got released in four theatres and then six. That's all Jaane Bhi Do Yaaron saw on its first day.
I hear that there is a sequel in the making too?
I was in constant touch with Ravi Baswani, who is no more now, and Naseeruddin Shah as we were commissioned to write Part 2 of Jaane Bhi Do Yaaron. The sequel to Jaane Bhi Do Yaaron is ready. The script is ready. The idea is not to get conditioned by Part 1 at all. But I would like to see Part 2 come out someday.
Did you ever dream that your debut film will achieve a cult status? Not many get such rewards.
In 1990, Renu Saluja called me. She is no more today. She was the editor of the film. Renu wanted a copy of the film. Now seven years had passed on and she was asking for a VHS tape if I had any. Out of curiosity, I questioned, "Why do you want a VHS of Jaane Bhi Do Yaaron?" (laughs). She answered, "People are talking about it and I want to see it again". It was only after Satish Shah too called and told me that Doordarshan Metro channel started showing the film every other day on the television. Somewhere the cult status had started to develop. I feel a lot of good things get appreciated. You cannot criticize a cult.
Why aren't such films being made or thought of even today?


The basic purpose of a comedy is to make people laugh. It's a question of an underdog trying to be a winner. I will give you a classic example - Charlie Chaplin is in custody. There's lunch time and Chaplin and the rest of the prisoners are sitting on the table with a loaf of bread in front of them. There is a criminal five times bigger than Chaplin who eyes his bread. He grabs it from him. Chaplin is the underdog. Now the comedy doesn't come from Chaplin making faces but how Chaplin struggles to get his bread back. That inspired the climax scene of Jaane Bhi Do Yaaron. How everyone tries to get D'Mello's (Satish Shah) dead body.
Have you seen Barfi?
Yes. I liked Barfi. It's a feel good cinema with great acting and superb comedy. It's not about copying the scenes. It's about the fact that the film was made from the heart. It's a true and a touching tale of a disabled lover trying to win his true love and how he tests his love in a world filled with insecurities.
You have to tell me how the Draupadi 'chir-haran' scene was conceived. It's epic!
We always wanted a comic climax to a small budget film like this. We never wanted an action climax. But then we thought of Mahabharata. It was action packed. What if that was made to be comedy is what we thought of. We could have so many characters too. Plus, all the actors had done theatre too. So the Draupadi chir-haran became the cult comic climax ever.
The dialogues of Jaane Bhi Do Yaaron still give us stomach aches.
(laughs) The dialogues of Jaane Bhi Do Yaaron are still remembered. After Sholay, Jaane Bhi Do Yaaron dialogues are the most recalled I feel. Satish Kaushik has done a fantastic job writing the humorous lines. It came too naturally to him. His rooted humor was classic and it was the spoken word back then more than just the dialogues that Satish wrote with Ranjit Kapoor.
BOLLYWOOD NEWS
Catch us for latest Bollywood News, New Bollywood Movies update, Box office collection, New Movies Release , Bollywood News Hindi, Entertainment News, Bollywood News Today & upcoming movies 2020 and stay updated with latest hindi movies only on Bollywood Hungama.