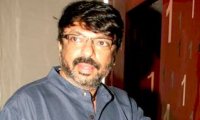 Sanjay Leela Bhansali opens up for the first time on his pain and Aamir Khan's 'creative differences' with him.


Why are you more exhausted this time after Guzaarish than you've ever been before?

You noticed that? I am completely drained of all energy. I didn't realize how tired I was until the film was over. Then my body just gave up. To get myself
out of the house to promote the film is an ordeal for me. All my films are a process of self-annihilation for me. With every film of mine, a part of me gets
left behind. With Guzaarish, I've left more than just a portion of myself behind. In it, I've lived the pain of facing the isolation of failure after
Saawariya.



I've to confess that I enjoy the pain underlining my creations

That was a tough time for you?

Yes, it was the toughest time of my life. Suddenly everyone disappeared, and that included the people who had worked with me on Saawariya for two
years. Because of the suffering I began to get seriously interested in the subject of mercy killing. I began to read up as much as possible on the subject.
My research showed that mercy killing was prohibited by law in many countries including India .Almost a year of studying the super-sensitive subject, I
concluded that every human being should have the right to die with dignity.


That's how Guzaarish was born?

Yes, the pain and suffering and the dignity with which I bore them prompted me to make a film on mercy killing. I was shocked to read newspaper reports of
people pleading to let the life of a critically ailing child/parent/spouse go. While researching on the subject, I fobbed off all temptation to watch films
on the subject of mercy killing. I didn't want to get even remotely influenced in my thought and vision by what other filmmakers have done on the subject.
Having said that, I've to confess that I enjoy the pain underlining my creations. I love cinema so much that I want to give it more and more. I enjoyed
working with Hrithik, Aishwarya and the whole team so much. They'd take those four steps towards realizing my dream. I'd take that final fifth step. The
search for excellence is never-ending. I had to work ten times harder on Guzaarish than my first film Khamoshi: The Musical.


Curiously, Guzaarish is your third film on physically-psychologically challenged characters.

I want to ask you one thing. Aren't the fighters who face and overcome all physical and psychological and social odds our real heroes? When I made films on
the hearing and speech impaired, Khamoshi and Black and now about a quadriplegic people asked, why films on such peripheral people? Because I
want such special people to enter our mainstream society through mainstream cinema. I want these children of a special God to reach out into the mainstream.
My hero may not be able to walk but his spirit soars. He has a story to tell, jokes to crack, a life to live. Although so much has been taken away from him
or maybe because so much has been taken away, Hrithik in Guzaarish understands the value of life better than you or me. A hero doesn't have to beat up
ten people and put his hands up in the air in slow-motion and sing love songs.



A hero doesn't have to beat up ten people and put his hands up in the air in slow-motion and sing love

songs



So are your films supposed to be for a social good?

No-no. I make them for selfish reasons. When I make a film about a physically challenged person, I come away with so much. I learn to value what I have. My
survival instincts have sharpened after Black and Guzaarish. I met quadriplegics who have lost the use of their limbs but not their spirit.
They are not dark defeated people. Some of them are very entertaining. Our specialist on the sets Dr. Indu Tandon introduced me to bright people paralyzed in
body but liberated in spirit. They can't feel anything in their body. And yet they are so buoyant. One of these kids, John Julius became the hero of
Guzaarish. Hrithik plays this caustic undefeated hero in a wheelchair. John and Hrithik became great friends. They started exchanging emails. Hrithik
changed John's life completely. If my cinema can change one life, I've achieved what I had to achieve. I had to be sensitive towards the issue. We had to get
the details right. It's about a quadriplegic. But it isn't about quadriplegia. Hrithik plays a magician who, after an accident, brings magic into people's
life on the radio and his interaction with the two people in his life, played by Aishwarya and Aditya Roy Kapoor.


Aamir Khan thinks the little girl in Black (Ayesha Kapoor) was treated brutally?

Yes, I keep hearing the girl was traumatized. But Behroze Vaccha, who has spent all her life working with deaf and blind thought otherwise, whom should I
believe? I don't worry about what others have to say. My proudest moment was when the principal of the Helen Keller Institute told me after Black that
what she couldn't achieve in 60 years, I did with that one film. I rest my case.


Aamir had a lot of problems with your Devdas and Black?

He did. But that's because he cares about my cinema. If he didn't, he wouldn't spend so much passion talking about it. He may not agree with what I do in my
films. But finally, I make what I have to make. I appreciate it when an actor of his caliber brings out a certain perspective on my cinema. As long as the
intentions are not to run my cinema down, I am open to all criticism. Aamir's concern is genuine. He has problems with my cinema, just as I may have problems
with a lot of his performances.



Aamir's concern is genuine. He has problems with my cinema, just as I may have problems with a lot of his

performances



Would you like Aamir to see your new film?

I would certainly like him to see Guzaarish. He genuinely cares for cinema. I was upset when he brought up issues regarding Black when his
Taare Zameen Par was on release. The timing seemed unfortunate.


Guzaarish has a lot of references to magic and magicians?

I feel life has lot of magic in it. A smile, a film, a performance or a song by Lataji...they are all magic. Magic should not be illusory only. In my film, a
magician transforms into a man who can bring smiles to people's faces. That to me is magic. Life is magic. Mother Teresa and Lata Mangeshkar are magicians.
Why are your films so often set in the anglo-Indian community?

That's the influence of my school and teachers. The passion with which they taught, the homes in which they lived and where I was invited on rare occasions...I
was enamored of their lives, their eating habits their red wine in crystal glasses... It was so different from the Gujarati life that I led in my chawl in
Bhuleshwar. It provided me an alternate reality.


Hrithik actually learnt magic tricks and got flabby to play the quadriplegic in Guzaarish?

I don't believe in method acting. I don't instruct my actors too closely. I just tell them what I want. I wanted Hrithik to know his character's state of
mind. If he played a magician, he knew he had to learn magic tricks. A person who is in bed for 14 years had to be flabby. I am glad Hrithik has reached a
stage in his career where he's ready to surrender to a part and not be concerned only with looking good. Audiences want to see the stars do something new.
They want to see stars become part of the drama. He plays a character who taps his weaknesses and strengths to emerge stronger than adversity. I won't make
only happy or sad films. I won't make time-pass films. I want to invest my creativity into films that have more to say than just have a good time.


How has Aishwarya Rai Bachchan grown as an actor since Hum...Dil De Chuke Sanam and Devdas?

Because I know her so well, I knew what to tap out of her in our third film together. Her character Sophia is very different from what she did in my earlier
films. She is so strong and so resilient. She's intelligent and hungry for good work because she lives in a family of great actors. She is the Aishwarya Rai.
So she has nothing more to prove. She just enjoys the process of acting.



I am glad Hrithik has reached a stage in his career where he's ready to surrender to a part and not be

concerned only with looking good



You've also composed the songs in Guzaarish. How different is it composing your music from getting the music from other composers?

You can never get the exact music you want from others. Since you know your characters, you know exactly what kind of songs they would feel. The songs came
from deep within me. I had a great time working with R.D Burman, Jatin-Lalit, Ismail Darbar and Monty. But the music in Guzaarish is my own and very
important. My reward was when Mr. Bachchan said he loved the music. It meant so much to me. I never thought the music would have such a strong appeal for the
young. The fact that my songs have connected with the young makes me want to go deeper into music.


People are commenting in the self-contained no-man's land in which your cinema unfolds?

My films are my world. I've my own world that I show in my cinema. It's a world different from the real world and different from the word you see in other
people's films. My Devdas was not set in 1939. It was timeless. This doesn't mean I'd show Devdas talking on a cell phone. I want that moment
that bonds two lovers to be relevant even a hundred years from now. For me, the joy of crossing boundaries within the mainstream cinema is what making film
is about. I want to know how my quadriplegic hero Hrithik Roshan in Guzaarish is any less heroic than Salman Khan in Dabangg. I firmly believe
the common man has uncommon sense of aesthetics and drama. Wasn't there a time when Bimal Roy's films were mainstream hits? Iqbal and Black
were hits in recent times. If Daniel-Day Lewis can be so much appreciated as a quadriplegic in My Left Foot, so can Hrithik Roshan. I've great faith
in the audience.


Is it tough to have so many expectations riding on you?

No. It's a privilege and a joy. I always want to make films from my heart!
BOLLYWOOD NEWS
Catch us for latest Bollywood News, New Bollywood Movies update, Box office collection, New Movies Release , Bollywood News Hindi, Entertainment News, Bollywood News Today & upcoming movies 2020 and stay updated with latest hindi movies only on Bollywood Hungama.