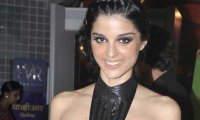 Giselli Monteiro could well have forever been known as a Punjabi kudi if not for the declaration by the makers after the release of Love Aaj Kal that she in fact was a Brazilian model turned actress. So convincing was the girl in her portrayal of Harleen Kaur that it was clear suspension of disbelief when audience saw her exchanging sweet nothings with the Jat Sardar (played by Saif Ali Khan). In an exclusive conversation with Joginder Tuteja, Giselli talks about how her acting career has progressed further with the Shah Rukh Khan production Always Labhi Kabhi falling in her lap.


You were the surprise package in Love Aaj Kal. So finally with Always Kabhi Kabhi, you will have a film that would have your name in the opening credit rolls?

Yes, it is interesting for sure (smiles). While everyone is new in the movie, I have done a movie. Still, I won't say that there was much difference since I am still learning a lot. It was a pleasure working with Zoa, Ali and Satyajeet.


It was a pleasure working with Zoa, Ali and Satyajeet

But tell me honestly; was this the kind of film that you were looking for immediately after Love Aaj Kal?

There were offers coming my way but really, most of these roles were similar to that of Harleen Kaur from Love Aaj Kal. Perhaps they identified me most with that. But then my point is that I haven't been seen much in other characters either so why should I continue doing the same thing again and again.


And this is where a school girl act came in. Now that must have sounded exciting; after all it also went well with your age bracket, right?

Yeah, I could afford to chill out as everyone around was basically my own age. While playing a student it felt as if I was growing up all over again. It was a very nice feeling.


So what's the kind of presentation that you have in Always Kabhi Kabhi? A cute-n-nice girl or someone who is over glamorised and makes heads turn?

I am more on the sweeter side. Now that actually brings a variety in the film because both Zoa and I have different personalities in the film. She is more of a tomboy and straight forward. I am playing a half-India who has lived in London and has now stepped into India.



I am playing a half-India who has lived in London and has now stepped into India

I can well imagine that between Love Aaj Kal and Always Kabhi Kabhi, there must have been countless suggestions and advice coming your way.

Ask me (smiles). It was kind of complicated and very hard for me to take people's opinion on something that I was doing. So many times I would call up my mom and talk to her about what I encountered here in Bollywood. She doesn't understand the industry though but she used to listen to me.


So what really helped you in keeping your sanity intact?

I just stuck to my heart and took my own decisions. I was being careful about whom I met and what I speak about. Especially in the kind of profession that acting is where everything is so open, you don't know what you may do or speak and within a few hours it would be out in newspapers. There were so many opinions and I had to learn to deal with them.



And what stayed on to be your support system during this entire period? Do you have friends and family in Mumbai or have you been taking care of yourself all alone?

I won't say that I was entirely on my own. There are friends who made a difference. In any case those select few people I talk to are the ones with whom I work; so all of it went hand in hand. But yes, eventually it was me who decided what was the right thing to do.


Since you have been an established model internationally and are comfortable with the world of glamour, do you think that you have found your bearings in Bollywood?

Yes definitely. Having said that the pressure today is much more. When I did Love Aaj Kal, no one knew me in India. Today they know where I belong to. Then I couldn't speak the language but now I am being observed more so that my mistakes could be caught. No, I am not really scared of that but then yes; I have to be more particular about what I have to do during shooting. I am still learning a lot about this profession as well as the country. Nobody knows what would happen next but then I am giving my 150% and now waiting for the results.
BOLLYWOOD NEWS
Catch us for latest Bollywood News, New Bollywood Movies update, Box office collection, New Movies Release , Bollywood News Hindi, Entertainment News, Bollywood News Today & upcoming movies 2020 and stay updated with latest hindi movies only on Bollywood Hungama.