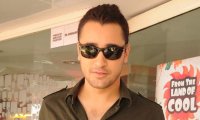 I remember my meeting with Imran Khan at his Pali Hill residence in the summer of 2009 when he showed me some of his 'black eyed' stills from Delhi Belly. Referred to as the 'blue eyed boy' of our industry, Imran Khan has always displayed his romantic side in front of you. Come July 1, the 'Khan' boy will reveal his humorous side to one and all in his most ambitious film to date. Rightly so, Imran is still keeping critics and fans guessing. But will he have the quirkiest of resumes post the release of Delhi Belly? Who knows? One thing is for sure, this Khan knows how to sustain his success and suaveness. Imran's 'coolness' has always presided over his fashion trends, which is the case today. Casually decked out in boot fitting, faded blue denims, a navy green shirt and his big brown boots, he is looking his usual, ruffled self when I meet him in Khar at one of the many offices of Aamir Khan, or to put it in Imran's words, 'the same office where he gave his first screen test for Delhi Belly in 2006'. Imran is seated on the same couch that got lucky to be known as the 'casting couch' for him as far as Delhi Belly was concerned. I ain't talking about the 'casting couch'; I'm talking about how he got lucky to be cast in the film. So as we talk about his passion for Tarantino and Guy Ritchie slick flicks, he quietly removes his boots and stretches his legs for more comfort. That's what I like about Imran. He is so himself. He isn't an actor sitting in front of you. The guy doesn't have an arrogant bone in his body. But he is self-protecting. You catch it both in his performances and when you meet him: an impenetrable, distracted manner erected to protect the sweet and soulful person within. UK's Harrow Observer columnist and Bollywood Hungama's London correspondent gets the kookiness out of the Khan in this exclusive tête-à-tête on his film that is surely gonna tickle your funny bone. God forbid but hope we are left with one after the film gets over!


"Aamir's aim is that people should not be deceived"

More than targeting a certain group of people, we are protecting a certain group of people. Aamir as a producer has been very responsible and very particular. His aim is that people should not be deceived or cheated. There is a tendency very often when people promote a film; they will not be honest about it. There have been instances in the past of films being promoted as comedies when they are not actually comedies, etc. Aamir is terrified of that happening. Delhi Belly has passed through an Adults certification. He believes that it is an Adults film and has to be promoted like that.


"I am a huge fan of Tarantino and Guy Ritchie"

Delhi Belly is an Indian film in English. I am a huge fan of Tarantino and Guy Ritchie. Lock Stock And Two Smoking Barrels was a landmark film for me. People have tried to remake those films but what they've done is that they've taken the script and translated it into Hindi and made the film. The problem is that Lock Stock And Two Smoking Barrels is a British film and the characters are set in London. You cannot switch that. Similarly, Pulp Fiction is an American film and there is no way you can make that into a British film. What our writer Akshat has done is that he has written that kind of a film in India, the characters are actually Indian people and the humour and all is Indian. We've managed to make a film like Snatch and Lock Stock in an Indian setting. We've never done that.


"The style of humour in Delhi Belly is very dry, very straight faced and sarcastic"

Vir Das is the best stand up comedian of India. Then there is KRK (Kunal Roy Kapoor). The humour will be redefined with Delhi Belly. The style of humour in Delhi Belly is very dry, very straight faced, dead at times and sarcastic. It's a 'throw away' humour. You don't emphasize that it's a joke. You need to be fast to understand it. Andaz Apna Apna had such humour but no one got it back then. Today the film is a cult when it comes to comedies. But I don't know whether we will find that audience today.


"My personal humour is on the lines of Delhi Belly humour and the role is tailor made"

Delhi Belly role was tailor made for me. It's a role I believe in very strongly. My personal humour is on those lines. That's the way the script is. I read the script and I knew it that the role was mine. I knew the lines and didn't need to rehearse it. Akshat and Abhinay told me not to address my lines as a joke but just throw it out.


"I did my first screen test for Delhi Belly in 2006 and my last in 2008"

Strangely, I did my first screen test for Delhi Belly in 2006. The film was picked up for production at the same time as Jaane Tu... Ya Jaane Na. At that time, Jaane Tu was in pre-production. In 2007 and 2008, over the span of two years I did five screen tests. There was initially a Swedish director called Robert who had come on board. I tested for him then he left the project. Abhinay came on board and felt that I was too young for the role as he wanted to make it with the mid thirties cast. I got rejected then. It didn't work and he called me yet again. The final screen test was done in July 2008 just when Jaane Tu was to be released. I gave my screen test with Vir and Kunal then and we all three were finalised.


"For me, I like my commercial space and love doing rom-coms because they are fun"

For me, I like my commercial space and love doing rom-coms because they are fun. I lie to do a Delhi Belly too because it gives me a chance to play. May be it'll work or not, but at least it'll be fun. Delhi Belly is a boy's film and boy's film is always fun. The chemistry between all three clicked so well. Vir is hilarious and so is Kunal. Again, their sense of humour is in sync with mine so it was more of a boy's club scene.


"I hope that the Western audience understands the humour"

Somewhere I'd be a little worried about the Western audiences getting the humour of Delhi Belly. I mean, there are some things that are inherently Indian and you need to be an Indian in the head to get it. A lot of it is open for everyone to understand but there may be some little idiosyncrasies that people may not get but the film has the scope to reach out to a non-Hindi speaking audiences.


"We are releasing the Hindi dub version in single screens across India"

Delhi Belly also has a huge mass appeal. So what we decided was that in the single screen theatres across India, we will release the film in Hindi dub version so we can reach out to the mass audience as well. We didn't want to get restricted to the multiplex audience.


"There was supposed to be only one song in the film - 'I Hate You Like I Love You'"

The music is of supreme importance. If the music clicks, half your battle is won as the audiences are going to come to the theatres to watch your film. People like the songs and they will come to watch those songs. It takes a lot of pressure off us. The songs 'DK Bose' and many in the album were recorded for the background score in the film. There was supposed to be only one song in the film called 'I Hate You Like I Love You'. But then Ram Sampath was churning out these incredible tracks that we were thinking were the right ones to be promoted for our film.


"I feel that Delhi Belly will go down as a cult film in its genre"

If Delhi Belly works, it will encourage a lot of people to try such kind of cinema. We are pushing so many boundaries and taking so many risks with Delhi Belly that if the film works, producers in our country will want to take risks too by making such films. There are so many directors and writers who want to make and write such kind of films but are not ready for it because of reasons best known to them.
BOLLYWOOD NEWS
Catch us for latest Bollywood News, New Bollywood Movies update, Box office collection, New Movies Release , Bollywood News Hindi, Entertainment News, Bollywood News Today & upcoming movies 2020 and stay updated with latest hindi movies only on Bollywood Hungama.