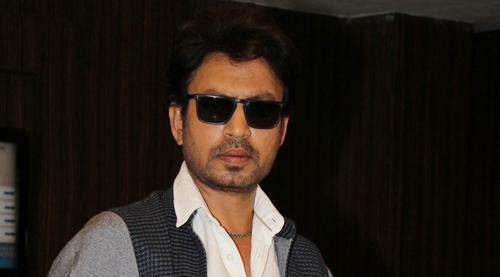 An act for the class as well as mass - This is how Irrfan Khan has built his career brick by brick, especially in last 10 years that has seen him rise and shine in the film
industry, both in Bollywood as well as Hollywood, in a major way. If films like Jurassic World and Life of Pie have shown him explore the extreme ends of Hollywood entertainment seven
seas away, closer home he has shown what he is capable of in affairs as distinct as Paan Singh Tomar, D Day and Piku.


Now add Jazbaa to the list!


In his most flamboyant avtar till date, Irrfan Khan is looking at bringing on a 'masala' act in his own inimitable avtar while making sure that audiences are entertained with his characteristic
tongue in cheek humour.


"A lot of that is also due to the 'seeti maar' dialogues that have been written for him," informs our source, "They are sassy, sarcastic and at times, naughty, which is bound to bring on the
smiles, chuckles and at places, full on laughter. He is playing to the gallery and while that would ensure that he also penetrates further into the single screen audience, for the multiplexes he is
all set to engage all over again with his style and act. It is a perfect balance of his inherent personality and the effort that director Sanjay Gupta has put on his characterization and
presentation."


This was pretty much the need of the hour too since Jazbaa has Aishwarya Rai playing a troubled mother and a lawyer who just has a few hours to save her daughter's life.


"Since she cannot be expected to crack jokes here or indulge in some funny one liners, the onus is on Irrfan to make sure that the film doesn't turn dreary or overly serious," the source adds,
"Yes, by its very nature the film is an edge of the seat dramatic thriller where it is a matter of 'race against time'. Still, this nail biting race is peppered with some deadpan fun element that
is brought in, courtesy Irrfan."


When contacted, Sanjay said, "Well, Irrfan is Irrfan. When you rope him in, you are assured of a terrific performance. What is special about him is that he brings in something new each time around,
in each of his films. Pick up any of his acts and you would explore something new, interesting and different that he brings on board. This is what you would see in Jazbaa as well. You give
him a scene and he would surprise you with his own take on the affairs, while performing like you can't really imagine. Add to that his dialogues and the way he delivers, and you are all set for a
dhamaakedaar fun outing."


Well, come October 9, and we would know how it all plays.