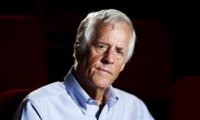 Director Michael Apted talks about his upcoming film The Chronicles Of Narnia: The Voyage Of The Dawn Treader, a thrilling and emotional adventure, that releases in India on 3rd December in 3D in English, Hindi, Tamil & Telugu.


Have you read the book by C.S. Lewis?

It's a beautiful book and I have been asked often if I read the book while I was growing up to which I say, 'No... the books weren't written yet when I was growing up'. They are typically books that you can read to your children every night, one chapter a night. It doesn't quite have that dramatic thrust to it that it needs for a film and it took us a long time to really nail that. The tone of the book is quite different than the one before it, 'The Chronicles of Narnia: Prince Caspian'. The pressure was on us to go back to Narnia, the color of it all, the magic of it all and in a sense recreate what Andrew (Adamson) had done with the first one so we had to go back and sort of revise that.


Can you tell us more about the film...

The film is about two simultaneous journeys. One is an adventure through unchartered and dangerous seas, and the other into their own selves as they grow into adulthood. Just as they overcome the forces of evil they meet on the journey so they learn to deal with temptations and, in doing so, find their true character. That's what they learn in Narnia, so at the end of our story they are ready to leave and get on with their lives. That's the universal theme that Lewis presents to us in his book.



The film is about two simultaneous journeys

How was it working with the kids?

I've done some stuff with younger kids. Documentaries and such. I've found you should treat them like adults. Don't talk down to them. All of the children in this film were brilliantly cast, and they know their characters much better than I do. So I listen to them and we talk about it. But I think with any actor, if you start imposing yourself on them, that's a mistake. You've got to encourage them to talk and think about it. The more they talk and think about it, the more like them the character becomes, and that's what you want.


Tell us more about The Dawn Treader....it sure seems like an important part of the film

In my view, The Dawn Treader is Narnia. We never go to [the land of] Narnia in this story, so I always made the point that the boat is Narnia. The boat embodies everything that Narnia is. When you're on The Dawn Treader, you're in Narnia.



In my view, The Dawn Treader is Narnia

What scene in 'Dawn Treader' was the most challenging for you?

The battle [with the sea serpent] was ridiculously difficult. Even for a film that is fairly conventional, going in the water, it was a little hair-raising. It was kind of dangerous. It was one of those films where you didn't really have a quiet day. Every day there was some magic or something. It wasn't like, "Oh, two people are going to sit down and have a cup of tea for three pages, so I could have a little rest." You could never sit down.


What have people got to look forward to with The Voyage Of The Dawn Treader?

We've tried to put as much humor into it as possible with the character of Eustace as well as it being a great adventure. People can empathize with the characters. The adventures they are going through are very varied. At its heart the film is about growing up, about Edmund and Lucy going towards adulthood and then realizing they have to move on rather than clinging onto Narnia and the childlike wonder of that. They move into an adult world and go back home to embrace that adult world. So I think, it's a totally universal story and it's the emotional heart that I think is the most appealing part of it. I think for the Narnia fans this is one of the more beloved books because there's a kind of warmth and magic about it. And the film is fun because it's just a great story.
BOLLYWOOD NEWS
Catch us for latest Bollywood News, New Bollywood Movies update, Box office collection, New Movies Release , Bollywood News Hindi, Entertainment News, Bollywood News Today & upcoming movies 2020 and stay updated with latest hindi movies only on Bollywood Hungama.