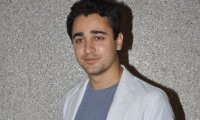 After an eventful 2011 where he had 2 huge hits in the form of Delhi Belly and Mere Brother Ki Dulhan (MBKD), Imran Khan is now all set to kick-start 2012 with a bang with UTV and Dharma Productions' Ek Main Aur Ekk Tu
(EMAET) opposite Kareena Kapoor. The promos of the film have created quite a buzz and Imran hopes he hits the jackpot with Dharma once again after I Hate Luv Storys (IHLS) . Dressed in a casual white tee and jeans, and sporting a bearded look (for his forthcoming film Matru Ki Bijlee Ka Mandola), Imran chats up with Bollywood Hungama's Nikhil Ramsubramaniam on his experience working on EMAET and much more. Read on…


Looking at various elements such as Vegas, Marriage, Chapel, Hangover, Divorce, etc. in the promos it seems like EMAET bears an uncanny similarity to the Hollywood flick What Happens in Vegas? What do you have to say about that?

These are similarities that our film shares not just with What Happens In Vegas but also with Two To Tango, The Hangover and even a certain episode of FRIENDS. But beyond that each of these films are different in their own way. What Happens In Vegas was about this boy and girl who win a jackpot and how both of them begin to con each other in order to keep the prized money whereas our film EMAET is a relationship based film. It's about this guy who has had a very restricted life and how his life changes completely when he meets this full of life and bubbly girl is what forms the crux of the story.


You play Rahul, an out of job architect…could you tell us a bit more about your character?

Like I said the character I play has had a very restricted life. His parents have always told him what to do, how to behave, what to study, what career to pursue and so on and so forth. Even his hobbies have been decided by his parents. He has never had a spontaneous moment in his life where he has done something for himself. He is actually a very sad, lonely and tragic guy but he doesn't realize it. He thinks this is how life is until he meets this girl (played by Kareena) who is so vibrant, bubbly and full of life. She shows him what he has been missing out on so many years and opens the curtains of the world for him. So in a way, the film is based on the relationship between these two characters.



You've been wanting to work with Kareena for the longest time…now that you've got the chance with this film, what are the things that you learnt from /admire about her?

What I admire about her is unfortunately what I cannot learn from her. She has this inherent ability to Switch ON and Switch OFF with amazing ease. When she was giving her shot, I just stood there mesmerized by her. She has this magnetic personality which is quite hard to describe in words. It has to be experienced and I am glad I got a chance to do that with this film


Since you guys have never worked together before, was it tough to break the ice initially?

Not at all…Kareena is really chilled out. She is unaffected by her stardom. She is a huge star and a stunningly beautiful woman yet it seems like she doesn't care about these things and hence doesn't carry around her stardom like baggage. Off-screen she doesn't care about how her hair is, how her make-up is etc. She is just ready to submit to the director's vision which I think is an incredible quality.


You've known Shakun Batra (the director) for a long time now…how do you think he has done for his first film?

Shakun is very clear about what he wants and he has an interesting way for going about it. You will never see him raise his voice or lose his temper yet when he wants his actors to act in a particular way he makes sure that he gets exactly what he wants. He and I are very close so there were no issues at all but for him to hold ground against a superstar like Kareena showed that he has substance.


The film has an interesting supporting cast- Boman Irani, Ram Kapoor, Ratna Pathak Shah…a bit about them.

Most of these roles were written with these very actors in mind. Shakun and Ayesha were very clear that they wanted Boman and Ratna to play my parents so the characters were largely written keeping them in mind. I have always been a great believer that the better actors you work with, the better your work becomes. Boman is a great guy and a great actor. He puts in so much energy to enhance your performance. Even when they were taking my close-up shots and he wasn't required in the frame, he would stand close by and give me cues so that I am able to deliver the best shot. He truly believes in supporting his co-actors and it's been a joy and delight to work with. As far as Ratna Pathak Shah is concerned, I believe that some of my best scenes till date have been with her in Jaane Tu…Ya Jaane Na. We shared a beautiful mother-son relationship in that film. In this film too, she plays my mother but unfortunately we share a completely different relationship this time around as Ratna and Boman play authoritative and dominating parents. So there is not much warmth in the parent-son relationship. Nevertheless it was a fab experience working with all these talented actors.



Dharma Productions gave you your big hit HLS when you needed it the most…Looking forward for an encore with EMAET?

I would hope so man. I share a great relationship with Dharma Productions. I have the highest amount of regard for Karan both at a professional and a personal level so for me it's like working with family


What are some of the crazy things that you guys did while shooting in Vegas?

I know it sounds boring but we didn't have any time whatsoever to do anything apart from shoot. We were shooting during winter in Vegas and that time of the year, the sun sets early around 4:30pm. We couldn't pack up so early, as it wouldn't have been cost effective so we ended up doing double shifts. We would shoot from morning 6 am till around 9 pm post which I just had enough strength to take off my make-up, bathe and fall asleep (smiles).


The music of the film has been given by Amit Trivedi, one of the youngest and brightest talents…how do you rate the music?

Amit is a guy who has done a lot of good and different work in a very short period of time. In each film he has given music for, he has managed to come up with a dramatically different sound and that I feel is quite amazing. What he has done with the songs of EMAET is also based on the demand of the script. A lot of the sounds you will hear in the film and album are not traditionally Indian. He has used a mix of blues and jazz to give the album a very fresh sound which adds so much to the mood of the film. 'Aahatein' is the most traditional of the lot. 'Auntyji' has this retro rock-n-roll vibe, while 'Kar Chalna Shuru' has a blues cum jazz feel to it so I think he has done a great job in understanding the world of the film.


You are days away from your first wedding anniversary…how does it feel being married for a year now?

It's been pretty much the same yaar. If you've been in a relationship for a long period of time (like Avantika and I) you realize that things don't really change post marriage. I've been sharing my life with Avantika for almost 9 years now so it's no big deal. The only real difference if you ask me is that now I have an official piece of paper from the Government that acknowledges our relationship which gives me comfort (smiles).



2011, was an eventful year for you first with your marriage and then with 2 hits in the form of Delhi Belly and MBKD. How do you look back at the year gone by?

I couldn't have asked for a better year from marriage to 2 successful films. It gives me a great sense of high that both the films (Delhi Belly and MBKD) which I was a part of were profitable for all the people involved with it. I want everyone down the line to make money of my films so I am glad that the films were made in controlled budgets and recovered far more than that. Because of Delhi Belly, I am getting an opportunity to work with a filmmaker like Vishal Bhardwaj. I remember he called me shortly after watching the film and said that he loved my work. Soon after that, he offered me Matru Ki Bijlee Ka Mandola so it feels nice when you get critical acclaim, commercial success and appreciation from your fellow industry people.


Finally you seem to be in look for Matru Ki Bijlee Ka Mandola. Looking forward to working with Vishal Bhardwaj?

Of course. When I first read the script of the film, I asked Vishal sir, "You think I'll be able to pull it off." He told me, "Are you ready to work hard; if yes then I am confident you can do it." That was quite comforting. Matru Ki Bijlee Ka Mandola is a different kind of a comedy. It's a lighter film than what Vishal normally does. Even for me as an actor, it's a completely new role and get-up. I have to still grow this beard for another month before shoot begins and I have to bulk up so I am working out for that. I have to also learn Haryanvi. We start shooting at actual locations in Haryana from mid- Feb.


Video: 'I'm Morally Opposed To Censorship'': Imran Khan
BOLLYWOOD NEWS
Catch us for latest Bollywood News, New Bollywood Movies update, Box office collection, New Movies Release , Bollywood News Hindi, Entertainment News, Bollywood News Today & upcoming movies 2020 and stay updated with latest hindi movies only on Bollywood Hungama.