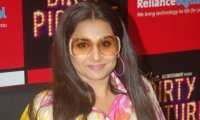 Ever since Vidya Balan created a stir with The Dirty Picture, I have often found myself in the middle of conversations where some unsuspecting souls wonder aloud around the film's success marking 'the return of women power'. Honestly, I have been more amused than puzzled with such debates since in my personal view, it is almost derogatory to label a film as 'women oriented', 'male driven' etc. etc. Nevertheless, different people come with different thoughts and such debates are bound to further intensify, what with Vidya and The Dirty Picture beginning this award season with a landslide win and as many as half a dozen women making a decisive comeback to Bollywood. Needless to say, most of them are being seen in - what would always be arguable though - 'heroine centric films' and even though my reservations around such tagging don't quite seem to cease, the fact remains that these 'projects' would be scrutinised for all minor details. So while the fate of these films would ultimately depend on their eventual content, an industry which is so high on superstitions and coincidences would be keenly observing their commercial acceptability before giving some of these most coveted heroines a 'third chance'!
Karisma is creating the biggest hype
Kapoors have been the first family of Bollywood and the way Ranbir Kapoor is seeing his fortunes rising and Kareena Kapoor playing the 'perfect heroine' for over a decade; it is but obvious that the family would comfortably rule from the top for next one decade at the least. Meanwhile it is time for Karisma Kapoor to make a much awaited comeback a decade after being away from the big screen, if not the limelight.
Unlike popular misconception though, she wasn't quite sitting on a bed of hits when she called it quits. Her last major success was Jaanwar (1999) which was basically more of an Akshay Kumar show than her while Dulhan Hum Le Jayenge and Ek Rishtaa were basically good successes, not all around hits. However, she is remembered more for her critically acclaimed performances in Zubeidaa, Fiza and Shakti - The Power that followed afterwards while failures leading to her retirement - case in point being Hum To Mohabbat Karega, Shikari, Aashiq, Haan Maine Bhi Pyaar Kiya, Rishtey, a much delayed Mere Jeeven Saathi and her (shocking) swansong Baaz are conveniently forgotten.
However, that's Kapoor power for you because somehow the crown of 'Heroine No. 1' never left her side and today when she is making a much hyped 3D comeback with Dangerous Ishq, all that today's generation is reminded of is an actress who once made hearts beat with her superb all around act in Raja Hindustani, Biwi No. 1, Dil Toh Paagal Hai. Fair enough, as long as an unsuspecting viewer is presented with the 'best of the best', the hype is justified as well. No wonder, Vikram Bhatt and Co. are glad to be the chosen ones to bring back Karisma on screen even as a certain Onir may feel short-changed that he was after all one of the first filmmakers to have been apparently given a go ahead from the senior Kapoor sister!
Raveena waits for her turn though
Karisma and Raveena had started off around the same time and just like the wide gap they shared on the popularity index then, the comeback too is along the same lines. Raveena is looking as ravishing as she was back then during her Pathar Ke Phool or Mohra days and showed a glimpse of that spunk in a guest appearance in Bbuddah Hoga Tera Baap as well. However, when it comes to a full-on mainstream comeback, the wait has been longer than one would have anticipated. Though there have been quite a few films announced with her as a central protagonist (and hence getting tagged as a 'female oriented affair'), they are yet to take off. Gin Liya Aasmaan, Agni - The Fire, Ek Din Anjaane Mein - one doesn't even remember when were these films announced and then faded away in oblivion.
Last one heard, she has now picked up a film titled Shobhana 7 Nights. The very fact that it is being directed by the same man (Sudipto Chattopadhyaya) who had made a horrific Pankh last, one gets a tad apprehensive. Still, there is always a second chance and the very fact that Raveena has apparently green lighted the project makes one a tad hopeful. Having said that, one indeed believes that whatever Raveena eventually decides for herself is indeed wonderful enough since she too hasn't seen a hit film 1998. Post Bade Miyan Chote Miyan, she saw a staggering 30 odd releases till she finally called it a day after Pardesi Babu (2005). However, barring a critically acclaimed performance in Satta [which was her best ever too] and a couple of notable performances (Shool, Aks), the going hasn't been particularly fantastic for her. At a stage where she can't really be seen as a conventional heroine, it would be interesting to see her 'woman power' at display this year!
Meanwhile Madhuri is continuing with her teasing act
In fact if at all there was one woman who indeed quit when she was at the top was Madhuri Dixit. No wonder, there is a price attached to her comeback as well. Post Devdas (2002), she could have gone ahead and bagged the most prestigious of assignments. Of course she wasn't devoid of flops either, as was much more than just visible with the terrible run that films like Yeh Raaste Hai Pyaar Ke, Gaja Gamini or Wajood suffered from. Still, there was an occasional Mrityudand or Lajja that came in which, despite not really turning into a smash hits, reinforced once again that she was a talent that couldn't be ignored.
No wonder, Madhuri waited for half a decade before consenting to do Aaja Nachle (2007) and to her utmost disappointment the film turned out to be such a mess that she went on a sabbatical all over again. Today she is being promised that there won't be any reasons to complain again and though there are indications that Vishal Bhardwaj is the man entrusted to do the needful with Dedh Ishqiya, the lady is continuing to maintain silence and wait for the most opportune moment to come out of her hibernation. She has made the first big move by returning to the city of dreams - Mumbai. Now it's time to embrace Bollywood!
Thankfully Sridevi has decided to finally come back
When a woman with a staggering 200 plus movies behind her as a leading lady decides to make a comeback, it has to be special indeed. No wonder, she returns with a film that is designed entirely around her. Now is it a 'women oriented' project? One hardly knows but English Vinglish better turn out to be a worthy enough movie experience for an audience since director Balki has made two interesting, but 'niche audience' focused films so far. Cheeni Kum and Paa worked well for their target audience but when it comes to English Vinglish, the audience is expected to be much 'wider' than merely 'targeted'!
Sridevi left on a high a decade and a half back with Judaai (1997), hence re-establishing what she was capable of. Even her journey towards her swansong was reasonably impressive with films like Lamhe, Gumraah, Laadla and Army making one forget debacles like Chandramukhi, Chaand Ka Tukda, Mr. Bechara and Kaun Sachha Kaun Jhootha that came intermittently. With English Vinglish not even requiring the presence of a 'hero' per se, this comeback would be much awaited for the senior actress who is looking million bucks even though she is just a year and a half shy from turning 50.

The one who didn't quite go away
On the other hand, there is Preity Zinta who was always around but witnessed a rather abrupt attack on her reign in the top run after a rather impressive run. There was a time when she seemed rather unassailable and the toss up for the best films was invariably between her and Rani Mukerji. However once they came together for the last time in Veer Zaara (2004), there was hardly anything for Preity to cheer about. Yes, Salaam Namaste was a success and showcased her mature act all over again. A hit tag has continued to elude her though, so much so that Jhoom Baraabar Jhoom (2007) - a flop - has been her last notable film as a leading lady.
Over last half a decade she has done art house cinema like The Last Lear and Videsh - Heaven On Earth that only saw critical acclaim for her and that's about it. With glimpse of what she is capable of witnessed in a cameo for 'Heroes' and an item number in Main Aurr Mrs. Khanna, Ms. Zinta has now focused all her attention on Prem R Soni's Ishkq In Paris. Yet again, Preity hasn't quite sought support from her any of the established 'heroes' from Bollywood and is making sure that the film projects her in the best light and becomes a worthy comeback. Though the director insists that the word 'comeback' isn't quite suitable for her since she was 'always around', for audience suffering from selective amnesia, Preity has a job in hand to shake them up from their slumber and bring on the magic from the past.
The ball lies in audience court now
Dangerous Ishq, English Vinglish and Ishkq In Paris are already on and carry the status of 'being completed', 'in progress' and 'just started' respectively. This means that audience is all set to see Karisma, Sridevi and Preity making a comeback this year in films where they are the (for all the right reasons) projected as the biggest highlights. On the other hand, Madhuri and Raveena may just be ready with an announcement too. The common factor in each of these films is the fact that these are being solely seen as THE comeback films of the heroines and the message being conveyed is that these are 'women oriented' films.
Of course, as stated earlier, the very fact that Vidya Balan made it possible with The Dirty Picture has given enough impetus to the makers as well when it comes to their inherent confidence and belief at the subject, star and film at hand. However, as is always the case, one can be rest assured that it would be the eventual package at work here and audience would give a thumbs up to 'the film' as a whole and not just 'the star'.
After all, it is hard to forget Amitabh Bachchan's comeback with Mrityudaata, right?
BOLLYWOOD NEWS
Catch us for latest Bollywood News, New Bollywood Movies update, Box office collection, New Movies Release , Bollywood News Hindi, Entertainment News, Bollywood News Today & upcoming movies 2020 and stay updated with latest hindi movies only on Bollywood Hungama.