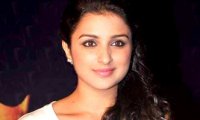 When I meet Parineeti Chopra at the swanky Yash Raj Films (YRF) office, she is a bit under the weather. Yet that doesn't deter this chirpy and bubbly actress from speaking non-stop. Leaves me wondering what would have happened had she been in the pink of health. Among the recent bunch of newcomers, Parineeti is surely the brightest and most talented of the lot with an infectious amount of energy. Her debut film Ladies v/s Ricky Bahl (LVRB) didn't click at the B.O. yet Parineeti sweeped all the Best Debutant awards last year. Now the feisty actress is looking forward to the release of her first big solo film- Ishaqzaade where she is paired opposite one of the most promising debutants Arjun Kapoor. In this Part 1 of an exclusive interview with Bollywood Hungama's Nikhil Ramsubramaniam, PC (Junior) talks about her journey so far, the training she underwent for Ishaqzaade and of course that bundle of talent called Arjun Kapoor. Read on…


In LVRB, you were not the main female lead, yet you made the maximum impact. Now that Ishaqzaade your solo lead film is releasing, what dhamaka can audiences expect from Parineeti?

Oh My God…issi cheez se mujhe darr lagta hai yaar! When LVRB was being shot, I was just too excited to be a heroine. I was enjoying the whole shooting and travelling process. I didn't worry too much about if I was in character or no and whether the film would work at the B.O. or not yet I ended up picking all the Best Debutant awards. Ishaqzaade was a really tough and strenuous film to shoot yet I made sure that I had a lot of fun. My character in this film Zoya is completely different from Dimple of LVRB. I was loved by everyone in LVRB and I hope I am accepted as Zoya in Ishaqzaade as well.


When and how did you exactly bag Ishaqzaade?

As you know, I bagged a 3 film deal with YRF. When we finished shooting LVRB and returned to Mumbai, Habib sir called me and asked me to come and meet him at YRF. I knew that Habib sir was making a very fundoo film and I assumed that he is calling me to cast me in that and got really excited. When I met him, he told me that he wanted to screen test me and see if I could play the part of Zoya in Ishaqzaade. I was a bit taken aback as I had already done a film and yet Habib sir was taking my audition. He asked me to get into shape and undertake training in action sequences, gun firing, jeep driving etc for almost two months. Also underwent a lot of workshops, got my diction right, engaged in script reading sessions and only after that Habib Sir told me that I am fit to play Zoya.


From the promos, the film seems like a rustic love story set against a political backdrop in a small town; could you tell us more about the film?

The film is about these two characters (Arjun and myself) or should I say these two animals who have been told since childhood to hate each other from the bottom of their hearts. They hate each other irrationally and are almost ready to kill each other and then something happens in their life post which they realize they are actually quite alike. They start wondering when we both are so similar in our nature and outlook, why are we hating each other? It's a set in small fictional town of North India and relationships in small towns are very different from how they are in urban cities. In such a scenario, when two people, who have been hating each other all this while, fall in love, things go for a complete toss. This is basically the crux of Ishaqzaade.


In LVRB, you played a spoilt rich daddy's girl from Delhi, what avatar do we see you in Ishaqzaade?

Zoya is this small town twenty something girl who roams around with a gun. In the town where she stays, carrying and walking with a gun is no big deal. The film is about how this ferocious girl falls in love with this boy whom she hates the most and who also hates her in equal measure. It's been a very difficult role for me to do as I am not even 1 percent of Zoya in real life. The character of Dimple in LVRB was quite close to how I am but getting into the skin of Zoya has been a real tough task for me. It was really difficult to act like Zoya and I had to depend on Arjun and Habib sir and react to situations. To get a film like this as a second film for me and as Arjun's first film is something which neither of us could have even dreamed of. I don't think I'll ever get a script and role like this ever in my life again.


The film is being touted as Arjun Kapoor's big launch, there is a lot of hype around Arjun being the next big thing. You have worked with him closest, being unbiased, how would you rate him as an actor?

I am so glad you asked me this question because only people who have worked with him will be able to answer that. I know it's a very clichéd statement but Arjun Kapoor was born to act. I can't see him do anything else. Arjun has films in his blood; The way he walks, the way he talks, the way he emotes- you know that he is pure actor material. I thought I'd be his senior and give him some tips since I have already done one film before this but when we began shooting, he turned out to be my senior. He has been an AD on so many films, everyone around him is either an actor or producer or director which makes him a technically sound actor. He has tremendous knowledge of cinema and the most beautiful thing about him is that he doesn't come on sets as an actor. He always looks at the bigger picture trying to understand the various finer nuances of filmmaking. He is so used to being on sets and in a filmy environment that he ended up teaching me a lot of things about filmmaking as an art and craft. He is brilliant in the film and that is why despite being a newcomer he got a film like Ishaqzaade. It's amazing that even before the film has released Arjun has fans going gaga over him. It's unbelievable the kind of response he has got and I am very happy for him.


How was it working with Habib Faisal the director?

I am Zoya and Arjun is Parma only because of Habib sir. He has written the film and knows the characters like the back of his hand. I have the highest amount of respect for Habib sir because he has fought for having Arjun and me in the film. He could have easily gone and told Adi Chopra that get him two big stars for this film yet he had the conviction in Arjun and I. He believed in us, made us go through some rigorous training and groomed us thoroughly that we become our characters of Parma and Zoya. I always get teary-eyed when I talk about Habib sir. He is like my father and has treated me and Arjun as his children. He has changed my life. I was not an actor a year ago. Maneesh Sharma gave me LVRB and now Habib Sir has given me an author backed role like Ishaqzaade, what more I could have asked for? I am more thankful to these guys for what they have given me than I am to my own parents because as parents you have to love your child unconditionally but these people have showered so much love and affection and faith me in that it's amazing.


Watch out for Part 2 of Parineeti Chopra's exclusive interview


Watch Song Promo: Aafaton Ke Parinde (Ishaqzaade)
BOLLYWOOD NEWS
Catch us for latest Bollywood News, New Bollywood Movies update, Box office collection, New Movies Release , Bollywood News Hindi, Entertainment News, Bollywood News Today & upcoming movies 2020 and stay updated with latest hindi movies only on Bollywood Hungama.