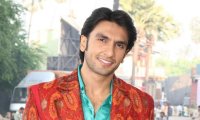 Ranveer and I got a wonderful starting point even before we kick started a formal conversation. In his debut film Band Baaja Baaraat, he is shown as a student of the same college from which I had actually graduated a decade and a half back. With Delhi University as the backdrop for the film and talks veering towards the college canteen, lovers point, the brick red building and a sprawling garden at the very entrance, it was one nostalgic conversation for sure. Bread pakode ki kasam!


The film is set in Delhi. I guess this pretty much compliments the kind of flavour that the film boasts of, right?

Yes, the film starts off in Delhi University where these characters meet. It was fabulous to be actually getting into that zone because the way these characters speak the kind of places where they hang out, an overall ambience - it all adds up to the distinct flavour of Delhi. Also, another wonderful part about the film is that Delhi has never ever been shot like this before. The writer as well as the director is originally from Delhi and hence they could get that authentic set up in Band Baaja Baaraat. This is the reason why the entire look of the film is so vibrant.



The writer as well as the director is originally from Delhi and hence they could get that authentic set up in Band Baaja Baaraat

That's right, one can see that. In fact with all the colours around, the film looks so much fun especially due to marriage season currently being on.

All credit to the script which brings so much fun with it. This further helped to bring in a similar vibe amidst the entire crew. See, when you do a serious film then every body goes into that zone. However, here we were shooting a really light and fun film and hence we were in that mode. In fact the portions that we shot in the Delhi University were particularly fun, reason being that it wasn't just me and Anushka in a frame. We actually had students from the college who were told that 'arrey yaar, aap aa jaayo, frame mein baith jaayo'. Acting with them was fun.


Well, your characterisation appears to be true to the setting as well. Seems that you have been a part of this University forever.

(Laughs) In fact I don't belong to Delhi. I have been born and brought up in Mumbai. I used to visit Delhi but only occasionally. Also, I have never been to campus. This is a different world and culture in itself. Every film has its own distinct look and I am happy that our team has been able to achieve what we were set out for. The entire colour palette was pre-decided and due to vibrancy in the story and its characters, it became all the more cheerful.


That's right, seems it is going to be one full on fun film with no serious moments whatsoever...

But then again, it is not a laugh riot either and doesn't have elements of fun just for the sake of it. It's a smile film though from start to finish. It has a depth rather than being superficial.


The way you seem so comfortable with the film's setting, were there any inputs that you gave to the making of the film?

My contribution was to totally turn into Bittoo for the film and in turn become 'vella'. I was told that 'ek hafte ke liye Delhi University mein jaayo or wapas ek launda ban ke aao' (laughs). I went there and interacted with the youngsters without telling them that I was an actor. I went incognito and told them that I was a college student and wanted to check out the university there. I went from one college to another, hung out with students out there, saw movies with them and in fact also managed to sneak in into a few classes.



My contribution was to totally turn into Bittoo for the film and in turn become 'vella'

Really, you didn't get caught?

No, I escaped that (winks). In fact I also took videos of the friends that I had made, grasped their lingo and studied them in and out. I was transformed when I came out. Now, I was a complete 'vella' guy who was ready to face the camera for Band Baaja Baaraat!


How about being ready for the film before saying 'yes' to it? When this idea about two wedding planners came to you, was it instantly a done deal for you that you wanted to do the film or did you actually have to give it some thinking?

Come on; does one actually think much on getting a call from Yash Raj Films? For me, it was a very good offer, more so as it had come to me after 3.5 years of struggle. I had told myself all through this period of struggle that I would keep myself very exclusive for and won't do ad films or any other small stuff till I get that big break. And then when you get a solo lead offer from YRF, it is all the more reason to celebrate. They have never launched a solo hero ever and Band Baaja Baaraat is now the biggest break that a newcomer could have got. It was an offer too big for me to resist. As for the script, I was bowled over by it when I heard just the first half of it. Needless to say, it was a double whammy for me to get into this film.
BOLLYWOOD NEWS
Catch us for latest Bollywood News, New Bollywood Movies update, Box office collection, New Movies Release , Bollywood News Hindi, Entertainment News, Bollywood News Today & upcoming movies 2020 and stay updated with latest hindi movies only on Bollywood Hungama.