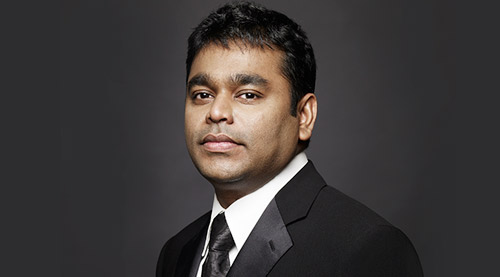 The music nomad A R Rahman who straddles three continents, is now a bit more settled. In a candid interview with Subhash K Jha, Rahman speaks on his musical journey so far and the exciting new things that are happening in his life.

Are you now spending more time in Chennai?
My family has forced me to cut down on travel. 2014 was horrible. I had to be all over the place. There was so much happening at home, and a lot more internationally. I am taking it easy this year. I am doing Mani Ratnamji's film which keeps me close to home in Chennai. But I've an international concert tour happening in May. I can do the music from Chennai. But when there's a live event like a concert or the Grammys, I've to travel. Otherwise I've cut down on my travel drastically.

How has life been treating you this year?
Good good! I am now spending more time at home in Chennai. We launched our musical band which will play live all over the world. This is part of our initiative to find interesting jobs for the very talented students from my music school, and for young musicians who are not part of my school.

How participative are you in the activities of the music band?
The songs, vision and execution on stage are all mine. But I won't be on stage with them. They will start their journey with cover versions of Michael Jackson and my songs but then they'd be giving them in their own interpretation. Let me tell you, the students in the band play very complicated harmonies. They've been trained for nearly a year and a half. It's a very professional band.

Your music school was your dream. Now that it's a reality how much time are you able to give to it?
My sister is running the school. I am not part of it on a day-to-day basis. But otherwise I am constantly in touch with them on email; through phone...I am in touch with the school from all over the world.

You are constantly finding ways to share your talent experience and wealth with people less privileged than you?
When you have accumulated knowledge and some influence, you want to share it. At age 20, I was another person. At 30, I had evolved a bit more. At 40-plus I've a lot more to share. And that's what I am doing.

At 48, do you feel satisfied with what you've achieved?
I feel I've got much more than I deserve. I am very grateful to God. When you look at other lives, some very talented but not so successful, you feel grateful for what God has given you. I've family, friends and fans. What more could I hope for?

Has the fan profile changed over the years?
One has to constantly re-invent the sound and the style. The audience that heard my music 15 years ago in Taal or Hindustani is not the same today. Change is specially a must on stage. You have to innovate on stage. Otherwise you just become a visual avatar of the radio. There is no end to how much one can evolve as an artiste. Individually I may feel satisfied. But if I can excel along with my team it's a different high.

The guru-shishya parampara has been very important for you?
It's not just about me passing on my knowledge. It's that whole give and take of knowledge. I saw a very good film on this theme Whiplash.


Whiplash was about a tyrannical guru. You are such gentle soul. Isn't there a fun side of you?
What do you mean? (Laughs). I've all the fun in my music only. That's my playground and the place where I can be who I want. When one's passion becomes the profession and then that in turn becomes your obsession you are obviously blessed beyond belief.

What do you feel about present day Bollywood composers?
I think it's time of great musical discovery. There is a lot of innovation. There's a lot more embracing of diversity.

And how much of the credit for this do you give yourself?
I don't know if I played any hand. But musicians and the audience today have a much wider creative exposure than they did in earlier times. When you play something innovative the audience and listeners are receptive. Civilization is more open to new ideas.

You've done monumental work with Ashutosh Gowariker in the past. How is it working with him again in Mohenjo Daro?
He inspires me. The first thing he told me is that this time he would be shooting a film that would be no more than two hours long (Gowariker's films are known to stretch beyond 3 hours). There are just 4-5 songs in the film.

And Mani Ratnam's film?
It's a young film a love story with 9 songs. Whatever the score, I go to the core. The songs have to come from the theme and plot. It's never about what I'd like to do. It's what comes naturally from within the film.

Tell me about your international projects?
There is a film Pele on the life of the footballer. Then there is Majid Majidi's Muhammad.

Your output has increased over the years?
I think I am more confident about deadlines. I realize some things have to be done within a time frame. But I prefer to work without schedules and limitations.

Where do you stand in your own creative vision?
I've yet a long way to go. I am constantly learning and evolving. I am currently most excited by my music orchestra for the underprivileged. It's called 'The Sunshine Orchestra'. You'll be surprised at how naturally talented they are. These poor children had never heard of Beethoven and Bach. Today they play the music of these greats.

How did you react to the documentary on you Mozart from Madras?
I was terrified to watch it. I am embarrassed to talk about myself. But when finally I saw people like Danny Boyle and Mani Ratnam talk about what it was like to work with me I was hooked. They actually made me seem likeable (giggles). It could have gone the other way. Cinema could be very manipulative.

Your humility and simplicity are intact?
I think South Indian artistes are born with those qualities.
BOLLYWOOD NEWS
Catch us for latest Bollywood News, New Bollywood Movies update, Box office collection, New Movies Release , Bollywood News Hindi, Entertainment News, Bollywood News Today & upcoming movies 2020 and stay updated with latest hindi movies only on Bollywood Hungama.