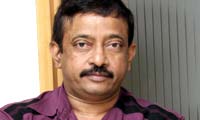 Ram Gopal Varma talks about the reactions he got for Department
>
Are you shocked by the scathing response to your new film Department?
I expected negativity. When you do anything completely different from a beaten path, many tend to pounce on you. When Oliver Stone made Natural Born Killers most reviewers said it was a piece of visual crap, exhibitionistic, etc which in the later years came to be recognized as a cult classic.
The film is your most severely panned work since Ram Gopal Varma Ki Aag. What according to you went wrong?
Some critics panning the film doesn't bother me because I didn't make the film for them. I sometimes think many reviewers write the reviews of my films even before they see them. Anyway, the norm of critics these days is to bury the baby even before it's born and kill the mother for giving it birth. It's incredible to see the sadistic glee they derive in running me down on a personal level even more than they do in running down the film.
Don't you think the criticism is largely justified?
There's no such thing as justification as it is eventually just an opinion and as we all know everybody has one. In today's communication networks, there are thousands of opinions all over and just because an individual is employed by a paper or a channel doesn't mean that he or she is holier than thou.
Critics feel your recent works have lapsed into chaotic self-indulgence. Do you agree with that?
I don't know what exactly chaotic self- indulgence is. Film eventually is a self-expression of a subject matter which a maker chooses to tell in a certain style and herein I chose a graphic pattern in terms of angles and movements which were intended to enhance the impact of the characters that I was dealing with.
Department has been severely criticized for the freewheeling multiple-camera technique that you have applied to the storytelling. In hindsight do you feel you overdid it?
This camera technique is in use the world over and Department is not the first one to use it. A photographic image is a combination of the look of the location, lightning, costume, make-up, the look of the actor, etc. And any camera will only record whatever is kept in front of it. Then of course there are the features of lensing, angles, movement compatibility etc which would be used as per the requirement. In Department it's the rapid swish pans and some hitherto unseen movement perspectives which bothered some people. But the same were liked by lots of others
Most people that I've spoken to feel your best work were Satya, Rangeela, Company, Bhoot and Sarkar. And that the rest of the work that you've done has shown a downhill trend. Your comments?
Apart from those films they should remember that I have always done other films before and in middle of them too. Before Rangeela I made Drohi and after Rangeela I made Daud and after Daud I made Satya and after Satya I made Mast. The point I am trying to make is that whether people would chose to believe it or not I have always put the same passion in all my films, be it a Rangeela or a Daud. Now lot of people tell me that Daud was ahead of its times. But at the time it came out it was panned more than any of my films.
Do you feel you've been over-prolific in recent years, concentrating on quantity rather than quality?
I am tired of answering this question. The reason I make more films is, I work all the time without taking a break and I enjoy it. To answer your question on if I will give more quality if I take more time, my answer is that with least prep and almost no script I finished Satya in 45 days and with a prep of 1 year and more than 100 days, I shot Aag.
What are the lessons that you've learnt from the devastating reactions to Department?
I think I already answered this question. There are many who liked and many who didn't.
How would the failure of Department impact your future projects, mainly 9/11.Would you reconsider the liberal use of what you call the rogue technique in future films?
To start with I employed the rogue method only for Department and not for 26/11 or any other project. The unconventional usage of the cameras from lensing and framing has already been done in Slumdog Millionaire, 127 hours and many others. Like I said, in Department it's the rapid movements which created the problem for some.
Would you still go ahead with Ab Tak Chappan 2 which is again about encounter killings?
A film is not made on a backdrop. It's made on characters and conflicts which are specific to each film.
Department has also been criticized for its lack of a coherent plot. What do you think went wrong with the script?
I don't believe that there is anything wrong with the script. I just attempted to do a realistic story with characters that intrigue and make you think rather than just spoon feed and I attempted to package that in a never-seen visual style. Many people got the point.
Out of curiosity which is the nastiest comment you've heard on Department?
So many nasty things have been said about me over the years that they stopped having any meaning for me.