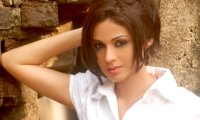 Meet the birthday girl Sadaa Sayed. A Maharashtra girl who has already made it big down South, courtesy 10 (oops, 20, as she corrects me later in the conversation) odd films that she already has to her credit, including top director Shankar's Anniyan (which was later dubbed into Hindi as Aparichit), Sadaa is now stepping into the world of Bollywood. As she turns a year older today, there is a birthday gift waiting right up there at her front door with the release of Click just a couple of days away. In a conversation with Joginder Tuteja, Sadaa talks about her first major outing in Bollywood, her kick start with a horror flick and the kind of route that she has decided to choose in order to survive in the Hindi film industry.


With a title like Click, it seems that you have kick started a thrilling Bollywood career for yourself. After all the film is being promoted as a 'horror thriller'!

(Laughs) Hopefully yes! True, the title is really very interesting. When I was approached for the film it is the title that attracted me most since it is quite intriguing. Moreover, since the film is a thriller, the title suited the genre just fine.



When I was approached for the film it is the title that attracted me most

Any young actor looks forward to a mushy romantic beginning for her career. What made you opt for a thriller?

As long as the film gives me scope to perform, I don't mind. In any case, even in Click, the romantic angle will be there on display. There are quite a few romantic scenes and songs.



Even in Click, the romantic angle will be there on display, with quite a few romantic scenes and songs.

But horror and thrills still remain at the core of it all, isn't it?

That's right. In fact there are a lot of scenes where I had to drain myself emotionally. However, doing something like that is also very important for an actor since somewhere down the line; it establishes your calibre as performer. This is why I don't take it as a negative that I am not starting my Bollywood career with a rom-com. Of course I look forward to that genre too and it will happen in due course of time.


You just mentioned that Click emotionally drained you. Can you please elaborate?

Everyone knows that the film is a supernatural thriller. Since my character encounters with a spirit, there is a lot of me that I had to give to the role. There are shots where I am just screaming and screeching all throughout. You know, all of that utilised a lot of my energy. Once you are through with your shot and get off the sets, you realise that your mind had got all worked up. I am so glad that these kinds of things do not happen in real life (laughs).


After working in 10 odd films down South, it must have been a different experience working in a Bollywood setup...

(Interrupts in an animated tone) 10 movies nahi, 20 movies. Anyways, people think that in South, movie banne mein time nahi lagta but then the fact is that there too it does take time. It's just that they stick to the call sheet. Same was the case with Click too. If the call time is 7'o clock there, the shooting did start at maximum by 7:30 sharp. Here there was no time wastage at all. All my 20 days were utilised minute to minute. Even the production cost was under control. Sangeeth (Sivan) sir and team were all so organised. In fact I was very happy shooting for it.


What's the kind of route that you have set for yourself as far as Bollywood outing is concerned?

We actors sometime do a film as an obligation or a friendly gesture. However, now I have decided that I won't do anything out of sheer goodwill. I will politely refuse instead of picking a project for a banner which is absolutely new or has on board a director who has one-two films that were not accepted commercially or otherwise.


However, in Click, there are three other principal characters as well in the form of Shreyas (Talpade), Rehan (Khan) and Sneha (Ullal). Didn't you ever worry that it would be difficult to make a mark with so many other people around?

Not really because the film is basically about a couple played by Shreyas and me. It is a story of these two people who have a nice life. Suddenly Shreyas sees a photograph and his past life starts reflecting in it. Soon, things start getting difficult for them and life is never the same again. In the second half of the film, there is a revelation around why things happen the way they are. When I accepted Click, it was a full fledged character throughout the film's duration and this is the way it is even today.



Suddenly Shreyas sees a photograph and his past life starts reflecting in it

Sangeeth Sivan didn't quite enjoy success with his last release Ek - The Power of One (Bobby Deol). Weren't you apprehensive?

When I signed the film, I did it with my mind open. I had no doubt that he would do a good job because I know for sure that he is a very good technician. In fact let aside me being apprehensive; I would have felt bad had I missed out on the film.


Sadaa, Click is a big release for you. So what is it that is playing around your mind?

I hope this 'clicks' for me (laughs). I am really hoping that happens and am keeping my fingers crossed. Of course there is a lot of nervousness also and even if I try to hide it, I can't. This is why I am just keeping myself completely occupied with giving interviews and interacting with media. For the last 15- 20 days, I haven't thought about anything else but Click.
BOLLYWOOD NEWS
Catch us for latest Bollywood News, New Bollywood Movies update, Box office collection, New Movies Release , Bollywood News Hindi, Entertainment News, Bollywood News Today & upcoming movies 2020 and stay updated with latest hindi movies only on Bollywood Hungama.