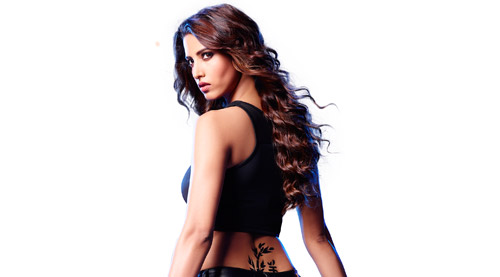 After winning one of the prestigious beauty pageants, Manasvi Mamgai has now turned her attention towards Bollywood. But the former Miss India World has more than just a 'fragile girl' role on her mind. We will see a power packer Manasvi doing some action packed stunts in Action Jackson that may give a run to some of the male action stars in Bollywood. What also adds to her debut in the industry is that she will be doing this film alongside 'superstar' Ajay Devgn and directed by dancing superstar Prabhu Dheva. In this chat with Bollywood Hungama, Manasvi not only talks about the film, her role and her fitness secrets but also about how beauty pageants aren't any more an easy ticket to Bollywood.


You are debuting opposite Ajay Devgn in a film directed by Prabhu Dheva… That sounds nothing short of a dream debut in Bollywood? Was this how you expected your first film to be?

Honestly, I never had any set guidelines but because I am a dancer, I wanted to work with choreographer turned director since they would be able to understand me better. I wanted to work with directors like Farah (Khan), Remo (D'Souza), Prabhu Dheva and when that came through, it was a dream come true and Ajay (Devgn) Sir was a bonus. It was also a dream debut because of the role I was offered. It is such a powerful one. For a newcomer to get a role like that really doesn't happen.


How did you bag this role in the film?

I had to go through the normal grind of auditions. It was purely on merit and I didn't know anybody. I got to know that they were casting so I met the producers. After that, I met Prabhu Dheva and during that time I had the fan girl moment. I have been a fan of his all my life and I even called my friends back home and told them I am auditioning for a film of Prabhu Dheva. I had the first round of auditions. It was just a lucky day because everything from the hair to the make-up worked well for me. So after that selection, I had a look test and that worked too.


Tell us something about your role in Action Jackson …

I play a gangster in the film named Marina and the role is very glamorous, sexy, powerful and flamboyant. I have a lot of power in the film. These days, there are many such strong roles coming for women in films and thankfully I am doing it in my first film.


Will we see the former Miss India World doing some stunts in the film?

Yes, of course! I am the action girl of the film. I'll be doing a lot of fighting.


So what kind of training did you take for that?

I went to Pondicherry where I learnt this Kerala martial art form called Kalaripayattu for about 2-3 weeks. Then Ajay Sir put me though his commando trainer Shifuji under whom I learnt commando training.


We have heard that you were asked to gain weight for the film. How did you react to that and what was your plan of action to get into the right shape?

That whole banana milkshake rumour has gone viral I guess (laughs). Actually, the thing is, off screen I look petite and the first time when Prabhu Sir saw me, he said that I was very thin. However, when I go on screen, the confidence changes my persona. Also, my metabolism is very high so I lose weight quickly. Considering that we do stunts and dance the whole day, I had been asked to maintain my weight and I kept eating after every two hours. I had high carbs and protein diet. As far as the banana milkshake rumour is concerned, it's just that we hardly get any time to eat continuously on sets, so it was like the quickest thing to gulp and go. So yes I was having banana shakes for two-three days but that was just blown out of proportion.






Being a dancer, how was it working with the dance master Prabhu Dheva? How has been the learning experience with him?

I have learnt a lot from him and Ajay Sir too. Prabhu Sir is a perfectionist. He looks calm and sweet but he is very strict on the sets. He doesn't say much, that is, there is no screaming or shouting or scolding, but he has got that power that when he comes on set, everybody is on their toes. You know he will not be happy when you do something 10% less; everything needs to be just perfect. That quality of him is what I have learnt. He is such a nice dancer and he puts the same kind of passion in everything he does.


Were you nervous to act in front of 'superstar' Ajay Devgn?

Frankly, I was not nervous on camera, probably due to my passion towards the craft of acting. But off camera, I used to feel intimated sometimes. Off camera I think I was a little conscious rather than nervous because you have grown up watching them.


You have danced in 'Gangster Baby' which is a different song with elements of action... Elaborate on the experience of it

I remember the first shot of the song. It was my first song, first shot of the day and there was a huge stage, I was alone and all the spotlights were on me and there was Prabhu Sir telling me what to do and I got so nervous. My legs were shaking and I just couldn't do it. I had to take some time off and Ajay Sir helped me feel comfortable. But the first shot was so difficult because you are in so much pressure. That's all and after that, it was so much fun shooting that song. Also, it was my birthday, on the second day of the song, so the end of the song shoot happened with the cake cutting. Actually, before shooting, Prabhu Sir had told me 'Manasvi, this is the kind of role that has never been done in Bollywood, so just do it.'


Often, people say that winning a beauty pageant is an easy ticket to Bollywood. After winning the coveted title of Miss India World title…was it an easy journey for you till Action Jackson?

It used to be a ticket to Bollywood but it was the Aishwarya Rai/Priyanka Chopra time, 15-20 years back because at that time, Miss India used to be the only glamorous contest. Right now, there are so many reality shows and people are more acceptable. Now, they are not necessarily a ticket, but they do try to become actresses, however, it is not easy anymore. There is so much exposure right now. If you have seen the last few years, the newcomers who have come in have not come from Miss India. In earlier days, Miss India was a way to enter the industry because of lack of exposure. Though it's a part of the glamour industry but it doesn't ensure your chance in Bollywood anymore.


What are your future prospects in Bollywood?

I haven't planned anything. I am just so overwhelmed by the response Action Jackson is getting that I don't want to think about anything else until the movie releases. I have two more films with the same producers. There are other projects coming my way but not anything interesting. After such a different character in my first movie, my second movie will have even higher expectations. I wanted to do something eye catchy and now the pressure is even more. So I will be very careful about what I do next.
BOLLYWOOD NEWS
Catch us for latest Bollywood News, New Bollywood Movies update, Box office collection, New Movies Release , Bollywood News Hindi, Entertainment News, Bollywood News Today & upcoming movies 2020 and stay updated with latest hindi movies only on Bollywood Hungama.