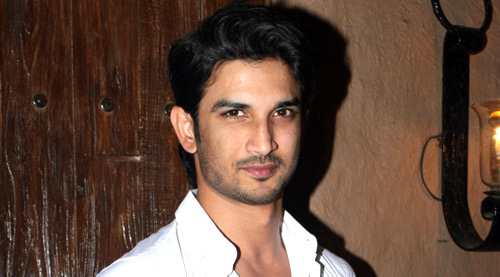 Sushant Singh Rajput emerges from his self-imposed silence for a heart-speak with Subhash K Jha.

There is a lot of talk in the film industry about how much you've changed with success?
I don't think I have changed.

Maybe the people around me have begun to observe me much more closely now than they did before. I am not blaming anyone, but there are

people who expect a newcomer to follow a certain protocol. I never followed that protocol even when I was in the television industry. I won't

follow it now. I am very spontaneous in my behaviour, to the point of being considered reckless. I am reckless, yes, but not thoughtless. I can focus

only on one issue or one person at a time. Even my girlfriend has a problem with this. But I can't help it. That's the way I am.

Apparently you've been curtly turning down a lot of roles?
Very often when I know a narration is going wrong I still sit through it

politely. Mujhe na nahin kehne aata hai. That gets me into trouble. Instead of saying no to scripts that I don't like I begin to avoid the

producers. Then they feel I am high-handed.

Your friends say you don't take their calls?
(Laughs) Who are these friends? I am very happy where I am. I

don't see myself changing. It's the attitude of people that has changed. When I switched from television to cinema everyone would say I think of

myself as another Shah Rukh Khan. Now after I've done movies the same people say they think I am another Shah Rukh Khan. So the perception

about me has changed. Now they're saying I do very different kind of characters, so I don't fit in as a typical hero.

How was the experience of working with Dibakar Bannerjee in Detective Byomkesh Bakshy?
We've wrapped up the film.

And I can tell you, it was one more learning experience for me. Dibakar trusted me completely. We had done workshops before we started

shooting. So I knew exactly what he wanted me to do, and how I should go about it. We had a lot of room for experimentation and I think I've

grown as an actor. But if you ask what I think of my performance as Byomkesh I wouldn't be able to tell you.

Why not?
For the first time I didn't check myself on the monitor after every shot. That was a conscious

decision. I looked talked and behaved very differently from the way I am in real life. If I had seen myself on the monitor I'd have become very self

conscious and it would have been difficult for me to do the next shot. I didn't want a visual self-reference, as that would have distracted me from

performing.
How difficult was it for
you to transform from a 2014 dude to a 1940s' Bhadra-lok?
It wasn't difficult. It was interesting. Dibakar gave me
lots and lots of tips and reference points. Besides I had a whole team looking after my clothes, makeup, hair etc. They made sure I looked the
character. I also saw lots of films from the 1940s and 1950s. How they walked the way they talked the way they did this and that....these were
details I had to understand on my own. I had to be convinced that I had to behave in a particular way.
Why have all your film roles so far been so unconventional?
An actor has to remember the primary reason why he chose
the profession that he did. If every role that I do doesn't challenge me then what is the point of being an actor? Every character that I've chosen
has made me evolve as an actor. And I am lucky that my directors have shown so much faith in my abilities. There is always that sense of
exploration and excitement. I am not bothered with whether my characters are conventional or not. Because I am not in this for the designer
labels and the autographs. I don't even want to go there. I am not saying that those who crave for conventional stardom are wrong in their
aspirations. But that's not what I want.
Would you be uncomfortable playing the designer hero?
I won't be comfortable doing the normal. If I invest six months of
my life in a role the least I expect is to come out of the experience feeling good about myself. I won't play the conventional role even if I get big
money for it. Financial considerations are not an issue for me. If push comes to shove I'll make my own movies. So far I've got the roles I wanted. If
in the future that changes then we'll see.
Now you've Shekhar Kapoor's Paani?
Yes, I get another chance to assume another character. It's
a completely different world from Byomkesh. I take a 100-year leap. The difference is, I have historical reference points for Byomkesh, but none in
Paani. This is an open world for me. Every time Shekhar and I sit down to discuss my character we are inundated with ideas. Shekhar gives
me a lot of room for innovation. That's what I find in common between Dibakar Sir and Shekhar Sir. Their knowledge goes way beyond cinema.
They seem to know so much about life. It's human nature to imbibe and ingest knowledge about life as quickly as possible. But when you reach
these filmmakers' level of self-awareness, going right is also right and going left is also right. These directors take my suggestions with an open
mind. They believe, kuch bhi ho sakta hai.
After Paani?
There is one more film. But I've signed a Non-Disclosure Agreement. So I can't talk about it.
Rest is in talks. Even if I've to wait six months to sign another film I don't mind.
What has life taught you
during the last one year?
After working with Dibakar Bannerjee and Shekhar Kapoor I've realized how limited my
knowledge of cinema and life is. I now keep my opinion to myself. Why should I air my views when I know so little?
Buzz in the industry is that you've married Ankita?
No, we are not married yet. We've been together for so many
years without any ups and downs in our relationship. You won't read a series of stories about the two of us breaking up and making up. That's not
the way we want to be in the news. Our relationship is sacrosanct. It's not a charade. We are really wedded in our hearts and completely in love.
We are two human beings sharing one life. I started to believe in destiny only after I met Ankita.
You sound so much in love?
I am not a demonstrative person. I wouldn't have spoken about Ankita if her topic had not
come up when I was doing Jhalak Dikhlaa Jaa. That's when once and for all I said, she is the one for me. After that I didn't care whether I
lost roles because of my non-single status. If it's proven that married heroes lose out on their fan base I'd get married immediately. I want to get
roles for my capability and not my personal life.
So when is the wedding?
Next year for sure. Because Ankita wants an elaborate wedding. And that requires a lot home
work for which I need to take time off. That isn't possible right now. But the marriage will happen next year. Because Ankita has given me an
ultimatum. If I don't marry her next year she won't marry me at all. So I've no choice.
Your journey from television to the large screen has been a dream. Do you fear that all of it may be snatched away from you?
Of course. I am prepared for the downside. The new home that Ankita and I built and decorated together and moved into recently is the only
material asset that I value. Everything is so impermanent. I wanted to buy a particular mo'bike. I finally did. But it was soon languishing in the
garage. So this is what it is. For me the bank balance is not a sign of success. I had made a wish-list of five directors I wanted to work with, and I've
worked with four of them. That to me is success. Now I'm preparing another wish-list.
Did you have a house-warming party?
No, after doing up the home we had no money left. But the
minute I entered our new home with Ankita the house was warmed.
BOLLYWOOD NEWS
Catch us for latest Bollywood News, New Bollywood Movies update, Box office collection, New Movies Release , Bollywood News Hindi, Entertainment News, Bollywood News Today & upcoming movies 2020 and stay updated with latest hindi movies only on Bollywood Hungama.