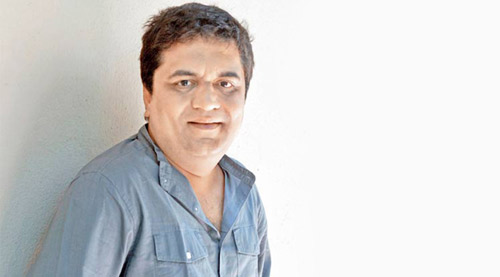 He may not be a known face in Bollywood. But his work speaks volumes about who he is and what he is. He is probablyone of the very few all-rounders which Bollywood has ever produced. Before you start rattling your mind and brains, let us tell you that he is none other than Swanand Kirkire whose works can be seen in many hit films like 3 Idiots, Barfi!, Raajneeti, English Vinglish etc... He is a bundle of talents rolled into one; he is a singer, lyricist, music director, actor, dialogue writer etc... the list is endless. This Friday will see him in one of the prominent roles in the film Crazy Kukkad Family.


Satish Sundaresan of Bollywood Hungama met this all-rounder for an in-depth interview. Here are the excerpts:


To start with, how did you get into showbiz?

I always wanted to get into showbiz ever since my childhood. And it's only because of my passion towards showbiz; I landed up doing the Design and Drama course from NSD (National School of Drama, New Delhi). I then got a break as a writer in the TV series called 'Swaraj' by Manju Singh. My basic objective was to get into film making with a few names on my list, which included Prakash Jha. And to my good fortunes, I got an opportunity of a lifetime to work with him very soon on films like Calcutta Mail etc…



With your ability to sing, dance, music, act…will it be right to say that, after the late Kishore Kumar, Bollywood seems to have found its next all-rounder in 'Swanand Kirkire'?

Kishoreda was, is and will always be a legend in whatever he did. It won't be right to call me as a next Kishore Kumar. But yes, you can always call me as a Kishore Kumar follower.



In a nutshell, what's your film Crazy Kukkad Family all about?

It's a comedy of a dismantled family who come together for their father's money and understanding the importance of values.



What's your character in the film and what was the brief that was given to you?

My role is that of a 'cunningly shrewdest' eldest brother who is a 'jugaadu' and who doesn't bother about any relationship because he is very selfish by nature and for whom, money is everything. But, what's striking about this person is that, despite having all these traits, he is the most stupid person in the family and he is not aware of this fact!



Did you take your time to say yes to the role or you took time to say yes?

Whatever roles I have done so far were only for the sake of friendship. But this time round, even though I did not know (initially) as to who Ritesh Menon was, the very name of Prakash Jha productions was enough for me to say yes to the film. To tell you the fact, Initially, I was amazed when I heard the length of the role. My first reaction to Ritesh was that to please go and speak to Prakashji about me. To my shock, he said that Prakashji is aware of this and he too is very excited about me doing this role in the film. When I read the script, I realized that it was a mammoth task in front of me.



Was there any kind of homework did you do for the role?

There was no homework as such that I did. I was only bothered about the way I will look on screen. But Ritesh convinced me that he wanted me to look raw and the way I look in real life.



Were there any 'crazy' moments while shooting the film?

There were many crazy moments during the shoot. Let me tell you what happened on the third day of the shoot. When everything was ready, the camera met with some technical problems and was not working. Ritesh, out of the blue requested everyone to join for an impromptu dance to one of the film's songs. And when all of us hit the floor, the dance then lasted for not less than 5 hours! These 5 hours helped each of us in bonding with each other like never before!


Where all the locations of the shoot?

The whole film was shot in and around Mahabaleshwar.


How is Ritesh Menon as a director?

He is an extremely sorted guy. Having worked with the ace film maker Santosh Sivan for as many as 8 years, the training showed in his direction. Even on a personal level, I have never seen anyone so calm and composed even in the most stressful situation. It is his energy which brought us all together.


Who is the real 'Kukkad' of the film?

In the film, everyone is running like a headless chicken. 'Kukkad' is a term which is used to describe the family. And the actual meaning of the said term you will get to see when you see the film.


Do you feel that your experience in theater helps you in Bollywood?

The answer is cent per cent yes. Theatre was my indeed my training ground for Bollywood.


Will you do anything on television?

I would really love to do something for TV, but only if it's really interesting.


Were you always a film buff- a first day first show type of person?

Trust me when I say that I saw all the films which were released in the year 1986 and 1987. I even have evidence of that in the form of ticket counterfoils. Besides collecting the ticket counterfoils, I used to write about the star cast and a small review of the film in a book. In addition to that, I also used to write as to with whom I saw the film!


How much do you believe in luck and hard work?

Luck is something I truly believe in as much as I believe in hard work. And when you work hard, luck always helps you to take you ahead in life.


What's the secret of your success?

I am not impatient in life about anything, which is what I feel has got me till here.


Is it true that you had penned songs even in the bathroom while in Goregaon?

What happened was that when I was sitting to brainstorm about the songs of Lage Raho Munnabhai with Shantanu Moitra, Raju Hirani and Vidhu Vinod Chopra. Since I was not able to search for a place to write sings, I went to the bathroom, where I got an idea for the song's lyrics. And when I told the team about it, they laughed on hearing that they generalized that 'I write my lyrics in the bathroom". And that's how the whole thing started!


How long does it take to pen a song?

It all depends from song to song. It could be as fast and quick in a jiffy, while it could take even weeks. To give an example, while I wrote 'Aala Barfi' track from Barfi in a coffee shop, it took me not less than 15 days to pen the lyrics for 'Bandhe mein tha dum..vande mataram' from Lage Raho Munnabhai.


Do you keep a tab on your contemporaries?

I do not keep a tab on my contemporaries. Rather, I am in touch with all my contemporaries as I consider everyone as friends rather than my rival. Since each of us have our own distinct style of writing, whosoever wants towork with me will come to me and likewise.


On a parting note, anything that you want to tell the readers about the film Crazy Kukkad Family?

Do watch the film as it has got some real good performances by everyone and it's also a film that will really make you take notice about life.
BOLLYWOOD NEWS
Catch us for latest Bollywood News, New Bollywood Movies update, Box office collection, New Movies Release , Bollywood News Hindi, Entertainment News, Bollywood News Today & upcoming movies 2020 and stay updated with latest hindi movies only on Bollywood Hungama.