The award season has begun with Golden Globes 2020. The 77th Golden Globes took place at Beverly Hills, California on Sunday with Ricky Gervais as the host. Every year, while many take home the coveted award, two most important awards are handed out to those who contributed to the industry in many ways.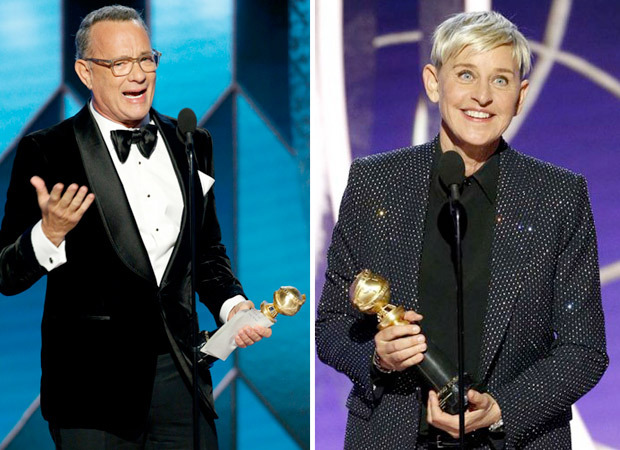 The Cecil B. DeMille Award is a special Golden Globe Award that is given by the Hollywood Foreign Press Association or HFPA to someone for their outstanding contribution to cinema. This year, the prestigious award was presented to eight-time Golden Globe winner and 15-time nominee, Tom Hanks.
Tom Hanks has been part of the industry for several decades. Starting from romantic comedies to dramas to real-life stories, the actor has showcased brilliant performances through his work. Some of his brilliant movies include Philadelphia, Big, Captain Phillips, A League Of Their Own, Forrest Gump, Saving Private Ryan, Cast Away, and A Beautiful Day in the Neighborhood. 
Accepting the award from Charlize Theron, he thanked his wife Rita Wilson. "You're a dope if you don't steal from everybody you've ever worked with. And I have stolen from the likes of the people that only need one name, like Meryl, like Denzel, like Antonio, like Meg, like Julia, like Sally Field — even though that's two names, it's still one," Hanks said. "But I have also been made better by watching the examples of some of the greatest actors that have ever walked the stage."
"It's those moments as an actor where everybody I've ever worked with has helped me get to that place — sometimes it's three o'clock in the morning and sometimes it's 11 at night — but you just have to somehow put it all together, have faith in what the process is, and go there," Hanks said.
"That was the greatest lesson a young actor could possibly ever first of all, the head full of ideas. Bring anything, try anything they might not use it. If it stinks, they won't use it,Knowing the text, and it's not just your lines, it's the whole thing. It's the red dot. It's the theme of the movie. You've got to know it. You might not be right in the opinion you bring to it but you've got to come at it with some direction."
"There is a saying in motion pictures, back when it was shot on film, that you could not move on to the next scene until the gate was good ... Thank you, HFPA. Thank you all here. Thank you for all your inspiration and all of your work and all the struggle that you guys go through in order to hit the marks and tell the truth. I have checked the gate. The gate is good. Thank you," he concluded his emotional speech.
Another recipient of the night was Ellen DeGeneres who received Carol Burnett lifetime achievement award. The Carol Burnett Award is bestowed on someone who has contributed to Television both on and off-screen. Ellen has been on TV for several decades now. After her show Ellen, she started her talk show The Ellen Show which is now in the seventeenth season. She has been a force to reckon with.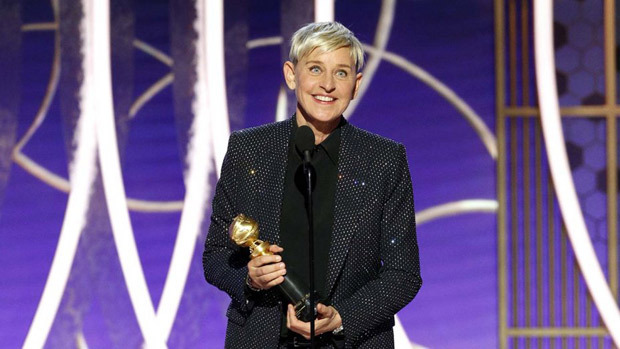 Comedian and actress Kate McKinnon presented the award to Ellen. "It's a prestigious award, and what I like most about it is I knew coming in, I would win," she said. "There's nothing worse than sitting there and like waiting most of you waiting and wondering if you're going to win."
Quipping about how speeches are always too long, she started her speech on lighter note. "Before I knew it I had a successful sitcom and I came out and then I lost that sitcom and then I got another sitcom, then I lost that sitcom, too. Then I got to do something that I had never been able to do before and that is, make my own whiskey and after that, I got my own talk show and I was able to be myself and that was 17 years ago."
"I feel like you've all really gotten to know me over the past 17 years. I'm an open book and I couldn't have done it without my husband, Mark," she joked. "Mark, you are my rock." She jokingly thanked her kids and said, "That's funny because their in college now."
"The point is you all know me and obviously you know me or you wouldn't have laughed at that.  I feel like we all think we know someone — there's a connection when we watch someone on TV for as long as we are on TV and that's what it was like for me with Carol Burnett," she said.
"I always felt like she was speaking to me. At the end of the show, every time she pulled her ear, I knew she was saying, 'It's OK. I'm gay, too. Television influenced everything that I m today. Lucille Ball. Mary Tyler Moore, Marlow Thomas, Dick Van Dyke, Bob Newhart, Mannix. There's a little bit of all of them in me."
She concluded by saying, "All I ever wanted to do was make people feel good and laugh and there's no greater feeling than when someone tells me I've made their day better with my show or that I've helped them get through sickness or a hard time with their lives," she said. "The power of television for me is not that people watch my show, but that they watch my show and then they're inspired to go out and do the same thing in their own lives. They make people laugh or be kind or help someone that's less fortunate than themselves and that is the power of television and I'm so, so grateful to be a part of it."
BOLLYWOOD NEWS
Catch us for latest Bollywood News, New Bollywood Movies update, Box office collection, New Movies Release , Bollywood News Hindi, Entertainment News, Bollywood News Today & upcoming movies 2020 and stay updated with latest hindi movies only on Bollywood Hungama.