Suniel Shetty has had an illustrious career and made a place in the hearts of viewers thanks to his performances, memorable films, non-controversial image and large-heartedness. After a lull, he's back with a bang with the intense web series, Dharavi Bank. It also marks his debut in the digital world.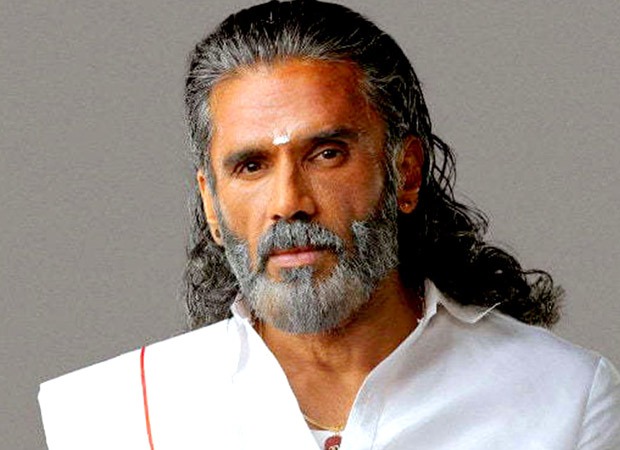 EXCLUSIVE: "A top critic was after my blood. He used to RIDICULE me very often. He used to call me WOODEN and insist that I should go back to my restaurant business" – Suniel Shetty
In an exclusive interview with Bollywood Hungama, Suniel Shetty speaks about Dharavi Bank and also opens up on completing 30 years in the industry.
It's been a while since we saw you in Hindi films. In the interim, you must have got a lot of film and web offers. What made you sign Dharavi Bank?
Firstly, I have always been a huge fan of Kamal Haasan sir and Vinod Khanna ji. I also respect them as human beings. There was a lot of class with which they handled their careers. Their films that have impressed me the most are Vinod ji's Dayavan (1988) and Kamal sir's Nayakan (1987). Both films were ahead of their times in the sense that they were quite young when they did these roles. I used to always feel, 'Yaar aisi filmein karni chahiye'. And then I was offered Dharavi Bank. When Zee offered it to me and I read the script, my first question was – am I playing Thalaivan or am I playing the cop? If it's the latter, then I am not interested right now'. I wanted to get back to good work, but only if it made a difference. They told me, 'No sir, we also want you to play Thalaivan'. I realized this is my chance.
Then came Samit Kakkad. I saw his work, how he works on his script and the look and feel of his projects. I realized it's an apt project and I came on board. We then went over my looks and the prosthetics required, which was very important. I was also impressed with writer Sarthak Dasgupta. And then there's Seneca Mendonsa, aged 23. She wrote the dialogues. That is the highpoint of Dharavi Bank. You expect top writers like say Anees Bazmee to write dialogues for this show as it deals with Dharavi. But this young girl had a different point of view and came up with something phenomenal. All in all, the moral of the lesson is to nurture new talent, which I have always believed in, and make sure the makers have the correct intent. I realized I am with the right team. There's a generation gap that exists and it is being bridged by these people.
I believe you have also done prosthetics for this show…
The girl who did my prosthetics, Renuka Pemgirikar, is also a 23-year-old girl. Her work is as worthy as anyone from Hollywood. She would spend 3-4 hours every day doing the prosthetics. I would sit patiently. She's young. I don't want to get angry or upset with the time-consuming process. It can be intimidating. Her father, Anil Pemgirikar, is also a make-up and prosthetic artist. He also used to accompany her. I used to tell her 'Dada, aap ja sakte ho. Don't get tense. Let her do her job'. She's done such a great job.
My son Ahan looked at me and gave me the greatest compliment. He said, 'You are the first 62-year-old who's done prosthetics to look 60'! That was a googly a la Anil Kumble and Chandrashekhar that he threw (smiles).
Did you shoot in the real Dharavi?
I shot only in Dharavi. It's the kingdom of my character. My house is of course a set but the rest of the shots you see in the trailer have been shot in real locations. The beauty of it is that though it looks like a mess from the outside, it's the most organized place from the inside. Several communities like South Indians, Muslims, Gujaratis etc. co-exist there. You go in the locality and it is as spic and span as your own house. That's how beautiful it is. They themselves are managing it and they are doing it so well that they can give lessons on management to others. There are these four kids who are actually line producers while shooting in Dharavi. In fact, I've had the most comfortable shooting experience there. They gave a lot of love and adulation. But they never disturbed our shoot at all. Moreover, look at the finest products made there; you'll be shocked. Be it leather, cane, pots, diyas etc. Diwali ke diye wahin se aate hai. Unhi ki wajah se hum Diwali mana paate hai. Hats off to the largest and also the most organized slum in the world!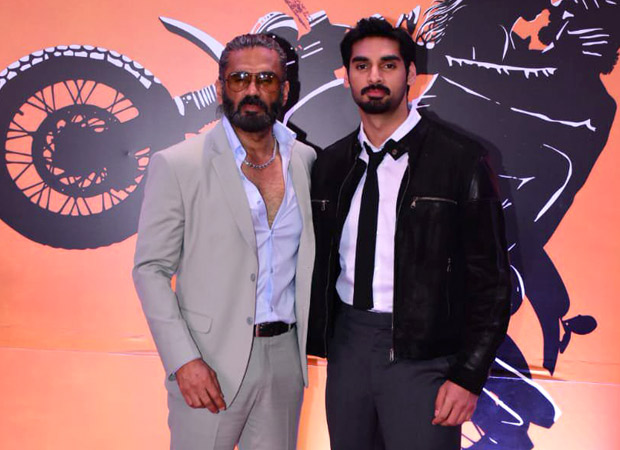 You completed 30 years in the industry this year. Your debut film Balwaan was released on September 11, 1992. Do you remember the first show that you ever gave?
My first shot was for a film I did before Balwaan called Arzoo. It was almost complete. My first shot was on a set and I was trying to dance. And I was a freaking disaster! Then they changed the dance to a walk and that's how they finished it. It was filmed in Ooty. The film was 99% complete. The producer and director had some problems and it got shelved. That's how Suniel Shetty's career began.
Nevertheless, my training in acting happened on the sets of Arzoo. Any other kid would have been heartbroken. But I was so focused; I worked hard and concentrated on doing action. I had also already bagged Sajid Nadiadwala's Waqt Hamara Hai (1993). Sajid bhai was the first one to sign me. And then came Balwaan, which became my first release. Sajid bhai was kind enough to recommend me and tell the makers that I'll do well. Even then, he was so encouraging and even today, he's done the same with Ahan. He's his Godfather but he still tells him, 'Do what you want. Just share it with me so that I know what is happening in your life'.
I believe Arzoo was produced by Pahlaj Nihalani and after this film, you also worked in a movie named Ek Aur Faulaad…
Yes, even that didn't take off. But it established me. I have tremendous respect for Pahlaj ji. Deepak Shivdasani, who directed so many big films with me like Gopi Kishan (1994), Krishna (1996), Bhai (1997) etc. was the director of Arzoo. As we speak, Deepak and I are in talks for another project. So I guess, it's just that things happen when they are meant to happen. We have to just believe in ourselves and our talent. This is the lesson I have learnt. There was a lull for 10 years. Suddenly, after doing Dharavi Bank, I have seen so much. I realize that the audience doesn't forget you. You make mistakes and that's why they neglect you. You do things right and they are back at your doorstep to support you.
You once said, "My first cheque came from Sajid Nadiadwala, and three decades later, he has given my son his first cheque". Do you remember what was the amount on that cheque?
Yes, of course. Sajid bhai had come with Sohail Maklai. That time, announcements were doing the rounds that I was doing films but nothing was really happening. Sajid bhai had seen my photographs at J P Singhal's saab. He had clicked my pictures, blown them up at his studio and he used to tell everybody, 'Watch out for this boy who's coming up'. And that's where Sajid bhai saw me and he came to see me. He is younger than me. He must be 26 or 27 when he gave the cheque to me. The amount was Rs. 11,000. It's something I'll never forget. And then when it happened with Ahan, it was a déjà vu!
You debuted at the age of 31, which was very conventional. Moreover, you also were married to Mana Shetty before your first film was out. Shah Rukh Khan has said that he was told to hide his marital status since he was starting. Were you given such advice and did you ever feel the need to do so?
Not at all. We dated for nine years and she stayed by my side, despite all the uncertainties in my career. She married and settled in my traditional, South Indian home. She made a hell lot of sacrifices. So, I was not going to let my career come in the way of my love life. For me, my family is my priority over work, even today. Work is also very important to me, but not more than my Sundays or family members, comprising my mother, sister, wife and children or my friends. Therefore, Suniel Shetty has had such a career because he only signed films with his friends. My contemporaries moved ahead as they were smarter and better.
You won the Filmfare Award for Best Villain in Dhadkan (2000). Your speech while accepting the trophy was heartbreaking as you said how you have been called wooden often. Did such criticism affect you mentally?
There was this top critic who was after my blood. He used to ridicule me very often. He used to call me wooden and insist that I should go back to my restaurant business. And the power of the pen is mightier than anything else at that time. It hurt. But one day I analyzed things and I realized that this guy must be having a personal grudge against me but the fact is that I didn't learn the craft. To learn the craft, I need to do more work. How do I do work? For that, I did death-defying stunts. That set me as an action hero.
Gradually, I learnt the craft. I was still not one of the best actors but I was one of the sincerest actors around. I put it in my best. So yes, of course, failure hurts. It used to hurt when someone called me a flop actor or said 'Iski picture nahin chalti'. However, it was true. I had given flops. I made mistakes, I chose the wrong subjects or producers.
Hence, when I did Dharavi Bank, the producers taught me so much and kept my belief in new talent going. Both MS Player and Zee Studios know their business. So, I am happy and I am doing unbelievable work. I am not excited about doing anything that doesn't suit me or my age. I am not a lead actor anymore but I am a character actor. I'll play characters and I'll do great work. Times have changed; it's about good character rather than about who's the lead. I am 60. I could play a 55 or maybe a 50-year-old, but not below that. I am very conscious of these things.
You have been an actor and a producer. Any plans to get into direction?
No, but never say never. For your child, one might have to do anything.
Also Read: Dharavi Bank: Vivek Oberoi as the honest cop aims at taking down the solo empire of Thalaivan aka Suniel Shetty in this trailer
BOLLYWOOD NEWS - LIVE UPDATES
Catch us for latest Bollywood News, New Bollywood Movies update, Box office collection, New Movies Release , Bollywood News Hindi, Entertainment News, Bollywood Live News Today & upcoming movies 2022 and stay updated with latest hindi movies only on Bollywood Hungama.