The box office scenario is very unpredictable at present. Laal Singh Chaddha and Raksha Bandhan starred superstars like Aamir Khan and Akshay Kumar respectively and bombed badly. These films didn't open well. On the other hand, a film like Karthikeya 2 arrived without any marketing. Many had not even seen the first part and yet, this film emerged as a surprise hit.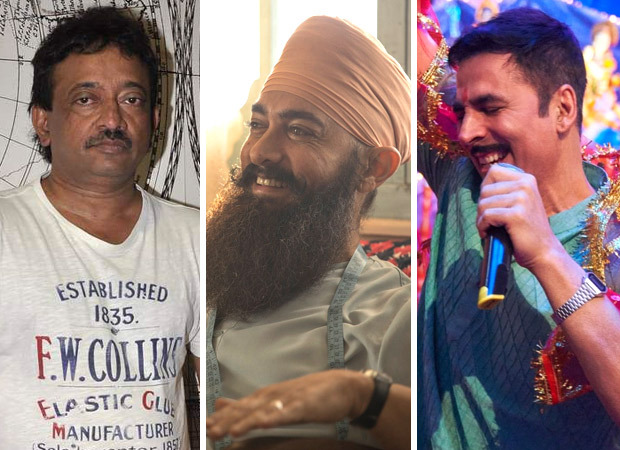 EXCLUSIVE: Ram Gopal Varma opens up on the debacle of Aamir Khan's Laal Singh Chaddha and Akshay Kumar's Raksha Bandhan; says "Bollywood films are not FLOPPING due to any boycott campaign. But people do possibly have ill-feelings"
Ram Gopal Varma in an exclusive interview with Bollywood Hungama said that the box office has always thrown unexpected results. He narrated, "In 1994, a famous columnist, Iqbal Masood in The Times Of India, wrote a very long column. This was a time when David Dhawan was the most successful director. His films - Aankhen, Shola Aur Shabnam and Raja Babu were huge hits. Those were also the days of the invasion of the VCR. Due to the VCR, families were watching films at home. They were avoiding getting stuck in the traffic and finding parking space outside cinemas. So, they were happily watching films at home."
RGV continued, "According to the columnist, the masses meanwhile became the main segment watching films in theatres and this explains why the crass films of David Dhawan were working! It was a beautifully analysed piece. We all thought he was so right. A week after this article was out; Hum Aapke Hain Koun (1994) was released. It is the biggest family film of all time. It was as if the Gods were waiting for this article to come! Suddenly, all the families left their VCRs and flocked to theatres. After its success, it was easy to say 'Acche gaane the…mast film thi'. Well, didn't you know that one week before?"
Speaking more about the Salman Khan starrer, Ram Gopal Varma said, "Hum Aapke Hain Koun had a unique release strategy. It was released in just one theatre in every circuit or city. This was done at the height of video piracy. Yet, it worked out brilliantly. Later, they made a small film called Hum Pyar Tumhi Se Kar Baithe (2002). Rajkumar Barjatya told Manmohan Shetty, who later told me, that they decided to release this movie only in C centres. Once it became a hit and developed a reputation, they had planned to bring the film to B centres followed by A centres. Since the idea had worked with Hum Aapke Hain Koun, I thought it was a brilliant strategy. But when Hum Pyar Tumhi Se Kar Baithe was released, it died in C centers itself; it never reached B centres!"
RGV continued, "Then he (director Sooraj Barjatya) announced a film called Vivah. Everyone thought he had lost it. 'People will come to a theatre to see a film called Vivah?', is what everyone wondered in the industry. And that again became a blockbuster." Vivah, just like Hum Aapke Hain Koun, had been released in limited prints in the release week.
Ram Gopal Varma opined, "So you see, nobody can predict. I am often asked why I deliver a flop, but I don't even know how I made a hit. The day I know that I can answer this question. If I know how to make a hit, then why would I make a flop? With regards to Satya, I have said so many times that great films happen. You cannot make them. If I, Manoj Bajpayee and Anurag Kashyap and others were able to make Satya, why were not able to make something similar again? It's been 25 years since that film was released (smiles)!"
RGV at this point analysed that often, classics given by directors overshadow their other films. He said, "Ask a random person on the streets who is the top film director in the world. Most probably, he'll take the name of Francis Ford Coppola, the director of The Godfather. Do you know that Francis Ford Coppola has made 40 films? But except for his Godfather films, nobody even knows that he has made many other movies."
Ram Gopal Varma then opened up on the recent trend of audience reaction videos, "If you see public reviews, I don't think you'll be able to make a film. The way they express their views, 'lamba kheech liya film ko, climax mein maza nahi aaya' etc! Some of these reviewers have even become celebrities. One of my friends told me that he doesn't see a single film but he sees the reviews of all the films. The more vindictive they are, the more they rip apart, and the viewers enjoy it more."
Of late, several films were targeted by 'boycott gangs'. Ram Gopal Varma however made it clear that such campaigns can make a film a flop. Before sharing his opinion, he asked this writer his opinion. This writer expressed his view that Laal Singh Chaddha would have flopped even if it wasn't 'boycotted' and on the other hand, Alia Bhatt's Gangubai Kathiawadi was also trolled before release and was even 'boycotted' to some extent and yet, it became a Rs. 130 crores grosser.
To which Ram Gopal Varma said that he absolutely agreed and added, "The films are not flopping due to any boycott campaign. But people do possibly have ill-feelings. Two weeks ago, I was at an event of Kotak Mahindra where I was invited as a guest. One of their top guys. He told me, 'It's so terrible the way Bollywood murdered that poor fellow…I forgot his name'. He's emotionally hurt about how Bollywood 'killed' Sushant Singh Rajput but he doesn't even remember his name! Nevertheless, that doesn't stop them from watching a film."
Also Read: Happy Birthday Nagarjuna: Ram Gopal Varma exclusively reveals how an Andhra Pradesh distributor BUTCHERED his film Geethanjali; yet it worked in cinemas!
BOLLYWOOD NEWS - LIVE UPDATES
Catch us for latest Bollywood News, New Bollywood Movies update, Box office collection, New Movies Release , Bollywood News Hindi, Entertainment News, Bollywood Live News Today & upcoming movies 2022 and stay updated with latest hindi movies only on Bollywood Hungama.