Neeraj Vora, who passed away on December 14, 2017, would have turned 60 years old on January 22, 2023. On the 60th birth anniversary of this legendary writer-director-actor, Bollywood Hungama exclusively spoke to Deepak Tijori. The actor-filmmaker worked with him in Pehla Nasha (1993), which was the first script ever written by Neeraj Vora. Later, he became one of the biggest writers in the industry, having penned films like Hera Pheri (2000), Awara Paagal Deewana (2002), Hungama (2003), Garam Masala (2005), Deewane Huye Paagal (2005), Chup Chup Ke (2006), Golmaal (2006), Phir Hera Pheri (2006), Bhool Bhulaiyaa (2007) etc. In this exclusive interview, Deepak Tijori speaks about his association with Neeraj Vora and a lot more.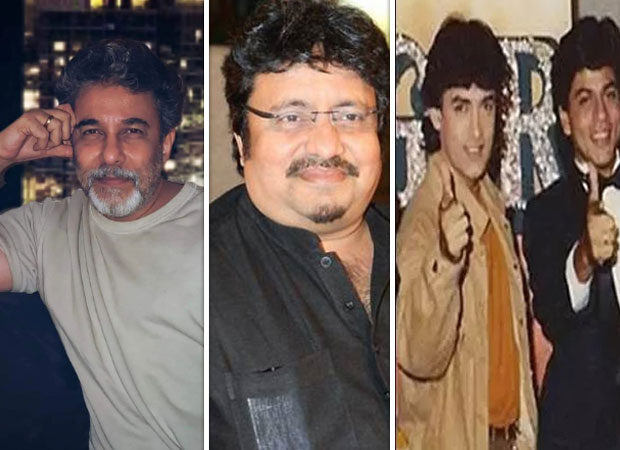 EXCLUSIVE: Deepak Tijori remembers Neeraj Vora on his 60th birth anniversary; reveals that Pehla Nasha's STAR-STUDDED scene, featuring Shah Rukh, Aamir Khan, Saif Ali Khan was his creation
Since when did you know Neeraj Vora?
We were together in NM College. We were never known to each other with regard to education. I used to do folk dancing and amateur theatre in college. Paresh Rawal was our senior while Aamir Khan was our junior. I knew Neeraj as he was also doing theatre. He used to entertain everybody. There were times when we would just meet and an hour goes by, you realize that it's only Neeraj's voice which is echoing because only he has been talking! He used to make us laugh and how. We didn't know that he was such a genius and that he'll come up with such brilliant scripts.
Both you and Neeraj Vora worked together in Pehla Nasha (1993). It also featured his music along with his brother Uttank Vora (who were collectively known as Neeraj-Uttank)…
Yes. Both made a wonderful team and their father Pandit Vinayak Rai Vora was a very renowned musician. Ashu (Ashutosh Gowariker) was new and he was trying to setup a team for Pehla Nasha. In fact, Pehla Nasha was a film where six people were launched! This includes Farah Khan. She had worked in Jo Jeeta Wohi Sikandar (1992) in a couple of songs but here she did all the songs. I remember there used to be association problems which I used to face for Farah as she didn't have a card. These people didn't like the new kids on the block. So, we made a lot of enemies those days!
So this is how our team was made and we decided to go for Neeraj and Uttank. We had a great time making music. They have seen me grow. In college, I was a struggler, vagabond and kind of a gypsy and my phase after doing Aashiqui (1990) and Sadak (1991). Neeraj also created a song in Pehla Nasha based on my real-life journey, 'Mr Zero Ban Gaya Hero'. He also remarked, 'Pehla Nasha struggling actor ki kahani hai. Matlab yeh teri hi kahani hai. Chal main ek gaana banata hoon'!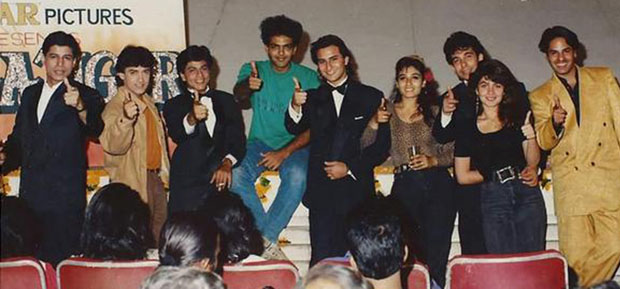 You won't believe it, if the shift was at 7:00 pm, actors would try and report by 4:30 or 5:00 pm so that till 6:30 pm, we could play dumb charades! All of us – myself, Neeraj, Ashu, Pooja Bhatt, Raveena Tandon – would enjoy first and then we'll start working. Neeraj was the most entertaining, talkative and creative guy in the unit. He would make up stories and narrate ideas.
Later, he became a big name in Gujarati theatre. He used to tell me, 'Deepak, ek Gujarati play kar na yaar mere saath'. I had done amateur theatre. So I had no problem doing plays. But I was not very comfortable doing a commercial Gujarati play because I would always have this fear ki main line bhool jaungaa. So I used to tell Neeraj ki main kuch gadbad kar dunga. Finally, he told me, 'Tu bas ek line bol de. Tere aaju baaju kahaani bithaunga main. Tu haan toh bol'!
I remember meeting him on the sets of Baadshah (1999), in which we both had acted. So, we kept bumping into each other.
It was miserable to see him in a coma. I visited him regularly. His closest associate, Mandeep, was also one of my best friends from college. I used to try talking to Neeraj. And then there came a point where we all realized that it was difficult for him to come back.
He has been a great and supportive friend. The love and affection he had for me were very distinct. I used to love him for that. There are times when you make friends for a certain benefit. In our case, there was nothing like that. He used to always plan ahead. He would tell me, 'Pehla Nasha ke baad kuch aur karenge. Main direct kar raha hoon. Kuch karte hai'. It was also genius of him to create the Golmaal and Hera Pheri series.
A lot of times, talented people didn't get their due. Neeraj was an exception. He got his due. He reached the pinnacle of success as a writer and director.
How did Neeraj Vora come on board as the scriptwriter of Pehla Nasha? I believe it was his first script…
Ashu was the first one to be on board. He was running around me, Shah Rukh and Aamir that 'kaun karega meri film?'. He had discussed it with me during Kabhi Haan Kabhi Naa's (1994) shoot. I told him that we'll work on it once we are back in Mumbai. I guess he didn't want to be dominated as he had no experience either as a director or assistant director. Ashu was in Mithibai and because of the college association, he roped in Neeraj.
The first scene was so creative. The action scene turns out to be a scene from the film which in turn turns out to be a dream sequence! Was it Neeraj Vora's idea?
Yes, it was his creation. In fact, that photograph of me, Shah Rukh, Aamir, Rahul Roy, Pooja, Raveena and Sudesh Berry has also become a cult. They all came to shoot for the scene as they were all friends. In those days, we used to support each other. We used to go to each other's premieres. Dheere dheere ab yeh kam hone laga hai. Imagine, Saif, Shah Rukh, Aamir and all came wearing their own suits and mouthed dialogues with their film titles!
The scene where you dance in the police station is crazy. Again, was it Neeraj Vora's idea?
(Laugh) Yes, that was also completely Neeraj Vora's idea. We had so much fun. I and Paresh used to freak out and wonder '
Kya adbhut
 scene 
likha hai yaar'
!
How did he come on board for Tom Dick And Harry 2?
I got him. After the success of part 1, we decided to make the sequel, I suggested that we should go bigger and that we should get a better scriptwriter who can take the film to a different level. Neeraj was more than happy that he was doing a project with me. We were trying to collaborate but nothing was working out. Hence, when Tom Dick And Harry 2 came up, he said 'Tu producer leke aaya na. Toh bas main kar raha hoon'.
He didn't need a pen and paper to narrate. He came to the production office and he started narrating without writing anything. He narrated an idea and everyone in the meeting jumped at it. We decided to start developing it. Fortunately, he completed most of the script. He introduced us to his associate, Pankaj Trivedi, and he completed the rest of the script. He has been an associate director of Neeraj for a long time. He also wrote Apna Sapna Money Money (2006) and a few other films. He's quite big on television. Now that we have decided to revive the film, I again got in touch with Pankaj. I found producers who have shown interest in Tom Dick And Harry 2. I have also opened my production house. So, I am looking at making the film as a joint production.
So will Tom Dick And Harry 2 be the last film written by Neeraj Vora?
Maybe. Hera Pheri 3 was also partly done by him. But Tom Dick And Harry 2 is his last complete script. This is also one of the reasons why I am so keen to make this film as a tribute to my friend Neeraj. And I am confident it'll work as his idea is brilliant.
Did he write the story as well as the screenplay and dialogues?
He wrote the story, script and dialogues. It's a proper script that he gave to us. He even monitored everything. He's not someone who'll push something down your throat. A lot of writers feel that what they write is the Bible and you can't change or tweak anything. Neeraj was a friend but he also knew that we are creative people. The moment I would tell him 'Iss cheez ko thoda alag karte hai', he'll take two days and return with a solution. He was not adamant about what his ideas were. Also, the perception was that woh sirf comedy hi karte the. But the way he used to infuse drama in his films was something very few comedy writers could do. He had some major nuances in creating drama with comedy. Woh hasate bhi the aur rulate bhi the!
Also Read: As per Khiladi's original ending, Deepak Tijori's character was supposed to die; the climax was changed on Akshay Kumar's insistence
BOLLYWOOD NEWS - LIVE UPDATES
Catch us for latest Bollywood News, New Bollywood Movies update, Box office collection, New Movies Release , Bollywood News Hindi, Entertainment News, Bollywood Live News Today & Upcoming Movies 2023 and stay updated with latest hindi movies only on Bollywood Hungama.