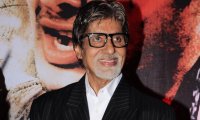 Amitabh Bachchan speaks to Subhash K. Jha on his 69th Birthday


Your birthday is a special day for all your fans friends and well-wishers. This year where would you be on this very special day, and how do you expect to spend the day?

Will be at home and hopefully spend a quiet day with the family...


This year your birthday is also special because there is a new member of the household on the way. Does the excitement of that new arrival add a special sparkle and sheen to your birthday this year?

Everyday is special; every birthday therefore is special - for those born and those yet to be born.


Has the excitement of becoming a Dadajee sunk in yet?

Yes, long ago.


Age 69...it doesn't seem like anything but a number in your case. Do you think about the fact that you are just a year away from 70?

On the 11th, I shall be stepping into my 70th. Another year, another day and thankful to the Almighty that I live hopefully to see it.


At 69, you continue to be the busiest entertainer in this country with an engagement diary that challenges the 24 hours granted to a day. Are you able to do all the things that you would like to?

Not entirely! There are many things that cross my mind which I feel I should also be doing. Someday perhaps I shall find time for them too.


Are there any unfulfilled desires? Anything that you'd like to do? What have been the most important events of the past one year?

I hope there are unfulfilled desires within me, but to say what they shall be is difficult to put a finger on. I can tell you what is important for me today, not what has been important for me in this past year. That I shall not be able to remember. And that is how I would like it to be.


The name 'Amitabh Bachchan' means many things to many of us. What does it mean to you?

My name given to me by my parents...


You are often asked why you don't write your biography. Now that you are putting your thoughts on your blog wouldn't you like to put the story of your life together?

My life has been blessed and I am ever grateful to the Maker and my parents for giving me that. Beyond that I find it unworthy of biographical documentation.


Amitji, everyone has his or her favourite Big B film. Which are the three films that you consider your best?

All my films are dear to me. Restricting my choice would be akin to attempting to walk without any legs!


You've been shooting regularly for KBC. How has television influenced your entire perception of mass entertainment?

Television has been a huge revelation for me. Its reach, its value, the impact it creates, have all been a great learning exercise. I had been involved in its functioning long before it became so big in India. It is a most influential medium and has now become the mainstay of most entertainment in this country, out-beating cinema. Its immediacy in today's time of rapid and instant communication is its greatest asset. It is tedious and exhausting, but a most satisfying creative medium for me, as I am sure it must be for many others who contribute to it.


What are the films that you have signed or are about to sign?

I have not signed any new project, in the real sense of the word. But yes, there are many that are under discussion. It would not be ethical to talk about them until those formalities are executed...


Finally, what are the things that you'd like to change in your own life and in our country this birthday?

Why a birthday to think of making changes? If one strongly feels about them any and every day is good. My life is as I said, satisfactory beyond my hoped imagination, but for the country I would wish for it to progress much beyond its clichéd label of a 'third world country'. I want it to be the 'first', not 'third'!