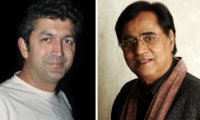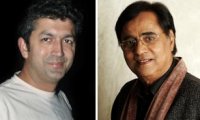 Filmmaker Kunal Kohli knew a side of Jagjit Singh that very few did.


Says Kunal, "He had a great GREAT sense of humour. He could tell a joke with the straightest of face. In fact during his concerts he would often crack a joke
in the middle of a Ghazal. I've a video of his where in the middle of 'Hothon Ko Choo Lo Tum', he tells a joke about a man who says he can't marry a
girl because she's two years older than him. 'Koi baat nahin hum do saal baad shaadi kar lenge,' says the man. Can you imagine? He dared to break the spell
of his own Ghazal."


Jagjit Singh was a family friend for Kunal Kohli. "He was a close friend of my mother, so I know him from the time I was a child. I called him 'Jagjit
Uncle'. He was big foodie. My mother used to make the best parathas in town. Jagjit Uncle often dropped in to have them."


Speaking of Jagjit Singh's love for food, Kunal Kohli recalls, "Sound recordist Daman Sood who has worked very closely with Jagjit Uncle told me he loved
horse racing and he loved his big Punjabi meals, the Tandoori chicken, the kali dal, etc. During song recordings, there would be a long break for an
elaborate lunch which was ordered from a big restaurant like Khyber. I asked Damanji how Jagjit Uncle could continue recording after such an elaborate meal
and he said, 'Oh, the food revitalized and rejuvenated him. He sang even better on a full stomach.'


Kunal had shot three music videos for Jagjit Singh's album Marasim. He remembers the experience vividly. "I was so much in awe. But he put me at ease.
Then I remember at lunch break he refused to have the studio food. He insisted we go to Khyber where we had a hearty meal. Imagine me this little boy
sandwiched between two legends Jagjit Singh and Javed Akhtar. I could hardly breathe, let alone eat."


The last time that Kunal met Jagjit Singh was on a flight in March.


Recalls Kunal emotionally, "He asked me, 'Dharam ki picture chali kya?' He meant Dharmendra's Yamla Pagla Deewana which had just been released."