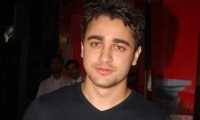 Imran Khan is riding high on the back to back success of his films Delhi Belly and Mere Brother Ki Dulhan. In the second part of this exclusive
interview with Bollywood Hungama's Nikhil Ramsubramaniam, Imran talks about his forthcoming film Ek Main Aur Ekk Tu where he is paired opposite
his favourite actress Kareena Kapoor and also clears the air on whether he is part of the much talked about sequel to Once Upon A Time In Mumbaai.
Read on...


I remember when Delhi Belly had released, you had told me that you felt a bit awkward watching the film with your family members as well as
Avantika's relatives. With MBKD, I am sure you were more than happy to show your family this wholesome family entertainer...

Yaaa...I watched MBKD with the same crowd, all of Avantika's aunties and uncles. This time all of them said, 'Beta this is such a sweet film'. I
scandalised them with Delhi Belly but then I pataoed them with MBKD (smiles) .


You had a sensational debut with Jaane Tu...Ya Jaane Na (JTYJN) but then had 2 huge flops in Kidnap and Luck. A lot of people started saying
that you can't come out of mamujaan Aamir's shadow. Now with 3 hit films namely I Hate LUV Storys (IHLS), Delhi Belly and MBKD,
do you feel you have answered your critics?

I feel that whoever my critics are and whoever doesn't like my work will never like my work. If my films are doing well, then it means that there are some
people who like my work. Ultimately you make films for your audience. You have to come to terms with the fact that you can't please everyone all the time.
Delhi Belly was my highest opening ever and now MBKD's opening has been even better. I couldn't have asked for more.


Coming to Delhi Belly, fans all over are asking when the DVD would be out and what special features are they likely to see?

The DVD should be out by the end of this month. I am really clueless about the special features as Aamir and Abhinay are looking into it but I am sure fans
won't be disappointed. The idea is to give people something which they have not got in the theatre so you will get to see some really interesting deleted
scenes, making of the film and interviews with the cast and crew. It should be exciting.


Coming to your future projects, your next film is Dharma Productions' Ek Main Aur Ekk Tu (EMAET) where you are paired opposite Kareena
Kapoor, one of your favourite actresses. How has been that experience?

It's been the best possible experience yaar. I have always been a huge admirer of Kareena's work. Working with Kareena, you get to see the sheer magic she
creates on screen up, close and personal. When the camera rolls and the director says 'Action', she is electric... it's like a light bulb which has been
switched on. You simply can't take your eyes off her. And when the director says 'Cut', she is back to her normal self, chilled out, speaking on her phone or
just hanging out on the sets. Off-screen, she is like any one of your friends. It's simply incredible the way she switches on and off with such amazing ease.
When you are doing a scene with someone like that you can actually get lost in that moment.


From the first look, EMAET seems like your typical rom-com; could you elaborate a bit more on what the film is about?

In fact...EMAET is not your typical rom-com. It's actually a coming of age, slice-of-life film. It's about this guy who is kind of missing something in
his life and doesn't know what it is when this girl enters his life like a breath of fresh air. She kind of opens the curtains and allows the light to enter
his life and changes his life forever. Of course there is a romantic angle but it's not your classic rom-com.


The film also marks your return to the Dharma banner after IHLS. Must have been a special feeling for sure...

I have a great deal of respect and affection for Karan Johar. He came to me and offered me IHLS when I was at my absolute lowest point. For him to be
there at that point of time for me is something that I will always cherish. Karan along with Punit (the director of IHLS) managed to give me such a
wonderful character to play in IHLS that both of them are very dear to me. So it's been wonderful working again with Dharma Productions on
EMAET.


EMAET also marks the debut of director Shakun Batra. How was it working with him?

Shakun and I go a long way. Shakun was second AD on Jaane Tu Ya...Jaane Na and then was chief AD on Rock On. Even after JTYJN, Shakun and
I continued to remain close friends. I remember he had said then itself that when I make a film I will make it with you and I am glad that he kept his word.
He along with my close friend Ayesha wrote the script of EMAKT keeping me in mind. I introduced him to Karan; he read the script and liked it. And
that's how it kind of progressed. I think Shakun has done remarkably well for his first film.


There have been lots of rumours doing the rounds that you have been signed for a pivotal role in Balaji's Once Upon A Time In Mumbaai 2. Is it
true?

I have read about these reports in the paper but the truth is that nobody from either the production house or the director have called me and approached me
for the role.


So besides EMAET, any other projects in the pipeline?

Officially I haven't signed any project. I've got a couple of projects in the pipeline and it would be best if the producers first make an official
announcement regarding the same.