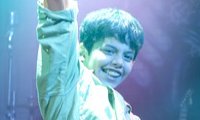 Regardless of its performance at the Indian box office, Darsheel Safary's super-hero act in Zokkomon was a big hit at the Indian Film Festival Of Los Angeles which Darsheel's co-star Anupam Kher attended.


Anupam has returned to India with jaw-dropping stories about audiences' response to Darsheel. "The boy was a unanimous winner. Everyone at the screening in Los Angeles 'oohed' and 'aahed' over his innocence vulnerability and the confidence with which he held himself in front of the camera. As a super-hero he will be a cult figure among kids."


Now plans are afoot to release an English-language version of Zokkomon for the international market.


Darsheel's father Mitesh confirms these plans. "We never expected such a response to Darsheel and the film abroad. The reviewers in the US have praised my boy and the producers Walt Disney might prepare an international version of Zokkomon."


This of course would depend on how the film performs at the Indian Box Office. The opening has not been too encouraging. But an international version of Zokkomon is nonetheless being put together with Darsheel being projected as the youngest super-hero in the world.


Aamir Khan's clout in global cinema is expected to give Darsheel and Zokkomom a big boost internationally.


Darsheel seems to have wriggled back into Aamir Khan's attention. When asked how he feels about his new film the boy quickly answers, "It should do well, with the blessings of my parents and Aamir uncle."


Aamir, it seems has once again taken the wonder-kid from Taare Zameen Par (TZP) under his wings. Ironically, this renewal of attention from Aamir comes at a time when Darsheel is trying hard to erase the image of the forlorn lost little boy from TZP. Says Darsheel, "I was 11 when I did that film. Now I'm 15. I am now a teenager. I've changed a lot. When people see me in Zokkomon they will forget the boy that I was in Taare Zameen Par."


A tall order considering Aamir's presence next to Darsheel is bound to remind the public of their beloved togetherness during TZP.


Darsheel admits that "Aamir uncle" has not found the time to see Zokkomon.


While it's perfectly fine for Darsheel to be so appreciative of "Aamir uncle", it seems rather strange that the Taare Zameen Par 'Creative Director' Amole Gupte who trained Darsheel in acting and spent close to two years honing the boy's skills, has not even been invited.


While the 15-year old was seen snapping pics and posing happily with his Taare Zameen Par producer-director-co-star Aamir Khan, Amole Gupte who spent close to three years training the boy for TZP was not invited to watch Zokkomon.