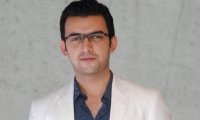 The question everyone's asking me is - How did Sahil Sangha do it? How did he manage to debut with writing, producing and directing for his first movie? And all I had as an answer was - The advantage for someone like Sangha is the access. So as a reader, you'd probably guess this is what must've happened? Sahil was able to call a friend, get Dia's email, Fedex her a script, she gets it the next day, reads it, emails Sahil back, Email reads - yes I love it, come to Dia's house, narration starts, then some drinks, had dinner, handshake deal, boom - done. Oh! Yes of course, and their beginning of a long and a healthy relationship too started. And believe you me, that's exactly what happened, except the 'email' bit. I was exaggerating. To be honest, from his first sitting with Dia Mirza and his involvement with Zayed Khan to deciding to produce the movie himself by forming a production house, Sangha has come a full circle in his launch movie Love Breakups Zindagi. He has never written or made a film before, but failure is not in the dictionary of this director as he tells UK's Harrow Observer columnist and Bollywood Hungama's London correspondent how LBZ inspired him and how Dia Mirza got him addicted. I mean, addicted to love! It's a Part 2 Sahil Sangha exclusive!


"Yes, I am dating Dia Mirza"
Yes, I am dating Dia Mirza. The first time we sat opposite each other was when I went to her to narrate a script and like most cases, there was a connect. I was more conscious in narrating the script. We started hanging out a bit post that. We also have some common friends, Zayed is one of them. There is a strong sense of respect at the root of it all. That's good, touchwood!


"Dia is unconditional in her relationships"
Dia has OCD, she is a phenomenal cook, she is a good painter and she is a dear friend to all her friends. She is unconditional in her relationships and that's a great quality. What sets Dia apart from others is her purity of heart and not too many people have it.




"Zayed is fiercely loyal and fiercely possessive"
Zayed is fiercely loyal, fiercely possessive which is great about his own inner circle. He is by far the best father I've seen. He's a very good cook and I think he is a lot more perceptive, informed and knowledgeable about what's going on in this world, more than most educated lot.


"I have had a lot of people who've helped me and I owe them all immensely"

Writing and Directing and Producing my first feature film wasn't that difficult. I'll tell you - the writing has happened before the idea to form the company happened. When I needed help, I got on board an additional screenplay writer / dialogue writer and a wonderful friend called Sanyukta. She's worked extensively with Yash Raj in the same capacity. As a producer, we all three are there - Zayed, Dia and Me. But it's important that during the shooting I get to play the director and the rest as actors. Then comes the technical team of Aseem Bajaj (DOP), Salim Sulaiman (music directors) Javed Akhtar (lyricist), etc. I have had a lot of people who've helped me and I owe them all immensely, irrespective of what the fate of LBZ is.


"The script of LBZ decided the cast of LBZ"
The script of LBZ decided the cast of LBZ. I don't think it's a conscious decision. Characters find their way while you are writing. Then we found Sandhya Mridul who owns a casting agency called Outcast. She helped us audition the actors and shortlist them for the movie. She's done a fabulous job. Every movie should have a casting director.


"I am not fascinated to be in front of the camera, not for now at least"
I never wanted to act. I definitely don't want to be in the film that I am directing. An actor's life is very demanding. They have to move from film to film pretty fast. I am not fascinated to be in front of the camera, not for now at least.


"There will always be scope of improvement in our second film"
In life there is no right or wrong. Everyone has an opinion. Be honest to yourself and others. It's you, your truth and what you've invested in that. I don't think we've made a perfect film. No film is perfect. The best classics ever made aren't perfect. We've made it with our best shot of honesty and integrity. There will always be scope of improvement in our second film. But if there is one thing that I'd like to change in LBZ is - increase the budget of the film.




The five tips on love are:


Looks matter because the first attraction is the physical attraction.


None of those looks are going to last forever so make sure there's a little more beneath the surface.


Use protection while falling in love and stay in it because you'll be a daddy or a mommy even before you know it.


It's ok to fall in love again and again and if it carries on for too long you'll need a doctor.


And try and keep everything out of the family.


The five tips on Breakups are:


Keep in touch with all your exes as your current one might not stand it beyond a point.


Have a TV in your bedroom because you can piss her off by watching TV for long hours.


Don't stretch your arguments to an extent that it gets monotonous. End it quickly.


Don't wait to be broken up with. It's less painful in the long run.


It's good to break up over and over again as you can fall in love over and over again.


Click here to read Part 1 of interview with Sahil Sangha
BOLLYWOOD NEWS
Catch us for latest Bollywood News, New Bollywood Movies update, Box office collection, New Movies Release , Bollywood News Hindi, Entertainment News, Bollywood News Today & upcoming movies 2020 and stay updated with latest hindi movies only on Bollywood Hungama.