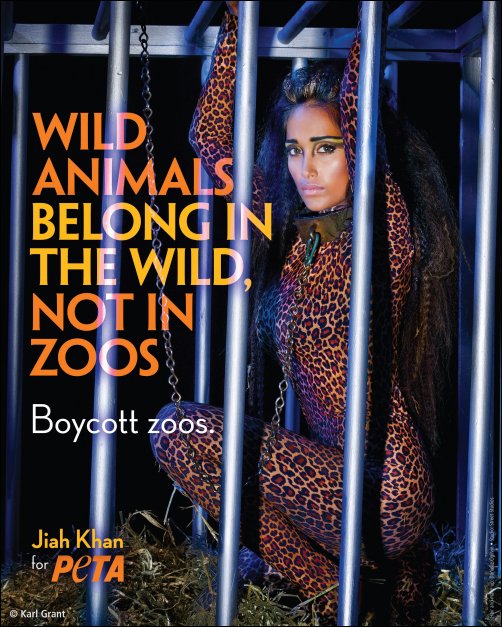 Crouched in a cage wearing a leopard-print bodysuit and holding a placard that reads, "Wild Animals Belong in the Wild. Boycott Zoos", Bollywood beauty Jiah Khan stars in a brand-new ad for People for the Ethical Treatment of Animals (PETA) India. Shot in London by ace photographer Karl Grant, the ad aims to spread the word that animals who are locked up in zoos suffer and that their true natures can't possibly be appreciated when they are kept in captivity.


"Actors choose to entertain, but animals locked away in zoos are given no choice", says Jiah. "All beings treasure their freedom above all else, and that applies to tigers, elephants, bears, monkeys and other animals too."


This isn't the first time that Jiah has teamed up with PETA to help animals. In 2009, during Makar Sankranti, she posed as a wounded bird wrapped in string to make a plea to ban glass-coated manja thread used to fly kites. The ad carried the caption "Cut the Glass-Coated Manja, Not Birds' Wings".