South Korean group BTS is just a few days away from dropping their Japanese album, 'Map Of The Soul: 7 - The Journey'. The title track 'Stay Gold' has already been released along with the music video. Now, the second original track 'Your Eyes Tell'  was previewed on a Japanese show CDT Live.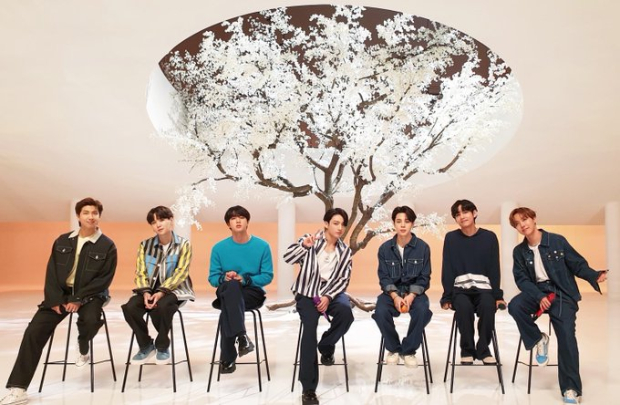 The lyrics of the song 'Your Eyes Tell' will truly move you to tears. The song's message is that there is light in the future even if you are dealing with the most difficult time in your lives. The ballad with stunning and deep vocals blending with the rapline's verses portrays the deep love between the soulmates. Jungkook's sensitivity to reflect on his emotions - be vulnerable yet powerful in the way that he expresses it - is what makes this song so moving. All of the BTS members bring such powerful verses to the limelight that you can't stop listening to them. Every member contributes to the song in their own way which makes this love ballad so special and beautiful.
The song resonates with you and your heart aches while listening to it but you also want to experience this kind of love too. There's a deep sense understanding of love, which comes in all forms, that Jungkook has portrayed it so well through the lyrics that read, "Why are tears rolling down my face / Hey, stay by my side and laugh / A future without you is a world without color / Monochrome and cold ."
your eyes tell (1)

미친 거 아니야?????ㅠㅠㅠㅠㅠㅠㅠㅠㅠㅠㅠㅠㅠㅠㅠㅠㅠㅠㅠㅠㅠㅠㅠㅠㅠㅠㅠㅠㅠㅠㅠㅠㅠㅠㅠㅠㅠㅠㅠㅠㅠㅠㅠㅠㅠㅠㅠㅠㅠㅠㅠㅠㅠㅠㅠㅠㅠㅠㅠㅠㅠㅠㅠㅠㅠㅠㅠㅠㅠㅠㅠㅠㅠㅠㅠㅠㅠㅠㅠㅠㅠㅠㅠㅠㅠㅠㅠㅠㅠㅠㅠㅠㅠㅠㅠㅠㅠㅠㅠㅠㅠㅠㅠㅠㅠㅠㅠㅠㅠㅠㅠㅠㅠ pic.twitter.com/JDCgA9S3aR

— 골든 (@Golden_kku) July 13, 2020
your eyes tell (2)

미쳤어 정국아 ㅠㅠㅠㅠㅠㅠㅠㅠㅠㅠㅠㅠㅠㅠㅠㅠㅠㅠㅠㅠㅠㅠㅠㅠㅠㅠㅠㅠㅠㅠㅠㅠㅠㅠㅠㅠㅠㅠㅠㅠㅠㅠㅠㅠㅠㅠㅠㅠㅠㅠㅠㅠㅠㅠㅠㅠㅠㅠㅠㅠㅠㅠㅠㅠ pic.twitter.com/kess2WnS7g

— 골든 (@Golden_kku) July 13, 2020
your eyes tell (3)

진짜 눈물남 ㅠㅠㅠㅠㅠㅠㅠㅠㅠㅠㅠㅠㅠㅠㅠㅠㅠㅠㅠㅠㅠㅠㅠㅠㅠㅠㅠㅠㅠㅠㅠㅠㅠㅠㅠㅠㅠㅠㅠㅠㅠㅠㅠㅠㅠㅠㅠㅠㅠㅠㅠㅠㅠㅠㅠㅠㅠㅠㅠ pic.twitter.com/QXMGBv7O4W

— 골든 (@Golden_kku) July 13, 2020
As per the album, Jungkook was supposed to use this particular song in his mixtape that he co-wrote and co-produced along with Gustav, UTA and Jun. Since it was already picked up as an OST for a Japanese Movie Kimi No Me Ga Toikakete Iru which is a remake of the Korean movie, Always, they decided to put it in their Japanese album instead. (If JK could add the Korean version in his mixtape, we wouldn't mind!) If this is a glimpse of what's to come in his mixtape, the audience isn't ready for it.
The upcoming film chronicles the story of Kaori who meets with a tragic accident that leads to blindness, but she clings on to her life and moves forward to find small pleasures that she can live with. She also has no family left. In her journey, she meets a former kickboxer Rui and the two begin to learn more about each other. As the story unfolds, the two of them begin to fall in love. This starts their new journey. The film stars Yoshitaka Yuriko and Yokohama Ryusei in the lead roles.
Another song that will be used as OST is 'Stay Gold'. It will also serve as Original Sound Track for Japanese drama, Spiral Labyrinth – DNA Forensic Investigation (literal translation). Tanaka Kei will headline the drama which is based on a manga of the same name.
'Map Of The Soul: 7 - The Journey' is set to release on July 15, 2020.
BOLLYWOOD NEWS
Catch us for latest Bollywood News, New Bollywood Movies update, Box office collection, New Movies Release , Bollywood News Hindi, Entertainment News, Bollywood News Today & upcoming movies 2020 and stay updated with latest hindi movies only on Bollywood Hungama.