YouTube Virtual Graduation Ceremony 2020 called "Dear Class Of 2020" took place on June 7, 2020. The ceremony was headlined by former President Of The United States, Barack Obama, and First Lady Michelle Obama and with commencement speeches from Beyonce, BTS, Lady Gaga, Alicia Keys, Taylor Swift, Billie Eilish, former Secretary of State Condoleezza Rice, former Secretary of Defense Robert M. Gates, Alphabet and Google CEO Sundar Pichai among other celebs.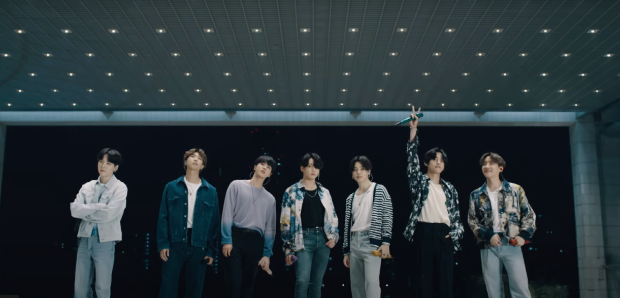 Each people of BTS delivered endearing speeches that were motivating and inspiring. While RM spoke in English, the six members - Jin, Suga, J-Hope, Jimin, V, and Jungkook - spoke in Korean reflecting on their lives as musicians, their growing years where they were unsure about their path, motivated the young generation to keep hope and chase their dreams.
[#오늘의방탄] #BTS on Dear Class Of 2020????
Congratulations on your graduation????#DearClassOf2020 #BTS#소우주 #봄날 #작은것들을위한시 pic.twitter.com/FUsdnmyj0n

— BTS_official (@bts_bighit) June 7, 2020
Here are their speeches:
RM (KIM NAMJOON)
"Dear Class of 2020, it's been a strange year so far, but you made it. Today, we might not have flowers and we might not have graduation caps, but what we do have is possibly the most special graduation ceremony in history. Never before have so many gathered to celebrate a graduating class for their achievements and their dreams. You could be watching us from your bed or from your living room, alone or with somebody. Wherever you are, you will all soon be breaking out of one world to soar into another.
Ten years ago, it snowed really hard on the day of my middle school graduation. I remember that day clearly because I took a picture with my friends and kept it as my messenger profile for the rest of my school years. On that day, I was just a boy who had closed just one chapter, ready to pen another. And I remember that feeling, it's really thrilling, breathtaking, it was the moment I felt most like me myself, a feeling I wanted to hold onto forever.
So, as a fellow individual in his 20s all the way from Seoul, Korea, I want to say congratulations. We're very excited about what lies ahead of you. Regardless of where or how far you are, we hope our stories today can give you some sort of comfort, hope, and maybe even a bit of inspiration."
JUNGKOOK (JEON JUNGKOOK)
"Unlike RM, my graduation picture was recorded in a Bangtan Bomb (a video). In the beginning, and the end of high school, my members were always there for me, and I remember my hyungs (older brothers) saying to me, "When did you get this big, old enough to graduate now?" I remember them congratulating me, by my side, and going to eat black bean noodles together. I saw that video again recently, and this came to mind - 'Did that little kid really grow up to become me?' Though RM mentioned he thought the boy in the graduation picture seemed just like himself, I feel that I've walked along quite a far path. I feel that I never left that path, walking continuously until now, but I've noticed there are still quite a few things that I've come to learn along the way.
So, as the person I am now, I believe in myself, trust in my members, and have faith in the world, and stand here along with my fellow members here today. Now, I hope you all will, for your own sake, take one step at a time towards growth, running diligently towards your future."
JIN (KIM SEOKJIN)
"My memory of graduation is a little different. It was before my debut with BTS. I was around 20, just a high school graduate going into university. Back then, the notion of becoming an adult was something quite scary. Anxious about making my way into an unfamiliar world, I was cautious of everything I said or did. Sometimes, I'd feel restless, watching my friend go on far ahead of me. And attempting to keep up with their speed would only leave me breathless. I soon realized that their pace was not my own. What held me together during those times was a promise I made with myself - take it slow. I'd go at my own pace, steadily. From then on, it became a habit of mine to take extra time for myself. For instance, when learning choreography, I begin practice days earlier than the others do.
If any of you feel lost in the face of doubt and uncertainty, or the pressure of starting anew, don't rush. Take a deep breath. You may find any moment can be turned into an opportunity. Allow yourself to take it easy. Take it one step at a time. You might discover the important things you were missing, and they will reach out to you."
SUGA (MIN YOONGI)
"These days, I feel as though I've fallen to the ground during a race. I dust my knees and get up again, only to find that there is nobody around me. It's as though I'm on a deserted island. This might not be the grand finale that you had imagined. Please, don't be afraid, don't worry yourself. The end and beginning, beginning, and end are connected. There are some things you can only do in isolation such as focusing only on myself and breaking my own barriers. One small person can dream the biggest dream, paint the largest picture, and make endless possibilities come true. When we meet again, I look forward to seeing your dream, your picture, and your endless possibilities out in this world.
Take your hands off of what you can't control, and get your hands on what you can change. As you and I continue on in life, we will find ourselves in so many situations out of our grasp. The only thing we can control is ourselves. Get your hands on the changes you can make because your possibilities are limitless. After all, I also had no idea I would become BTS either. Thank you."
JIMIN (PARK JIMIN)
"First, congratulations on your graduation. But at the same time, I am worried for everyone. I think about your health, and whether you're doing okay, whether you are holding on tight during a time when nothing seems to go as planned, whether your body and mind are all safe and sound. I hope you are all doing well, but if things are not okay even in the slightest, we send you our most sincere consolation with all our hearts.
SUGA-hyung (older brother) likened the state of today to being deserted on an island, but I hope you will never give up. Remember there is a person here in Korea, in the city of Seoul, who understands you. We are all in different parts of the world, in different environments and circumstances. But, in this moment, I hope we can all give each other a warm pat on the back and say - OT'S OKAY!"
V (KIM TAEHYUNG)
"I'd like to congratulate all of you who are graduating on this very special day. When you look back to today, years from now, how will you remember it? Many of us are at war with reality right now. But I hope we can take bits of this moment with us, in a photograph or a memo, to look back and to and remember June of 2020, and how it compares with the new today you will be embracing. In all honesty, I wasn't born with the talents of singing and dancing and wasn't much the persevering type either. I began later than my friends and was lacking in some aspects, but I soon developed a joy and passion for singing and dancing. This joy motivated my persistent efforts and has led me to where I stand today.
If there is anyone out there who cannot see where they should go from here forth, I urge you to listen to your heart. Things may feel a little difficult right now, but somewhere out there, luck and opportunity are waiting for you. I believe that. On that note, I will remember this day. Today may not be my own graduation, but I will try to look back upon this day years from now and remember it as a memory to treasure. And I look forward to the day you will stand and tell us your own story."
J-HOPE (JUNG HOSEOK)
"I'm not much different from all of you. At times, I feel as though I've reached a dead end as I perform and make music. Sometimes, my mind is bleached white and I can hardly take another step forward. It's a regular occurrence as I work. At these times, I think, "just this once." "Just this once," and I pick myself back up. I decide to trust myself. The next attempt might not be perfect, but the second is better than the first, and the third is even better than the second. And that is the moment I decide, I'm glad I chose not to give up.
There will be times in your life when you question your own decisions, whether it be about your major or your profession, whether you have the right choice, whether you are doing well, or walking the path of failure. And when you do, remember: You are the leader of your own life. And chant it over and over again - 'I can do it. You got it. I can do it well. I can do it better than anybody.' Like this."
RM concluded the commencement speech by saying, "The recent unforeseen events completely changed our plans, and the sense of loss and anxiety we felt then are still with us today. The fear of an obscure future as our daily lives turned upside down, is a moment of realization of the self, the realization of what makes me a true me, myself. As musicians, we are pulling ourselves together by making music. We write songs, we produce, and we practice, as we think about the people we love. And it connects to the world during such difficult times, and with music, we hope we can bring you smiles and courage again. And V just mentioned memos and the photographs. For us, our way of remembering and communicating is to make music. For you, it could be anything. In our music, and in our hearts, and in the time that we break out of ourselves, we're alone but also together. We may be seeing each other through just a camera on this small screen, but I know your future will bloom to something much bigger and magnificent."
BTS, in fact, closed the ceremony with the after-party. They performed 'Boy With Luv' and 'Mikrokosmos' from 'Map Of The Soul: Persona' album and 'Spring Day' at the National Museum Of Korea. Suited in pastels, it was the best way to close the virtual ceremony.
A day ago, it was reported that BTS and Big Hit Entertainment donated $1 million to Black Lives Matter fund in order to stand in solidarity with the Black community. Though the septet and the company didn't intend to release their donation amount in public, it was Variety that reached out to their rep to confirm the news. Their fandom took the donations further by starting the #MatchAMillion initiative on Twitter and is closer to reaching the mark in just over a day.
BTS has had a global impact with their music. The group, composed of members RM, Jin, Suga, J-Hope, Jimin, V and Jungkook, recipients of the Order of Cultural Merit in South Korea, and were keynote speakers at United Nations in 2018.
BOLLYWOOD NEWS
Catch us for latest Bollywood News, New Bollywood Movies update, Box office collection, New Movies Release , Bollywood News Hindi, Entertainment News, Bollywood News Today & upcoming movies 2020 and stay updated with latest hindi movies only on Bollywood Hungama.