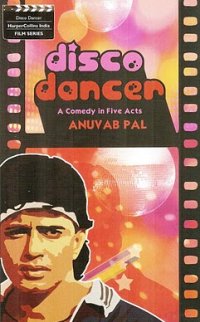 By deciding to do a book on Disco Dancer, author Anuvab Pal had a brilliant idea in hand. He basically intended to present a spoof version of the cult dance drama that was released close to three decades back and still ripe in people's memories. Hence, Anuvab's tribute was all about presenting the Hindi dialogues of the film in literal English translation, hence making an attempt to create an all around laughter by means of absurdity that the film conveys when 'read' in a different language.


Does the attempt work? Well partially, yes. However, if one expects a laugh-a-page riotous affair here then alas that doesn't quite happen because after the novelty dies down, it all appears like a forced attempt at enticing laughter instead of something that could have come naturally had something far more original been tried to re-introduce 'Disco Dancer' to today's youngsters.


Anuvab in fact does make an attempt to do that as well by coming up with a hilarious introduction to the core idea behind getting this book in place. One can pretty much sense that he has been a fan of 'trash cinema', as the likes of Disco Dancer are being referred to by majority. Reason being that some films are so bad that they turn out to be highly enjoyable. Of course the film was genuinely liked by many out there in the early 80s and that was the reason behind its international popularity. However one can clearly see that in current times the film would be an unmitigated disaster, something that Anuvab tries to establish via his write-up here.


So other than a spice filled introduction, he also presents his interviews with the film's lead actor Mithun Chakraborty, composer Bappi Lahiri and maker B. Subhash who sound excited till date talking about the film. Again, Anuvab's effort here is not to glamorise what the trio did three decade back but instead entice laughter via the verbatim conversations that he had with them. Of course the effort works at places as well, especially the part with B. Subhash where he has included a character of 'random man'.


One can clearly assume how Anuvab must have sat there straight faced even as men around him were hell bent on proving that Disco Dancer was actually the kind of cult film that classics boast of. So while B. Subhash in his entire conversation is sure that it was he who believed that even when the film was about western dance, he never compromised on the Indian core behind it all, Bappi Lahiri is pretty much in a time warp about how he excelled in composing dance music for the film. In fact the maker even goes on record to state that A.R. Rahman had lifted the 'ho' from his 'Ramba Ho' to create his own 'Jai Ho'. Phew!


The spiciest part of the book is around the trivia and quotes shared by Anuvab based on his many interactions with people from all walks of life. So while he does put a disclaimer right at the top that some of this trivia could well be hearsay and urban legends, one still enjoys reading about the cult status that Disco Dancer gained internationally, how there are 'disco dancer' theme parties still prevalent, how Rajnikanth too believes that if he has one regret, it is about not doing Disco Dancer, how the film was at one point the highest grossing film in China etc. etc.


However, while all of this does work at the peripherals and does bring a smile on one's face, the core intent of the book which is centred on presenting the dialogues from the film as-is in English works only at places. Of course classics like 'come sing and conquer', 'he has guitar phobia' or 'he has murdered over thirty disco dancers in London' are the dialogues that stay on to be campus favourites when trivia around Disco Dancer starts making rounds. However when the chapters, which are basically presented as 'a comedy in five acts', are read through in one single go, one does get a sense that Anuvab's right intentions don't quite produce the best possible results. Yes, he does try to spice it up all by adding his own bit/analysis to the narrative, case in point being the description that he brings around all the weird dance movements in the film (shadow bicycling, breast thrusting, grab ear lobes and go up and down, salsa for the blind etc. etc.) but unfortunately such elements of fun are only far and few.


This is where one wishes that if only Anuvab, who has to his credit screen writing of films like Loins Of Punjab Presents and The President Is Coming, could have further worked on his imaginations and brought in added elements of fun to the book. At the moment one does get an occasional smile and at times even rolls over the floors with laughter. However, a sense of totality is missing here, something that was seemingly possible, courtesy the brilliant subject that was chosen by Anuvab here.


Price: Rs. 250/=


Rating:
BOLLYWOOD NEWS
Catch us for latest Bollywood News, New Bollywood Movies update, Box office collection, New Movies Release , Bollywood News Hindi, Entertainment News, Bollywood News Today & upcoming movies 2020 and stay updated with latest hindi movies only on Bollywood Hungama.