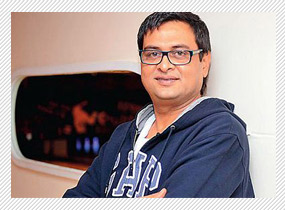 Rumi Jaffery: "I was with Sanjay Dutt and Maanyata Bhabhi at their residence when the announcement of the Supreme Court judgement came. We had all hoped it would be over and to hear that Sanju would have to go back to jail numbed us. I can't describe to you the look on Maanyata Bhabhi's face. She just stared at Sanju's face and burst into tears. We were all too stunned to react and as we sat numbed, Sanju's little twins kept playing oblivious to the calamity that had befallen on their father. Sanjay Dutt is not a criminal. And look at Sanju's grace! Even at a time like this he told me, 'Huzoor, main kissiki ka nuksaan nahin hone doonga.' I wrote some lines for Sanju's plight: 'Mehfil mein jalaate hain diye doosre log lete hain ujaalon ka mazaa doosre log mujrim kabhi pakde nahin jaate lekin/paate hain adaalat se sazaa doosre log."
Jackie Shroff: "How does one react to a tragedy within one's own family?"
Raza Murad: "We're keeping our fingers crossed and praying for this really nice guy. Some people are crying themselves hoarse on camera and overreacting just to get mileage out of the situation. Tears and melodrama won't help. This is a serious judicial matter. One can't influence the judiciary or the government with hysterical outbursts. We have to respect the well-balanced judgment of the honourable Supreme Court. We can only make an earnest appeal without getting offensive in this highly sensitive case."
Pooja Bedi: "I think he is an errorist not a terrorist. He is a gentle giant. His intention was never to cause harm. Yes, he broke the law and paid the price with 18 months in jail and 18 years with a sword hanging over his head. We all know the underworld had a strong hold over the entertainment industry 20 years ago. He was probably looking to avoid trouble, not cause trouble."
Mahesh Bhatt: "The people of India need to ask whether they want justice, personal satisfaction or revenge. There is no denying that he has committed a criminal act. The apex court has been kind enough to reduce his sentence by one year. Since we are emotionally close to him we are protective towards him and expect more leniency from the law. Alas, life is not a movie. After exhausting the legal options he will have to accept whatever has been decided by the honourable court. One small window of the review petition is now open to Sanjay."
Subhash Ghai: "I am extremely disturbed and saddened. Maybe celebrities have to pay a bigger price for their mistakes. The bigger the celebrity the larger the attention and the noise. I know Sanjay Dutt. He is just the opposite to the Khalnaayak he played in my film. It has been 30 years since I worked with him in Vidhaata. To this day everyone loves him."

Rajkumar Gupta: "At the moment I am not even thinking of what would happen to Mr Dutt's cameo appearance in my film Ghanchakkar. Mr Sanjay Dutt is one of the nicest most humble human-beings I've come across in the film industry. He has already suffered enough. I pray he gets some relief from a higher authority."
Ahmed Khan: "We respect the judiciary's decision. But they should have considered the 18 years' wait for the judgment when every day was like a punishment for Sanju. Even those in jail have their sentences reduced for good behaviour. Then why not consider Sanju's good deeds? And forgive him for the one mistake for which he has served an 18-month jail term."
Dino Morea: "I am upset. More so, because it has been turned into a media mela. I respect the law of the land. But I know Baba. He's a good human-being. He can never intend harm to anyone. What happened was just plain awful luck."
Sonu Sood: "Very sad to know that such a lovely person has to go through this nightmare all over again. He has everyone's support. And I am sure he will come out of it strongly. What he did was a mistake. I hope the country's law-makers realize this."
Ashoke Pandit: "Nobody can be above the law. And emotions don't govern the legal system. Having said this I wish Sanjay Dutt comes out of this nightmare as soon as possible."
Zayed Khan: "I am deeply saddened by the court ruling. I've known Sanju Sir all my life. I don't know a gentler soul. He wears his heart on his sleeve. The truth is he's paying a political price as well. But nobody wants to admit it. However the highest court of the land has given its verdict and the law will take its course. A superstar is being snatched away from the skies. But I know him. He will rise again. I eagerly await that day."
Rahul Dholakia: "It is unfortunate that after 20 years of stress trauma and suffering Sanju has to do 3 and half years more for possession of arms. He has served time already and not committed any crime during the time he was out on bail. He is a reformed man. He has therefore fulfilled the purpose behind the sentence. I think the Governor and the President should consider his case He is much older now and one must not forget that just because the judiciary took 20 years to sentence him does not mean he lived a free life. He has suffered every single day for 20 years."

Juhi Chawla: "It's really sad and shocking. I wish him great strength. These are tough times. My prayers for his family."
Dia Mirza: "As his friend and well-wisher I am heartbroken. It seems a case of justice delayed justice denied. In his case and all those who are under trial for years the verdict seems harsher because of the time lapse."
Ameesha Patel: "I am shocked; I have a pit in my stomach. Bigger offenders walk scot-free. Sanju seems to be a scapegoat as he's a celebrity. He is an older brother. I pray for a miracle."
BOLLYWOOD NEWS
Catch us for latest Bollywood News, New Bollywood Movies update, Box office collection, New Movies Release , Bollywood News Hindi, Entertainment News, Bollywood News Today & upcoming movies 2020 and stay updated with latest hindi movies only on Bollywood Hungama.