The on-going lockdown due to the Coronavirus outbreak has affected all industries across the globe. But entertainment is one of the industries that has got majorly impacted, arguably like never before. In most places, as cases increased, cinema halls were the first ones to shut and since it comes under the non-essential category, once the lockdown will be lifted, it'll be the last ones to start operations. Shootings too came to a halt and also other filmmaking work like post-production, casting etc. As a result, the losses faced by the industry are insurmountable. Some of the important voices have already made it clear that things won't be the same again in a lot of respects. Brace for a 'new normal' is what they say.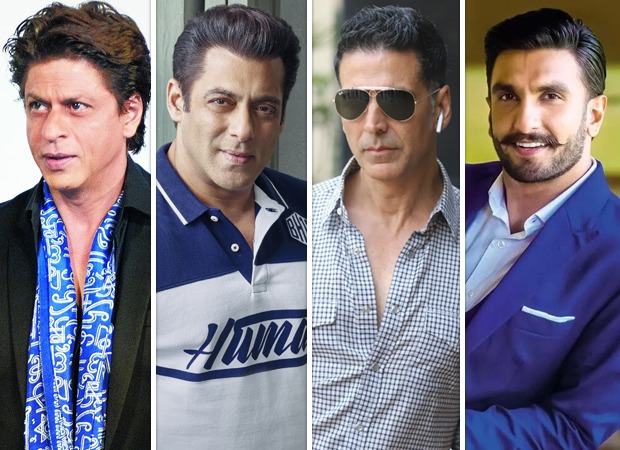 When will theatres began operations?
The BIG impact of Coronavirus – The changes Covid-19 will force on to the business of Bollywood and a possible view of the future – Part 1
We spoke to reputed personalities from the field of trade, production and distribution to share their views. The first questions that arise in a lot of people's minds are – when can we expect theatres to start and when can we expect viewers to flock back in large numbers? Trade analyst Taran Adarsh says, "I don't think it's going to open soon. Things might get better maybe towards the end of the year when things might get normal if there's a vaccine or cure available for the virus. Until then, I don't think cinema is going to be on anyone's mind or entertainment is going to be on anyone's priority list."
Girish Johar, film trade and business analyst, too doesn't expect theatres to start to any sooner, "Cinema halls will be the last one to be opened. If suppose the lockdown is lifted on May 3, then I presume cinema halls will open in June."
Trade analyst Amod Mehra tells, "Whether or not the country opens in phases, one thing is sure – people can't be expected to flock to cinemas. They'll wait and watch for a couple of weeks. So till May 15, I don't foresee any development. Even if theatres open, viewers will not come. Also, exhibitors won't have any film to play. Angrezi Medium has already released now on OTT." Kamal Gianchandani, CEO, PVR Pictures, emphasizes, "The government has given no directive on when theatres should start post the culmination of lockdown. I think the decision is yet to be made. Our hope is that by the end of May, cinemas will be allowed to open."
Akshaye Rathi, film exhibitor and distributor, makes a practical observation, "I hate to say that as an exhibitor and to look at my own balance sheet but in terms of public utility, there are other sectors like agriculture, transportation etc. which deal in necessities and that deserves priority. If the audience doesn't survive, they won't come to the cinemas! So it'll be the necessity sectors that'll open up first and we really hope that very, very soon, we are allowed to open up after that." He then adds, "Looking at the way things are right now, we are hoping that by mid-June or in worst-case, by June-end, the cinemas can open up. And if that happens, I'd anticipate that at least for a couple of weeks, producers will only be waiting to test the waters and see how the audiences are reacting to films and whether they have apprehensions about coming to cinemas. So, it'll be a wait-and-watch scenario before some producer shows the courage to come in and take the onus of bringing audiences to cinemas in big numbers. So for a tent pole film to release, I think it'll take a couple of weeks for cinemas to reopen."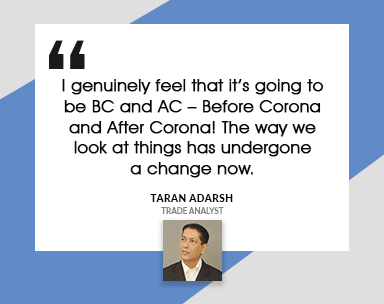 Reliance Entertainment Group CEO Shibashish Sarkar predicts, "I guess the life will get back into by motion by around July to September, depending upon the situation from now on. Before that, I don't foresee that once lockdown is lifted, cinema halls and malls will be the topmost priority."
Safety measures in cinemas
Actress Tisca Chopra was heard saying at a web press conference few days back, "I don't think anyone is venturing into a cinema hall for a year at least." The fear is palpable and at a recent last week, it was discussed that certain measures will be put into place to ensure that cinema premises and auditoriums are regularly cleaned, so as to inspire confidence. But these measures can also have its shortcomings. Taran Adarsh explains, "The habit of cinema watching will have to be cultivated all over again. Now, when we go to a cinema hall, how will social distancing be addressed? Right from buying the ticket to entering the cinema hall to taking the elevator to going to your seat, with each seat joined to each other, being in a queue to buy snacks or going to the restroom – at each and every step, social distancing will have to be practiced. After the film is over, there's always a cleaning process which takes around 5-10 minutes. But now, we'll need to sanitize everything. So will these measures reduce the number of shows? If yes, will that reduce the revenue? I genuinely feel that it's going to be BC and AC – Before Corona and After Corona! The way we look at things has undergone a change now."
Akshaye Rathi gives an idea on the 'After Corona' phase as he tells, "I'll have to inspire confidence in the minds of the people that it's okay to go to the cinemas and that they'll be fine. And I can't do that by giving cheap tickets. I'll have to back it up with the right kind of sanitization and safety measures to make sure that every single person who comes into my cinema hall feels confident that nothing is going to happen to him in there and also to ensure that nothing actually happens to him there. So everything from sanitization tunnels to proper cleanliness and sanitization of the seats in auditoriums will be enforced. We are because of our audiences and it's the least we owe to them."
Manoj Desai, executive director of G7 multiplex in Mumbai, popularly known as Gaiety-Galaxy cinema complex, meanwhile asserts, "We had already kept the cleanliness measures in place. From March 1 till the day theatres shut, on March 13, we had cleaned the theatre thoroughly. As and when cinemas open, we'll take all precautions. We'll use more phenyl and acid in the washrooms."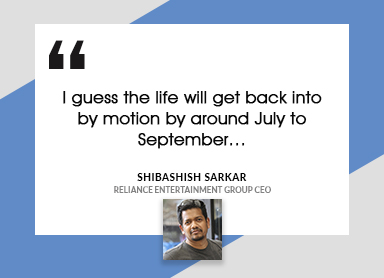 No release of biggies in the immediate future, post-lockdown
Even if theatres do open, no big-ticket film can be expected immediately. Taran Adarsh tells, "If theatres open, I don't think any big movie will come instantly. That's because you also need to look at the global market. Our films are released simultaneously worldwide. So, USA, UK, Australia, New Zealand, Fiji, Middle East etc ka theek hona bhi bahut zaruri hai. Only then, the big films will release."
Girish Johar elaborates, "Because of the scare, moviegoers might not come in big numbers till August. If a big-budget film releases on August 15, which is the Independence Day, then from thereon, the situation will get better. However, the film in question might release in India, but what if overseas markets are shut? No wonder that most Hollywood films have been pushed to next year or late 2020. Also, the effect will continue in 2021 as well since our films will clash with Hollywood biggies. If Sooryavanshi and the James Bond movie No Time To Die, for example, release on the same day or within the gap of a week, most people will watch the former over the latter, in India. But in foreign markets, people's first choice will be vice versa!" He estimates, "I don't know exactly but it seems that big films won't come before November."
Amod Mehra explains how overseas market is lucrative and how no producer of a biggie would want to forgo that. He says, "Let's take Sooryavanshi for example. Now the makers will have to consider whether to release only in India and not in overseas, since the situation is alarmingly bad in America and Europe. So I don't think they'll able to release their film in these places, and also in Gulf countries. A film like Sooryavanshi can amass at least Rs. 50 crore from overseas. So will the makers forfeit this sizeable contribution from these markets or will they wait and watch remains to be seen. From what I know, no decision will be taken immediately. They'll decide only 2 weeks after the lockdown is lifted"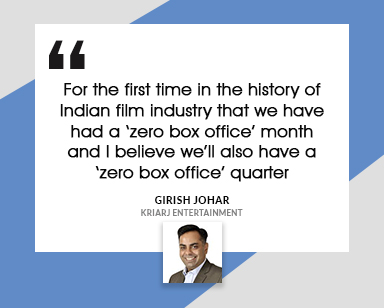 Cheap rates, Rohit Shetty and MCU film festivals: Immediate plan of action for exhibitors post lockdown
Since it's obvious that the biggies won't arrive anytime soon; so until then, what are the plans of cinema owners to attract audiences? Akshaye Rathi has a novel idea, "I'll have to create film festivals and create packages. For example, you give me Rs. 2000 and in one week, I'll show you all the Marvel Cinematic Universe films from first to last. I also plan to do a Salman Khan film festival or Rohit Shetty film festival. Or a package where you buy a ticket worth Rs. 200 and watch all films of Golmaal series! For the first month, I'll have to look away from my P&L. Instead, I'll have to look at rebuilding the habit of going to cinemas."
A hopeful Kamal Gianchandani meanwhile says, "Discussions are on. We are hopeful that new films will release. Initially, the big films would like to wait for sometime and that's understandable. But we are hoping that some mid-sized and smaller films will start releasing immediately. And the regional films belonging to the Southern industries will also start releasing immediately. That's because the dependency of regional films is lower in the overseas market than the rest of the country. So they will find it easy to release earlier."
Kamal's words can prove to be true. At the webinar, Rohan Malhotra, Yash Raj Films' Vice President for Distribution, had made it clear that they'll be releasing their long-delayed flick Sandeep Aur Pinky Faraar once theatres start. The other small films might see it as a good opportunity to arrive, since their dependency on overseas is low or negligible.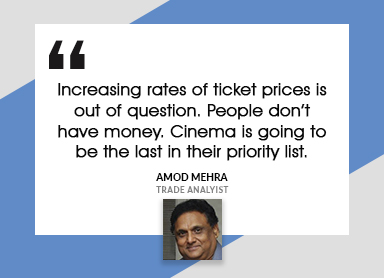 Change in admission price points of cinemas?
A couple of weeks back, Manoj Desai in an interview made it clear that he'll increase the rates by Rs. 20 to cover his losses to some extent. On this topic, he tells this writer why he had no choice, "Where will I get the money from? Each and every theatre owner has a backing. Some are builders while some are diamond merchants. We are just exhibitors. In these 46 years of our operations, we have kept the prices low and have not made much money. Lekin abhi majboori aa gayi hai hamari. How will I pay my staff? Others have cut salaries of their employees. I am surprised to read that. But in G7 and Maratha Mandir, I have not cut a single paisa of my workers."
So will other cinema owners also follow suit and hike the rates? Amod Mehra vehemently disagrees, "Increasing rates of ticket prices is out of question. People don't have money. If people are getting 50% cut in their salary and some are not even getting their salary, in such a situation, cinema is going to be the last in their priority list." Taran Adarsh however feels, "Even exhibitors have to recover their losses. So an increase in price cannot be ruled out. Everyone is out of work. People need to regain the confidence of doing the business. The stakes are high. Exhibitors are paying the property taxes and other overhead costs. So again, we don't know the situation and whether audiences will be ready to shell out a higher price. They perhaps won't mind for a Sooryavanshi and a '83. But will they do it for every film is the question."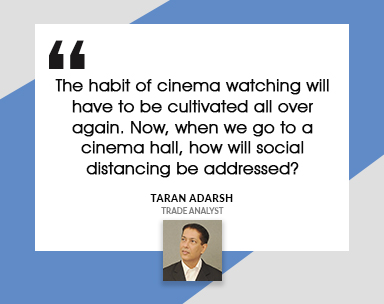 PVR, meanwhile, had massively slashed rates after the 2009 producers strike got over. Even their premium property at Lower Parel, Mumbai charged Rs. 75 per ticket for most shows on the weekdays, albeit for a limited period. Kamal Gianchandani however states, "It's possible that we'll go for reduction of prices but it's too early to comment." Akshaye Rathi explains, "Every cinema has a different audience that they cater to. While some audience bases are very price sensitive, some aren't. If suppose INOX Insignia in Worli, Mumbai opens up and they hike the ticket rates by 10%, it might not be a big deal. Somebody who could afford a ticket of Rs. 1000 will never have a problem paying Rs. 1100. But for somebody who's paying Rs. 50 one time in a month to go and watch a movie because that's what he could afford, he'll face the pinch if the rates are increased to Rs. 70. So there's no one-size-fits-all scenario here. There's going to be customization."
Shibashish exults, "I don't think multiplexes will reduce rates because in the filmmaking supply chain, the worst affected are the cinemas. From the day they shut down, their daily income has completely stopped. However, the owners still have to bear most of the expenses like rental and overhead costs. They have to find how to survive in this situation. In China, recently when the cinema halls had started for some time, they played previous super-hit films of Hollywood and also of their local market. The producers and distributors and even the government didn't take their share from it. So 100% of the money went to the multiplexes. This was also done to build up the cinema-going habit. Everybody in the chain has taken a hit and not just the exhibitors. Even the producers and distributors have suffered. So a new system will be put into place. We all have to hold each other's hand. The exhibition sector has approached the government already with the list of their expectations like reduction of tax or any other such subsidy. They are hoping that such kind of support from the government will prove very helpful."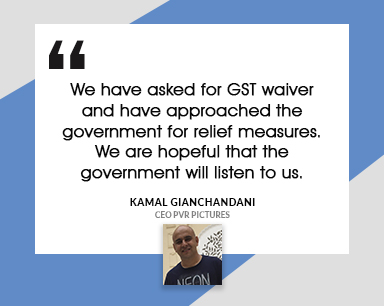 Support from government for exhibitors?
According to a report, INOX and PVR have already invoked 'force majeure', or unforeseen conditions, to not pay rentals to landlords. And with China forgoing tax collection from multiplex, are exhibitors expecting any relief measures from government or lower GST on movie tickets? Director Sudhir Mishra at a web press conference stressed, "The government will have to help the exhibitors by making their electricity bills less costly. Or maybe they should be charged at the same price as residences."
Kamal reveals, "We have asked for GST waiver and have approached the government for relief measures. We are hopeful that the government will listen to us." Manoj Desai tells, "Government should definitely reduce GST on ticket prices, if we have to survive."
Akshaye Rathi says, "Every kind of relief or rebate or waiver on any kind of expenses is welcome at this point of time because right now, we are not starting from scratch but from 3 feet under the ground. Not only are the businesses shut, they are also facing the fear psychosis. Our audiences have a cash crunch for not going to work for as long. There are multiple issues that we are facing and hence, any and every kind of support is definitely needed from the government for us to survive. Having said that, what happens externally in terms of the government support is one thing. What I think needs to happen and I am sure will happen is that for a while, the studios and the exhibitors will have to work as one team and put in a lot of collaborative effort to ensure that we rebuild this theatrical format into a robust revenue generating medium. So we will need support not just from the government but from the studios and filmmakers to ensure that this format goes back to delivering the kind of revenue levels that it used to in its good times, which was about 40 days ago!"
Girish Johar too takes a wider view into account, "Everyone will be now looking upto the government to ease taxes not only on the film industry or on tickets but across all sectors!" Shibashish Sarkar suggests, "Even if GST is not reduced, if the government postpone its collection for the first 6 months will also be of help. After all, audiences will not flock to cinemas from Day 1, right? Also, one needs to understand our industry gives employment to a large number of people. A huge amount of unorganized employment happens in our sector. From that perspective, I am sure our representatives will approach the government who in turn will provide relief reasonably."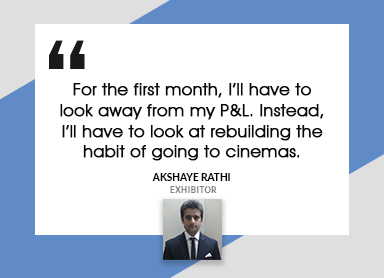 Change in producer-multiplex share?
The 2009 strike lasted for 2 months and it ended with an amicable deal of the producers that was accepted by the multiplex chains. As per this arrangement, for the first week, producers or distributors would be paid 50% of the share in Week 1. The number will go down to 42% in Week 2 and 37% in Week 3. With so many 'new normal' scenarios emerging, will there be any change in this aspect as well? While Kamal Gianchandani refused to comment, Taran Adarsh agrees a change might be possible, "I think everything will go undergo a drastic change. One cannot say for sure if the same terms will be applied or not but definitely, the whole business module is going to change" Akshaye Rathi tells, "I don't think there'll be a renegotiation in commercial terms, but maybe in terms of making the release go wider and other such aspects."
Shibashish Sarkar explains, "I am not looking at it right now because our focus is on how soon can the normalcy return. All the people in the sector have suffered – some suffered more while some suffered less. I'll suggest that instead of fighting a battle among each other, we'll have to instead hold each other's hand and see how fast we can come back to normalcy. I'll definitely not want a new discussion on the multiplex share once things resume. And if a discussion has to happen, it should take place a year later looking at how things will pan out. But currently I don't think something of this sort will be the focus."
Girish Johar raises a fair point, "I don't think that equilibrium will be changed. Because if you see losses from one end, then you should also see that there are losses at the other end as well. It's not that only exhibitors are suffering. It is the entire industry that is affected. I don't that change of scenario is happening."
RIP MG Deals?
Shifting focus on distribution, the Minimum Guarantee (MG) deals have always been risky yet common. With every player opting to play safe, will that make MG deals redundant? Taran Adarsh feels it's difficult to say at the moment but Shibashish Sarkar says, "In most of North India, in exhibition sector MG deals have long become redundant. However, there are few exhibitors in single-screen cinemas who still take a film on MG basis. There are MG deals at Distributor level. In South, also it is very prevalent. I don't think whether any norm from the distributors will go but all equations will be new equations. Everyone will have to calculate based on the new situation or how that will pan out. We just cannot accept the normalcy that was there six months back."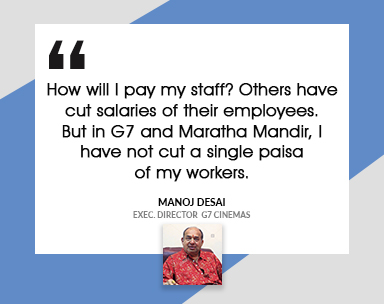 Girish Johar meanwhile tells, "Since the film's budget has gone higher, so similarly even the MG have increased as well. And distributors are not being able to break even. So distributors are not anyway shying away from paying upfront MG. Hence, commission basis model is being preferred. And in the future, when things get normal, there'll be a pent-up demand and also a steady flow of releases. In short, there'll be immense supply of content. Also, MG model is adopted when the distributors are really dying for a hit film or a big film. Such a scenario won't arise because there will be so many films coming up week after week. So exhibitors will have a lot of options."
Industry stares at big losses
The first quarter of the year ended on a dismal note, because of Coronavirus-induced lockdown and also because of underperformance of most films. The losses for this period are estimated to be around Rs. 1000 crore. It is also said the overall revenues for the calendar year 2020 will be less than Rs. 3000 crore, which is less in comparison to 2018 and 2019. When asked to comment on this estimates, Taran Adarsh says, "It's a bit too early to comment. We cannot really come up with any figure because we don't know when the theatres will reopen. It's only when the theatres reopen that we'll be able to guess the estimate loss."
Girish Johar tells, "We can't really say for certain as we don't know when cinemas will resume. Ideally I'd want that it should definitely cross Rs. 3000 crore, but the possibility seems a bit weak at the moment. I tweeted recently that this is the first time in the history of Indian film industry that we have had a 'zero box office' month and I believe we'll also have a 'zero box office' quarter. Also, audiences will take time to come back to theatres. As a result, crossing Rs. 3000 crore seems doubtful as of now."
Shibashish Sarkar meanwhile opines, "Assuming that films don't release or don't get a proper release, from March, so for the next 4-6 months, we are looking at somewhere close to 2 quarters of loss of revenue in theatrical business. For the Hindi industry it's approximately an impact of Rs 1500 crs+."
BOLLYWOOD NEWS - LIVE UPDATES
Catch us for latest Bollywood News, New Bollywood Movies update, Box office collection, New Movies Release , Bollywood News Hindi, Entertainment News, Bollywood Live News Today & Upcoming Movies 2023 and stay updated with latest hindi movies only on Bollywood Hungama.