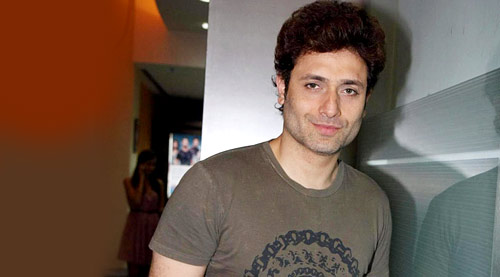 "Bhatts didn't respond negatively to me but at the same time, they didn't even call me inside for signing a contract," said controversial actor Shiney Ahuja in an interview to Bollywood Hungama in Abu Dhabi. Evidently unsure of himself and hesitant while speaking, Shiney is making efforts to put the rape case behind him and make a strong new beginning. One doesn't expect his comeback in Welcome Back to be in the same mould as some of his wonderful performances like Gangster, Woh Lamhe, Khoya Khoya Chaand and Hazaron Khwahishen Aisi but at least he is back in the reckoning on a big stage. Ahuja speaks his heart out on the perceptions of the industry towards him, how he got the role in Welcome Back, the welcome that he received from his co stars and the reported cold shoulder from Shruti Haasan.


How did you bag Welcome Back?

A guy from Anees Bhai's team contacted me. He kept messaging me for a couple of days and finally introduced himself. I was wondering who he is and when I finally responded, he replied saying that he needed just five minutes of my time. I was about to tell him that he can meet me day after tomorrow but he said that he's just outside my building. He then met me at my residence and gave me a wonderful narration of the film. You know, I had not seen Welcome. I know it's a big hit and a wonderful film. But the person while narrating would explain by saying 'Jaise Welcome mein tha, waisa hoga'. I couldn't even tell him that I had not seen the film as he was too engrossed in narrating. However, what he told about my character intrigued me as it was something that one might not expect in a commercial masala film. Once he was done with the narration, that guy, whose name is Shahid, immediately called up Anees bhai, made me talk to him and soon I was in his office.



How was it playing Naseeruddin Shah's son?

It's a pleasure. We never worked together but I was honoured when he offered Yun Hota Toh Kya Hota to me, which unfortunately I couldn't do. But not only him, it was an honour to work with everybody in the film. I have known Anilji (Kapoor) before, socially. I met Nanaji (Patekar) for the first time on the sets. As for Paresh bhai (Rawal) and John (Abraham), I have worked with them in Bhool Bhulaiyaa and Karam respectively.



Anil Kapoor reportedly hugged you on the first day of your shoot…

Yeah, that's true. Everybody was very warm to me. I met Anilji at the airport itself. He hugged me and said 'Welcome Back'. Then we both laughed! Nanaji talks to me as if he knows me since years. He calls me by saying, "Aye Shiney, idhar aa na"!



What was your state of mind on the first day of shoot and the thoughts bubbling in your mind while you were on your way?

It was in Dubai. To be honest, I was thinking about my character Honey in the film. I hadn't got much time to prepare. In my first shot, I was supposed to sit in a car at the back with two filmy bodyguards and Anilji and Nanaji were seated in the front.



There were reports that Shruti Haasan wasn't happy working with you in the film…

I really don't know. I am as cordial with her as with any other co-star. And I have a huge amount of respect for her father, Mr Kamal Haasan and also her mother, Sarikaji. In fact, I have worked with Sarikaji in a film called Kal - Yesterday And Tomorrow.



What exactly is your character Honey all about?

He doesn't have to do anything as his father (played by Naseeruddin Shah) is quite rich. He's quite simple and innocent but looks the exact opposite. He falls in love with a girl and is ready to do anything for her. But one month later, he would have comfortably moved on! I found this whole thing illogical. But then I realized that there's one such person in my building itself. So I started studying that guy. He works out and his impression among building residents is totally different but in reality, he is a sweetheart. In fact, one day he was crying on the building staircase as he suffered a breakup. So all this actually helped me.





With Welcome Back, you'll be officially open to directors and for more work. So how has been the entire process for you and what will you do on your end to ensure you get more work? Recently there were reports that you had approached the Bhatts and they refused to sign you for any films, fearing legal complications because of your court case.

Acting has always been a passion and then a profession. However in between when I was not in the correct mindset to work in films, I did decline a lot of roles. This gave an indication that I was not interested in working any more. And it continued for much longer than I wanted to! People started saying that Shiney doesn't live in Mumbai and has shifted base to Delhi whereas the truth is that I am in Mumbai since 4 years. And I got to know about this now after I resumed working. A few people told me that they wanted to sign me for a film but were put off by the news going around that I am not keen on working. Meanwhile, when I decided that I want to resume work, I thought of approaching people whom I have worked with. I decided to meet the Bhatts as they are producers and always have multiple films in their pipeline. They didn't respond negatively to me but at the same time, they didn't even call me inside for signing a contract. A week or 10 days later, I read the article in papers and I can't tell you how bad I felt. But this news made it clear that I have approached somebody for work and I am ready to be back. In fact, a week after the article appeared, I signed Welcome Back. So I guess God has his own way of ensuring that things fall in place.



Have you signed any more films?

I am in talks and I am reading scripts. But nothing has excited me so far.



You have worked with Mohit Suri in the past in Woh Lamhe…, a fantastic film and a great performance by you. Is there any chance of you working with him again? After all, he has the knack of coming up with unconventional stuff in a commercial setup…

I am sure that if Mohit has a role for me, he'll call me. He has my number! Woh Lamhe… turned out to be exceptional. Its songs were a huge hit. So yeah, definitely I would like to work with him and also Anurag (Basu) and all other filmmakers with whom I have worked before.



A lot of new actresses have made their debut in Bollywood in recent times like Alia Bhatt, Parineeti Chopra, Shraddha Kapoor, Sonakshi Sinha etc. Who would you love to share screen space with?

I haven't seen the films of these actresses. I know it sounds bad! But I have seen couple of scenes of Parineeti and I think she is very talented.



We have seen Sanjay Dutt who went through a traumatic time but then he made a very impactful comeback. Can we see you making a comeback as well? After all, one film works and everybody flocks to you - that's how it works in the industry. And I am sure you would love to do it for your daughter…

Yeah of course and that's the reason I resumed work, because I needed money. I needed to look after my family and hence, I decided to let go of my ego and meet people so that they can give me work. It wasn't easy for me. As for making an impactful comeback, you can't say. What I have learnt from life is that you can keep planning but you don't know your next second. After all, those who died in the bomb blasts had no idea that their lives would end in a jiffy.
BOLLYWOOD NEWS
Catch us for latest Bollywood News, New Bollywood Movies update, Box office collection, New Movies Release , Bollywood News Hindi, Entertainment News, Bollywood News Today & upcoming movies 2020 and stay updated with latest hindi movies only on Bollywood Hungama.