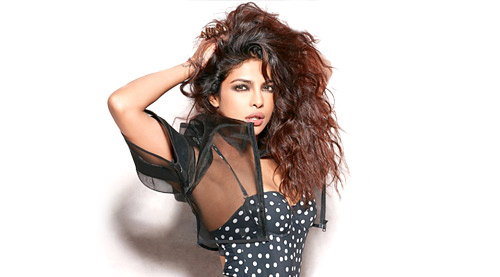 Dear Priyanka



As 'Ud Ja Ab Teri Baari' played full throttle and the end credits of Mary Kom rolled on, I stood-still, fascinated after a fabulously inspiring cinematic experience. My first impulse was that this is one film my ten year old daughter Insha must watch. In India, women are worshipped as deities but still the girl child is mostly considered a liability. The majestic story of Magnificent Mary and how she toppled all odds will instill a lot of self belief not only in my daughter but every single girl child in India and the world in general.



The pain and the effort you've taken in becoming Mary Kom is brilliant and as Coach Sir would say, you never lose 'Focus' even once. The perfect body language, the arduous physical conditioning, the momentous self belief and the sheer hard work that you've put into making Mary's story immortal will ensure that your name reflects amongst greatest actresses in India. Also, this performance ought to be celebrated on a global level and I genuinely hope it happens.



By the end of Fashion, Meghna wants to lose her identity as she's disillusioned. By the middle of Mary Kom, the champion boxer wants to regain her identity for she must do what she loves doing the most. At the end, it's all about Identity. Every woman must strive to create an identity for herself in a male dominated society. It's important to be a good daughter, wife and mother but it's also equally important to have an identity that's unique to her. An identity that makes her feel proud and is a constant source of confidence.



Mary Kom must be watched by every woman to create a mark for herself in a male dominated society. Every father should watch it to understand that he ought to give his daughter a chance to decide what she really wants to do and support her. All the mothers ought to watch it, for motherhood isn't the end of their career. If Mary can overcome a Caesarian operation, train harder than ever before and become the fourth time world boxing champion, then all mothers can at least get back to work and regain their identity. All husbands should watch the film for even though they might be the bread winners but still their wives deserve a chance to pursue their passion. All Indians must watch Mary Kom for they ought to support the women of the country. For, when the women are strong, the family is strong and when the family is strong, the nation is strong.



During several interviews with me you've always emphasized on the need for you to balance out the big 100 crore films like Don and Krrish with a performance oriented film like Saat Khoon Maaf or a Barfi (which incidentally crossed 100 crores). You love the box office and it's not surprising that you prefer an ice cream named 'Blockbuster' in Mary Kom. I interacted with a prominent exhibiter Akshaye Rathi on twitter when the theatrical trailer of Mary Kom had released. He said that there's something about this film that makes you feel like supporting this film. I replied that yes, it looks like a film that one ought to support shamelessly without bothering about who-says-what. After having watched the film, I strongly believe that everyone within the media and the film business must support Mary Kom. We need to make it a success, we need to urge the people to watch it in theatres for the audience shall surely get their Entertainment and walk out ennobled. More importantly, it should motivate you enough to do more meaningful cinema and pledge that you'd never do a Zanjeer again. The Pinky item song wouldn't be remembered at all, but Ziddi Dil will symbolize the indomitable spirit of Priyanka Chopra, an actress who, like Jonathan Livingstone Seagull kept on trying to push the envelope and emerged triumphant.





The politics in sports federations and the apathy of the officials is despicable. I genuinely hope that after Mary Kom the movie, some serious steps are taken by the government to ensure greater transparency in the selection process. Better facilities, diet and equipment is a must. In Mary Kom, there are around 18 brands that have leant themselves to the in film marketing. But how many of them support any sport in India? Corporate India must come forward to support Sports in India (other than cricket). I hope you'd make some effort to mobilize such support.



North Eastern States of India are a wealth of talent. It's a talent that goes largely ignored or underutilized. Mary Kom highlights the discrimination and why the mindset must change. The scene at the end where the Indian National Anthem plays and the super asks everyone to stand up to rejoice in Mary's mammoth triumph is a testimony to the immense pride a Manipuri champion takes in being an Indian.



On a lighter note, Mary Kom taught us that a fierce champion, is basically any other normal girl at heart and likes to apply nail polish. Also, I'd like to know the reaction of Real Onler on seeing the bathroom scene where you tell his on screen version, "aaj paani kuch zyaada thanda tha?" With all his aspirations for showcasing some 'action' on how the two babies were created, this must have poured cold water on it. Literally!



Here's hoping Mary Kom delivers a knock-out punch in the Ring of Cinema Halls. Also, hope to see you deliver many more knockout performances in the years to come,



Best Wishes

Faridoon