The 5th edition of the Indian Screenwriters Conference (ISC) was inaugurated on August 1 by Chief Guest Aamir Khan. The eagerly awaited biennial which is organised by the Screenwriters Association (SWA) is being held from August 1-3 at St. Andrews Auditorium, Bandra in Mumbai. The theme of this year's conference was 'Where Mind Is Without Fear' that focuses on the challenges facing Indian screenwriters today.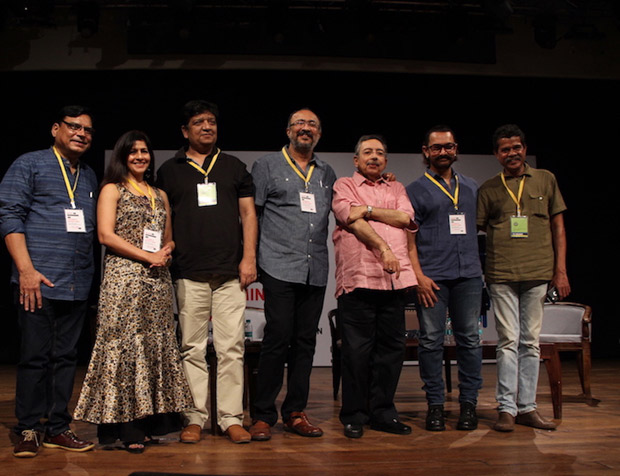 Present at the opening ceremony were Mr. Sanjay Chouhan – SWA Executive Committee member and Convenor of the 5th ISC. Also present were Mr. Sunil Salgia –SWA Executive Committee member and Co-convenor of the 5th ISC, Mr. Zama Habib –General Secretary of the SWA and Preeti Mamgain – President of the SWA. The conference started with a 2-minutes silence that was observed in memory of deceased SWA members.
Following this, Mr. Sanjay Chouhan, spoke about the journey of Screenwriters Conference and how it has grown by leaps and bounds over the years. He said, "The inaugural edition of ISC which was held in 2006 at FTII Pune was attended by 275 delegates, whereas the first day of this year's edition is attended by over 800 aspiring screenwriters"
While Preeti Mamgain spoke about the history of the Screenwriters Conference and how it has become a force to reckon with over the years. Eminent journalist and Padma Shri Awardee Vinod Dua delivered the Keynote address that followed the inauguration ceremony at the conference. It was preceded by an introduction by Zama Habib in which he introduced Vinod Dua.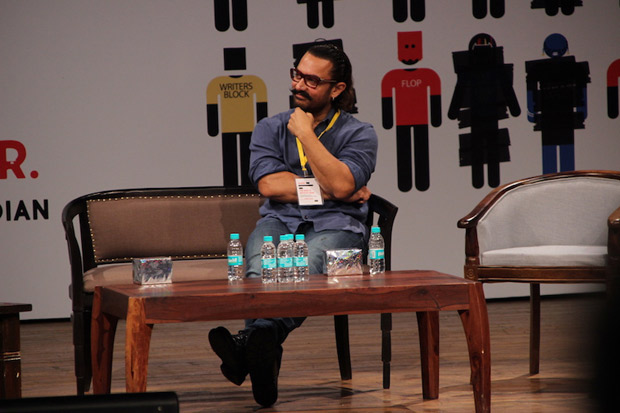 Post this, scriptwriter and SWA Executive Committee member Anjum Rajabali (Ghulam, Raajneeti) engaged in a candid conversation with Aamir Khan much to the delight of the audiences. The conversation was about his take on scriptwriting, his experience of being a producer, working with scriptwriters and why they deserve to be respected and compensated well.
In the course of the conversation, Khan also shared interesting anecdotes on how he ended up producing Lagaan (2001) after rejecting it initially and why he takes a share in the profits. The actor-producer also remarked that he was glad to be finally attending the Indian Screenwriters Conference after several unsuccessful attempts in the past.
Aamir Khan also said that he believes in giving writers their due respect and rights and considers them an extremely important part of the filmmaking process. Having worked on the scripts of his films namely Qayamat Se Qayamat Tak (1988), Jo Jeeta Wohi Sikandar (1992)and Hum Hain Rahi Pyaar Ke (1993) has also helped him to understand the scriptwriting process and a writer's psyche in a much better way, the actor confided. He also added that a script undergoes an instrumental journey from the idea to the execution stage and can play a big role in altering one's opinion about the same.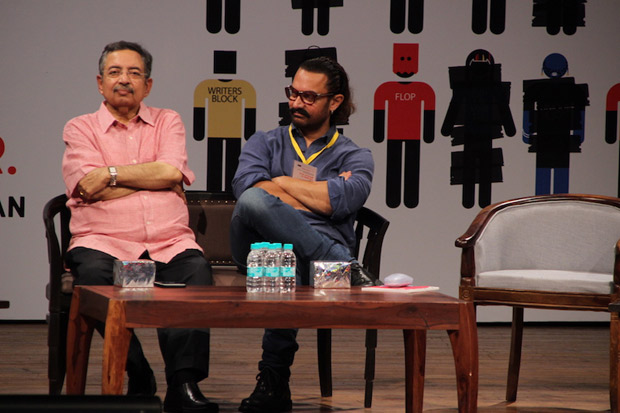 Aamir Khan cited the example of Lagaan and admitted that he found the initial idea of the film bizarre when Ashutosh Gowarikar narrated it. But after Gowarikar came to him with a full-fledged script and screenplay, Khan by his own admission was blown off and agreed to act and produce in it.
The first panel 'Writers Vs Producers: Can They Never Be Allies?' with the speakers including Aamir Khan, directors Amit Masurkar (Newton, Sulemaani Keeda), Akshat Verma (Kaalakaandi, Delhi Belly), Somen Mishra (Head Of Development – Dharma Productions) and Siddharth Roy Kapur (President of Film & TV Producers' Guild, Ex M.D and C.E.O – Disney India) was about the love-hate relationship shared by writers and producers.
Moderated by Anjum Rajabali, the panel saw the speakers discuss the complex equation shared by writers and producers, the steps that can be taken to ensure that both work on the same wavelength, ensuring writers are given their due rights and are fairly compensated.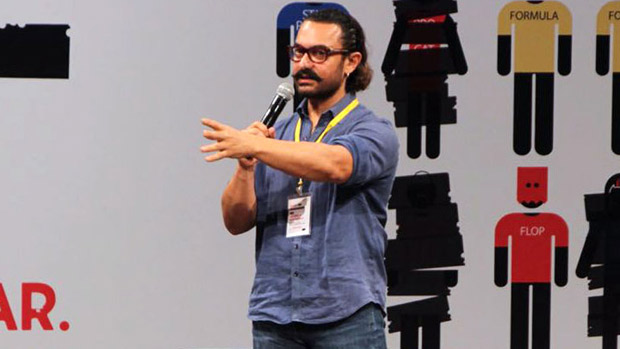 Akshat Varma said that rather than blaming the producers, he wanted to understand them, their psyche and what makes them tick. When the conversation veered to writers do not get their due rights and compensation, Khan said that many people in the industry are not trained to read scripts, while many writers are not willing to take an honest feedback on their scripts which often leads to a friction between both the parties. However, the panel unanimously agreed that while writers need to be given their due, they also need to work and keep improving their scriptwriting skills.
Aamir Khan, who was extremely delighted to be the Chief Guest at the inaugural ceremony of the 5th Indian Screenwriters Conference, said, "I have always believed scriptwriters are an extremely important part of the filmmaking process. And they need to be given their due and the respect they deserve. For, I truly, believe that the film industry will grow only when the writers grow."
"Very few people understand a good script and every writer feels his is the best script. It could be either of these two reasons why a writer receives disproportionate respect. We need to invest in good script-readers as well as writers," says Aamir.
"I think the script is the foundation. I ensure that once I love the story and the film is in the making, people who are investing money should not face loss. I don't allow the producer to shoulder the responsibility alone," Aamir said during the interaction.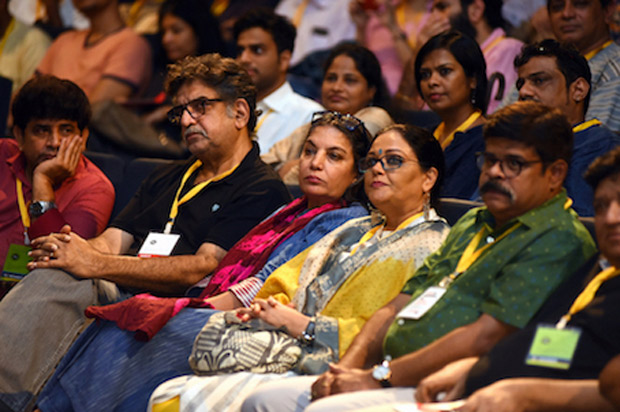 Veteran actress Shabana Azmi, who was in the audience, asked Aamir Khan about profit sharing and the stars demanding 80 percent of the profits these. She further asked how one would make a successful film with just 20 percent. Aamir explained that he does not charge money for the film until the producers have recovered their money. "My first rupee comes to me when the film's cost is recovered in every aspect after the producer's and everybody else's money is recovered. That's the model I work with, and I take a higher cut in the percentage because I am risking my time on that, and I think producers are happy with that too."
Aamir further added, "If a producer is not losing money, it is but obvious that he will sign me for the next film. That is why I always ensure that if I am signed in a film, there is no loss."
He further talked about producing Lagaan and how things changed from there onwards. "Since that film was one of the expensive films of that time and was breaking a lot of rules of mainstream Indian cinema and that is why I felt the importance of taking the responsibility. When I come on board, producers and financiers do not question me on the subject I chose for a film because they trust me, they have faith in me. That is why I want to ensure the profit," he added.
Aamir even said that he cries when his films don't work. "I want to go with my conviction while making a film and if there is a loss, I will mourn that also. I cry when my films don't work." he said.
Writer-director Amit Masurkar said, "It's important for writers to come together and talk about what affects them in order to come up with creative and practical solutions. A conference like the one SWA organises is a step in the right direction."
President of Film & TV Producers' Guild Siddharth Roy Kapur also added, "It is a great experience to attend the 5th Indian Screenwriters Conference. I am really thankful to Anjum (Rajabali) for inviting me once again to this wonderful forum. It always feels great when creative professionals get together with an agenda of exchanging ideas, the challenges they face and the ways to tackle them."
BOLLYWOOD NEWS
Catch us for latest Bollywood News, New Bollywood Movies update, Box office collection, New Movies Release , Bollywood News Hindi, Entertainment News, Bollywood News Today & upcoming movies 2020 and stay updated with latest hindi movies only on Bollywood Hungama.