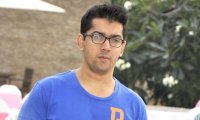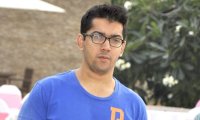 If the talk doing the rounds of the film industry is to be believed then rookie director Rohit Dhawan is all set to make his second film with his brother
Varun and Akshay Kumar in the lead. In fact Varun's debut in Karan Johar's Student Of The Year is all that separates Rohit from his desire to direct
his brother.


Says Rohit, "It's my dream to direct my brother Varun. We grew up constantly talking about how one day he'd act and I'd direct. So yes, directing Varun is a
part of my plan. As for Akshay, he's every debutant director's dream actor. Akshay is so supportive and so all-there. Not for a minute during Desi
Boyz did he allow me to feel I was a new director. However, at the moment I've no concrete plans for my next film."


Rohit Dhawan is apparently planning to now relocate his two gigolo-heroes to India for a sequel. Towards the end of the film, Sanjay Dutt who plays the owner
of the escort agency in London triumphantly asserts that he has finally acquired a licence to start business in Mumbai.


This is the cue for the sequel. But here comes the spanner in the works. Apparently, Rohit has not been able to crack the plot for the desi boyz on
desi soil for the simple reason that prostitution is no laughing matter in India.


Says Rohit, "We did make a reference in the film to the Desi Boyz franchise moving to Mumbai. Let's see...I don't know how a film about guys in the
escorts business can be located in India. Here sex-related vocations are taken very seriously. I was very sure I had to locate my sex comedy outside India."



Rohit was also very sure about not imitating his legendary father David Dhawan's style of filmmaking.


Chuckles the young director, "God knows, there're enough clones of my Dad's style of filmmaking around. I had to find my own voice. And I think in Desi
Boyz I've created a film that's far removed from my Dad's style."


The father David is bursting with pride with his son's individual style. But Rohit is at the moment a little tentative about his future.


Says the young filmmaker, "The film opened very well in the single-theatres, thanks to Akshay's connectivity with the masses. Surprisingly, the multiplex
audiences have been relatively less receptive. That may be because they expected this to be another Garam Masala, the 2005 film featuring Akshay and
John directed by Priyadarshan."


Rohit and brother Varun went to the Gaiety-Galaxy single-theatres to check out the audiences' response.


"And we were very happy with what we saw. I wanted to make a fun film in Desi Boyz. I think I did that."


Check out the video: