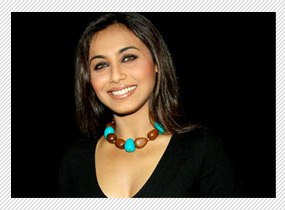 The Queen of Hearts is back with a bang. Yes, we are indeed talking about the one and only Rani Mukerji who is currently here, there and everywhere courtesy her big release Aiyyaa. Ever since the first promo came out, the response has been very positive with die-hard Rani Mukerji fans eagerly awaiting this flick. Bollywood Hungama's Nikhil Ramsubramaniam caught up with the actress par excellence and spoke about her 'wakda' character Meenakshi Deshpande, her deadly dance numbers and the entire Aiyyaa experience. Read on...


"Aiyyaa is a complete dhamaal film" – Rani Mukerji
The promos of Aiyyaa have generated tremendous response; when you signed the film, did you ever think it would find such a connect?

As an actor we always expect that whichever film we sign should have a connect because otherwise why would we do the film. So yes I always sign a film thinking that it's going to have a connect with the audience and Aiyyaa was also one such film. But yes when you are talking about the great buzz that it has created and generated, you are obviously wondering initially how great the buzz would be and to my luck it has created a great buzz and I am very excited and happy about it.


The general perception is Rani is looking fresh, glowing like never before and seems to be having a lot of fun...is this the most fun you have had in movies in recent times?

I think so because Meenakshi Deshpande's character is so lovely, so endearing and so simple. She is an item (laughs). The minute she opens her mouth, she is saying something so funny and cute that I being a girl am in love with her. When I read the character of Meenakshi, I fell in love with her instantly. Where do you find girls who actually stand in front of the mirror and praise themselves saying, "Waah Kya Chehra Hai, Kya Aankhen Hai! " She praises herself and loves herself which is what I love about her. She has no qualms in saying that she is her favourite and she loves herself.


How wakda is Meenakshi Deshpande?

She is fully wakda. She completely stands for that word (laughs)


You are paired opposite Prithviraj in the film...had you seen any of his South Indian films prior to this?

No I had not. In fact Aiyyaa is my gateway to Malayalam films or understanding who the Malayalam actors are. I didn't know about him at all and thankfully Sachin Kundalkar (the director) and Anurag Kashyap (the producer) are more clued in to regional cinema and they made the choice of casting Prithviraj. I was told that I shouldn't Google his films or Google any of his images online because he is seen in a very typical South Indian avatar in most of his films with moustache etc. I was very curious to know who he is so I Googled one of his interviews and I saw him being Prithvi- just the way he is- a normal guy who could be any guy even from Mumbai also . In that interview, he was looking very smart- wearing jeans, a black T-shirt and Kolhapuri chappals and was looking like the quintessential tall, dark and handsome man. I instantly connected with him and knew why my director wanted him for this role because he suited the character of Surya and fit the bill so perfectly well.


Prithvi of course has all the qualities of a good looking man- tall, dark and handsome including a chiseled six pack torso, yet your character in the film falls for his odour...tell us more about that?

Yes...I think his looks just come as a bonus (laughs). It's his smell factor that attracts her first towards him and of course it's a bonus then that he is good-looking as well (laughs).


You've worked with the biggest of directors in your illustrious career. How was it working with a rank newcomer like Sachin Kundalkar?

I love working with new directors, especially directors who have seen my body of work and want to experiment and make me look different on-screen. As an actor, I've always wanted to re-define myself as a character and surprise my audience with something new each time. When I work with new directors, it gives me a chance and an opportunity to be different because they see me very differently. They've seen all my work and they feel, "Ok we've seen Rani like this so far, now let's bring out something new in Rani." That's what helps me working with new directors because they have a different perception and want to flip my image in a never-before seen way. That's what Sachin has done too with the character of Meenakshi Deshpande.


Did Sachin give you tips on getting the Marathi lingo and dialect correctly considering he is a Maharashtrian himself?

Yes absolutely...he was my full-on tutor for everything right from the costumes to the dialect to the diction.


Coming to the costumes, tell us a bit about your styling. You are mostly seen in typical Maharashtrian attire like the nauvari saree?

Puneet is the boy who has done my styling and of course there was Sachin as well who was guiding him like the main stylist. He has a lot of experience of how Maharashtrian people wear their sarees. Even the pleats have to be the typical Maharashtrian way- not like a fan but one underneath the other. Also small things like how a Pune-ri girl would dress in a simple salwar-kameez while going out or at home wear just a simple night-suit with a hair-band. Even other details like wearing a simple bindi and a chain with a Ganesha locket etc. were looked into with much detail. In terms of the colour palette, I was the one who came in and said that Meenakshi should wear bright colours which enhance her skin and face because the character is very bright. In fact Sachin and I went shopping for sarees and salwar-kameez material etc. My look in the songs however has been designed by Neeta Lulla.


Coming to the songs of the film, you seem to have done everything from a typical South Indian style song ('Dreamum Wakeupum') to a Mahrashtrian lavni ('Sava Dollar') to a belly dancing number ('Aga Bai Halla'). So which one did you enjoy the most and which was the toughest?

I enjoyed belly-dancing the most in the 'Aga Bai Halla' song because belly-dancing is something that I've never done before. I used to always watch Shakira's videos and wonder, "How is she doing that move? It's humanly impossible to just move your belly and not any other part of your body" To my luck Aiyyaa was in my lap and Vaibhavi Merchant suggested that she wants me to do belly-dancing and I was game. It's one of the most memorable songs of my career.


How would you look back at your experience working in an Anurag Kashyap production? How involved was he during the production?

He wasn't really that involved during the filming because it was Sachin's production house that was in charge of shooting the film. Anurag was just there as a guiding factor and he came in only at crucial times when certain important decisions had to be made. Anurag's way of producing films is completely different. He gives his directors complete liberty to do what they like because being a director himself, he thinks how he would like to direct a film produced by someone else. So as a producer he wants to give the same freedom and independence to his directors.


From the promos, you seem to be drooling over Prithvi's physique and even say, "Mujhe Gore Nahin Kaale Log Pasand Hai". In real life what are the qualities you look for in a man?

I don't my mind if my man is fair or dark but all he needs to have is a clean heart. 'Mujhe Dilwale Pasand Hai' (smiles). They have to have a lot of love to give you.


You've had your fair share of releases in the last few years be it No One Killed Jessica or Dil Bole Hadippa or Thoda Pyaar Thoda Magic, yet people have been saying this certainly looks like Rani's comeback film. Why do you think so?

I don't know why they say that because when Aamir comes with his film after a year or a year and a half, nobody calls his film a comeback film (smiles). But I guess it's their love that they miss me so much that they want to see me immediately. So I take it as a compliment.


Finally the film is releasing on Oct 12 around the Navratri- Durga Pujo fervour...would you say it's a good festival film for the entire family?

Absolutely. Aiyyaa is a dhamaal film. It's a complete entertainer. It's a package that everybody in the family will enjoy from kids to elders to your friends to your uncles and aunties. It's just the film that you can take the whole gang to and have a lot of fun.


Watch Song Promo: Aga Bai (Aiyyaa)
BOLLYWOOD NEWS - LIVE UPDATES
Catch us for latest Bollywood News, New Bollywood Movies update, Box office collection, New Movies Release , Bollywood News Hindi, Entertainment News, Bollywood Live News Today & upcoming movies 2022 and stay updated with latest hindi movies only on Bollywood Hungama.