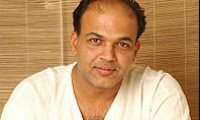 One can sense a certain passion in Ashutosh Gowariker when you converse with him on films, whether the ones directed by him or in general. Though he has made films like What's Your Raashee?, Baazi or Pehla Nasha as well, he would forever be known as the man who made Lagaan, Jodhaa Akbar and Swades. No wonder, when he gets ready with Khelein Hum Jee Jaan Sey, an instant connect comes in since you immediately relate to him as a director who is known for making period dramas. On the eve of the film's release, Joginder Tuteja catches up with Ashutosh Gowariker, shares expectations from the film and how there is a distinct flavour that gets attached to every cinematic outing that the film maker has. Here is presenting Part II of the conversation.


Today, when Khelein.... is releasing, there is a definite expectation of a rock solid story in the offering even though the exterior of the film is pretty opulent, just as was the case in Jodhaa Akbar or Lagaan. Can people step in the theatres with such high expectations?

Yes, absolutely. The driving force of any film is its theme and then comes the story. The film is about the bravado of 64 people who came together under the leadership of Surjya Sen in order to achieve three huge tasks. These were not folks who were mercenaries. While Surjya was a teacher, 50 odd teenagers were his students while rest of the comrades had a very natural background. In fact these two girls in the story were on the verge of getting married as they were in an age when suitable boys were to be found for them.


Please continue...

I have tried to explore what went through their minds when they picked up rifles. What triggered this patriotism in them? What made them feel that they must do something for their nation and sacrifice worldly desires? Thankfully, I could get it all woven together well since all of it is beautifully accounted in my reference book 'Do and Die'.



The soundtrack of Khelein... is much more realistic than fiction and adventure

When you referred to a book for getting the screenplay in place, how did you create space for music in the film?

I think that's the most joyous part of making a film where you can integrate different things to give it a final shape. In Khelein... , Bengali ethos had to be captured via sound and mood. Due to this very reason, other than just the songs, there are 7 background themes as well which have been presented in the soundtrack. I did that intentionally so that audience get used to the overall flavour of the film. This is a sound that a lot of our current generation hasn't even heard.



Abhishek was my first choice from the word 'go'

In fact one could sense some deja vu with Rahman inspiration in Sohail Sen's compositions.

There was no conscious effort to do that actually. You may feel that because this film is about British Raj and since I have done that once with Lagaan, it gives you a comfort zone to think like that. If you hear closely, the soundtrack of Khelein... is much more realistic than fiction and adventure of Lagaan. There, the world was much more make-believe whereas in Khelein... , the entire grandeur is far different.


For example?

In Lagaan, songs like 'Mitwa', 'Ghanan Ghanan', 'O Re Chori' were far more rural whereas in Khelein... , the songs have a small town appeal to them. In fact you won't even hear a quintessential romantic number here since there is an unspoken unsaid romance between the characters played by Abhishek and Deepika. Those were not the times for romance since they had to sacrifice each other's love for the country. But yes, if you do believe that there is a Rahman inspiration then it's a compliment for Sohail as well as me.


Talking about compliments, do you foresee many of those coming the way of your lead actor Abhishek? After all when you entrusted him for the much important part, many were surprised since you have worked with far more established superstars like Aamir Khan, Shah Rukh Khan and Hrithik Roshan in the past?

Abhishek was my first choice from the word 'go', right from the time I read the book. I had always to work with Abhi but never had a script to do so. For me, it's the script that does the casting and it tells me which face to cast. One of the aspects that worked in his favour was his Bengali roots but again that's something which came in later. What was important was his look since I had always wanted to see him in a character which is pure in intent and can sacrifice his life for the love of the country. I could see that compassion and niceness in his eyes.


You seem glad about your choice...

I entrusted him to do justice to the role and today, I am glad that he stepped into the film. Now I am looking forward to how audience accept him wholeheartedly in this character. The way Abhishek has played Surjya is very poignant. The film brings to fore an untold aspect of how such a big revolution went unnoticed, un-saluted by us. It's time for us to make amends today.



I have to live up to the promise of bringing a story alive on screen

An Ashutosh Gowariker film is expected to be an event. Can we expect the same in case of Khelein Hum Jee Jaan Sey as well?

(Smiles) Actually, I never look at any of my movies that way. It is important to see that the story has been chosen. Once I have done that, I try to achieve the best results as per my ability. I have to live up to the promise of bringing that story alive on screen and then leave it to stand on its own feet. You can never pre-decide that whether your film would be turn out to be crossover cinema or whether it would be a pan-India success or would turn out to be an overseas friendly affair. You can't plan such things in advance; you can just prepare your audience to know what's in the offering.


Visit this space again for Part I of the interview
BOLLYWOOD NEWS
Catch us for latest Bollywood News, New Bollywood Movies update, Box office collection, New Movies Release, Bollywood News Hindi, Entertainment News, Bollywood News Today & upcoming movies 2021 and stay updated with latest hindi movies only on Bollywood Hungama.