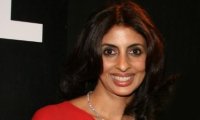 The online web space has become by far the bestmedium atexpressing oneself, and who better to display the power of the internet than our very oun bollywood stars themselves. just recently the Ashutosh Gowarikar film Khelen Hum Je Jaan Se released creating a buzz in the market unlike anyother. followin this a very proud father Amitabh Bachchan posted "My daughter Shweta went to see KHJJS and has sent me an email of what she thought. I felt it was important enough to be read ..."


I went to watch Khelen Hum Je Jaan Se this evening, as an anxious sister. It was a small screen, and the hall wasn't full. My anxiety doubles. Then the movie begins. I would say I spent a good half hour of the movie a vested party. Wishing and hoping people were liking what they saw hence unable to form my own opinion of what I was watching in earnest. Somewhere, I cannot say when, I was transported. To an easier, simpler life. To Chittagong.


KHJJS is a small obscure story, lost in the annals of history to the far more flamboyant martyrdom's this country has witnessed. But it has a big heart. It does not manipulate and lull you with fancy cinematography. The character's are matter of fact almost to the point of being one dimensional. No cutesy asides of childhood. You are never exposed to their personal lives, barring brief episodes of the boys taking money for the cause from their parents. Even our hero Surjya Sen does not have obscene amounts of reel wasted on close up's or flatteringly lit shots. There is nothing poetic about him. In fact at one point he almost is unlikeable. How does a man sacrifice children and women to a cause and continue hiding and plotting and saving himself. I wanted to see him do the brave thing, walk out ans surrender so the lives of the young conspirators would be saved. Nothing of the sort happens. Surjya lives the cause 'Kranti". He lives to fight another day and that is why he in essence lives. He is hard this Masterda, even the adoring gazes from the beauteous Kalpana do not deter him. Relegated to the background for a large portion of the movie, it is not a quintessential hero's role. I am proud of Abhishek for taking it on. The director is a man who has an important story to tell and he does not waste time in getting down to it. The dialogues literal, no romantic speeches on 'desh bhakti'. In short for an audience that is pampered with plush locations, nuanced dialogues and breathtaking cinematography this film comes across as rather stark. I am a weeper, it takes very little to make me cry. I sat through the entire movie dry eyed, barring the climax. But I watched, I understood and most importantly I thought.




I do hope people go to watch this movie. Not because my brother acts in it. I hope they go and watch this movie because it deserves to be seen, this story deserves to be heard and those brave young boys deserve to be saluted.


When the movie ended, I was in no state to speak. Overwhelmed and drained from crying I got into my car and drove away. Many movies have mad me proud to be an Indian. This one, made me embarrassed of calling myself a citizen of this country. The lives we enjoy today were fought hard for. KHJJS taught me that. My children enjoy this freedom because someoneelse sacrificed their childhood to ensure it. Tomorrow I will take my son for his football match and he will stake his right over the field he plays on knowing he cannot be thrown of it on the whim of a foreigner, unless he gets a red card that is. He can do this because other boys his age died to ensure it. My daughter turns 13 in two days and she would not have known a day of struggle, and I pride myself as a parent that she doesn't need to, that her needs are met. This luxury is hers because many mothers lost their sons to the struggle for independence, with equal amount of pride. How many of us have forgotten and forgotten so easily. How callously we have moved on and let our nation fall into such disrepair and disrepute it angers me, it embarrases me, it shames me. If a movie makes you think, makes you question then to me it is movie well worth watching.


I walked into KHJJS an anxious sister, I walked out an Indian.

Allow this movie to convert you the way it did me.
"I walked into KHJJS an anxious sister, I walked out an Indian" – Shweta Bachchan
BOLLYWOOD NEWS - LIVE UPDATES
Catch us for latest Bollywood News, New Bollywood Movies update, Box office collection, New Movies Release , Bollywood News Hindi, Entertainment News, Bollywood Live News Today & Upcoming Movies 2023 and stay updated with latest hindi movies only on Bollywood Hungama.