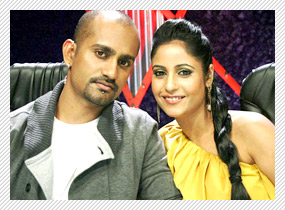 Late Martha Graham, an American modern dancer and choreographer whose influence on dance has been compared with the influence Picasso had on modern visual arts and Stravinsky had on music once said, "Dance is the hidden language of the soul". Enter Uma & Gaiti, two of Indian cinema's finest choreographers. I meet the dancing duo at Costa immediately after the success of their latest film ABCD. Uma, the more subtle and quiet one and Gaiti, the more effervescent one, both talk to me in one voice, just like the steps they match when they break a leg. "Great dancers are great because of their passion", they tell me. Their statement is very much reflective of the work they've done for films like Rockstar, Karthik Calling Karthik and Shanghai to name a few. Dancers come and go in the twinkling of an eye but the dance lives on, and it is in those moments Uma & Gaiti have felt their spirits soar and become one with everything that exists. Keep Dancing you two!


"ABCD has held the audiences together" – Uma-Gaiti
The start of anything has to be ABCD. But this is your latest film. A lot of XYZ's remaining for you?

Gaiti - If we already start saying that this is our best work then there is no growth. You are yet to see our best but ABCD is something that we are proud of. We had such talented dancers and to choreograph them, that's the high.


So how do you push the envelope when it comes to dancing?

Uma - In terms of choreography there is so much we can do. But the song we did had to emote through our dance. It was a mourning song called 'Duhai Hai'. Yes, the choreography is path-breaking and so is the film. So yes, we have pushed the envelope.


Is there a scope for ABCD to get into its second part and get into the franchise space?

Uma - Absolutely. I don't know what will it be called though (laughs). I think it should happen.


Gaiti - ABCD has held the audiences together in what they've seen as far as dancing is concerned. From here, it can only get better. India is capable of doing a lot more. Call it ABCD 2.


Choreography now-a-days has become more of a situational montage than hardcore dancing. What's the future in choreography?



Uma - Like in ABCD or any dance film, dance is the hero. In a film like Gangs of Wasseypur, it might not have scope for song and dance, there is still choreography. Choreography isn't restricted to dance moves.


Gaiti - Karthik Calling Karthik didn't have so much dance. It was situational. The same with Rockstar. Choreographers will always be a part of this industry. We have a long way to go. Even expressions are known as choreography. Ad films have choreography. We shall not fade.


Do you think a film like ABCD should be doing the rounds of festivals?

Uma - I wouldn't call ABCD as a baby step. It's a huge step. The kids who are in the film are huge household names. I think ABCD has already gone international with its genre and it's got the recognition it truly deserved.


Gaiti - I think ABCD doing so well in India and some international dancers being a part of it, the film should have a worldwide release. India is one of the fastest growing nation when it comes to dancing. From kids to the teenagers to adults.


Where do you see yourself in the next five years?

Uma - The right answer would be change. As a choreographer if we are doing dance films back to back, it's not being content. We would love to do a period film and then mix it up with item numbers and some situational song.


Gaiti - We don't want a saturation point to come in our profession. If we look back at our work, in one year we should do a mix of everything. That's the only way you keep growing.


What's your take on item numbers?

Uma - Someone asked me once what's my favourite item number and I replied, 'Main Aisa Kyun Hoon' from Lakshya. Item numbers aren't just shaking the biscuits in traditional dresses. They have to be entertaining. It's an art form. It should be sensual.


Gaiti - I like 'Sheila Ki Jawaani'. I think it's the best so far.


Choreography in movies is a concept that prevails in India and not the West. There it's more Broadway Musicals.



Uma - We don't have a concept of musicals in India. So the only way we can bring in choreography is in movies. There it's all staged. They have massive budgets to accommodate choreography. Their attention to detailing is motivational. I don't think it's fair to compare their superiority to ours. We as Indians, we are quicker. We adapt quicker and with whatever little we get, we make the most of it. I think it's a difference in our cultures and we only can learn.


How would you choreograph each other if given a chance?

Gaiti - Uma has a very unique style. When he dances, it's very difficult for the dancers to pick his steps. His forte is freestyle and I'd like to choreograph him under that. He loves hip-hop too. It's still unique. If I choreograph him, he will still change the style to suit his. That's a rare thing a dancer possesses.


Uma - I'd just leave her alone to see what she comes up with in her moves. Sometimes it's good to see what the dancer brings to the table.
BOLLYWOOD NEWS - LIVE UPDATES
Catch us for latest Bollywood News, New Bollywood Movies update, Box office collection, New Movies Release , Bollywood News Hindi, Entertainment News, Bollywood Live News Today & upcoming movies 2022 and stay updated with latest hindi movies only on Bollywood Hungama.