In the first part of the highest grosser of the year series, Bollywood Hungama did an in-depth analysis of the actors with maximum highest grossing film of the year spanning 73 years from 1947 to 2020. While Salman Khan was crowned the biggest Bollywood superstar since independence with 10 highest grossers of the year, Dilip Kumar bagged the second spot with 9 films in the list, whereas Aamir Khan was third with 7 films in the list. Shah Rukh Khan on the other hand had 5 films in the list, while Hrithik Roshan was fast climbing the ladder of success with 4 highest grossers of the year in merely 20 years span. The top three stars contributed 26 of the total 73 highest grossers of the year, which in percentage terms is 35%. In the second part of the series, we came up with a detailed decade by decade analysis of stars fighting for the top spot in the respective decades from 1957 to 1989. Now, in the third and final part of this Bollywood Hungama exclusive, we are back with the number crunching analysis from 1990 till 2020. Interestingly, in a span of these 31 years (From 1989 till 2020), the three Khans – Salman Khan (10), Aamir Khan (7) and Shah Rukh Khan (5) – in total delivered 22 highest grossers of the year, whereas Hrithik Roshan delivered 4 more, leaving just 5 spots in three decades for some 25 plus actors of the industry to score the biggest hit of the year. Here's a 3-decade analysis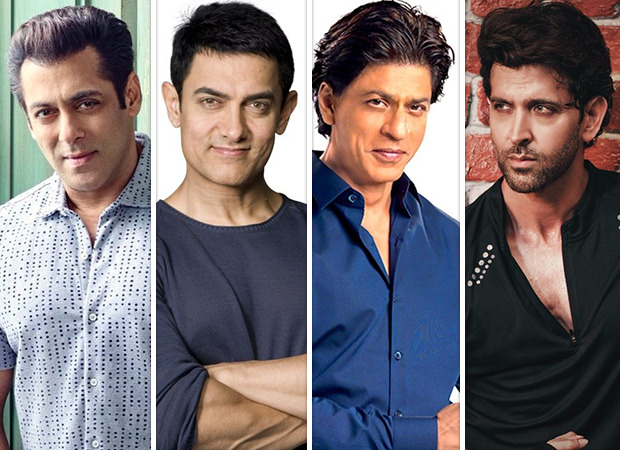 1990 to 1999: Sunny Deol, Shah Rukh Khan and Salman Khan take charge
In terms of sheer box-office pull, this decade was dominated by three names – Sunny Deol, Shah Rukh Khan and Salman Khan, though Anil Kapoor and Govinda too were going strong in terms of hit count this decade. While Deol delivered one highest grosser of the year this decade in Border, he maintained his supremacy with constant flow of releases. Ghayal (1990) too managed to surpass the collections of Dil, if we take reruns into account, taking his total to two films. Salman on the other hand rose like a phoenix with Maine Pyaar Kiya (1989) and followed it up with three other highest grossers of the year in the 90s – Saajan, Hum Aapke Hai Koun and Hum Saath Saath Hain. Shah Rukh Khan was the biggest find of the 90s, particularly for the kind of consistency he showed at the box-office – both in terms of opening as well as lifetime collections. He delivered two highest grossers of the year in the 90s – Dilwale Dulhania Le Jayenge and Kuch Kuch Hota Hai. He became a superstar within two years of arriving in the industry, and with every passing year, bettered his standing. As the 90's came to an end, the trade already started to label Shah Rukh Khan alongside legends like Amitabh Bachchan and Dilip Kumar. In-fact, in times to come, he became the biggest superstar India has ever seen in the overseas market (more on this later). Though Salman has a lead in terms of HGOTY in the 90s, the consistency gave Shah Rukh an edge over him for the top spot of 90s, with him and Sunny following suit. However, in terms of highest grossers of the year, Salman scored big, and without any doubts, it was in the 90s itself that he cemented his position as a superstar as he had some solid openers, massive blockbusters and big grossers under his kitty within 10 years in the industry. Sunny Deol on the other hand saw the lead in terms of sheer raw mass fan following in the 90s. Anil Kapoor and Govinda too had one HGOTY year in Beta (1992) and Aankhen (1993).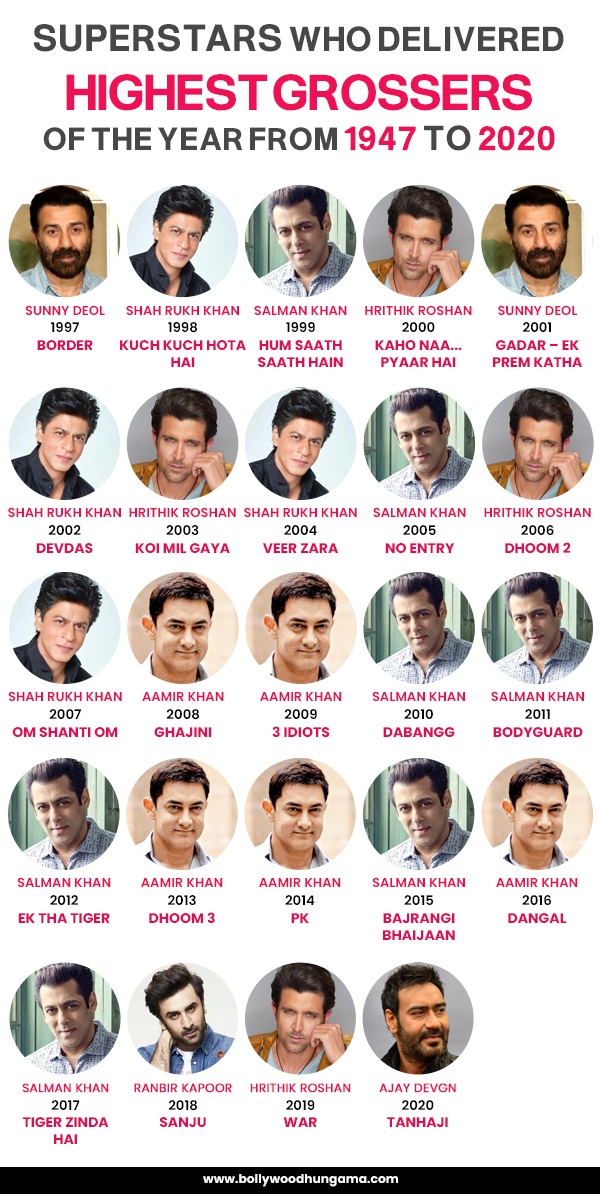 2000 to 2009: Shah Rukh Khan's supremacy challenged by Hrithik Roshan
This decade saw a major turnaround of things, as Shah Rukh continued to scale new heights in the beginning, whereas Salman Khan was seeing a slight downfall due to controversies in the personal space, whereas Aamir Khan had taken a break from acting due to some issues in personal life following his divorce. While everyone thought that Shah Rukh Khan will be undisputed number one star of 00's, there came Hrithik Roshan to challenge the supremacy and following the release of Kaho Naa…Pyaar Hai, there was no looking back for him. He became a superstar overnight and just the second actor after Salman to make his debut with a highest grosser of the year. Till date, Kaho Naa…Pyaar Hai is considered the biggest launch vehicle for a Bollywood actor, and one had to witness the euphoria surrounding Hrithik post his debut, to believe it. It marked the arrival of a superstar, probably the last of Hindi cinema. In the first seven years of this decade, Shah Rukh Khan delivered three highest grossers of the year in Devdas (2002), Veer Zaara (2004) and Om Shanti Om (2007), whereas Hrithik Roshan too had three highest grossers of the year in Kaho Naa…Pyaar Hai (2000), Koi Mil Gaya (2003) and Dhoom 2 (2006). In-fact, in 2006, the top 2 grossers of the year (Dhoom 2 and Krrish) belonged to Hrithik. Towards the decade end, Aamir made a comeback and delivered back-to-back HGOTY in Ghajini (2008) and 3 Idiots (2009). Salman and Sunny Deol had one HGOTY each in No Entry and Gadar, with latter being the biggest grosser of all time in India. Akshay too was strong for a period of 3 years between 2006 and 2008, with back-to-back hits and bumper openers, however, none of his releases could find a place in the prestigious list of highest grosser of the year, and till date, though a major film star, he awaits his turn to open his account in this aspect. The decade belonged to Shah Rukh Khan and Hrithik Roshan.
2010 to 2020: The Salman Khan Era, with some cameo's by Aamir Khan
It would not be wrong to say that the decade of 2010 to 2019 belonged to Salman Khan as the superstar delivered five highest grosser of the year – Dabangg (2010), Bodyguard (2011), Ek Tha Tiger (2012), Bajrangi Bhaijaan (2015), and Tiger Zinda Hai (2017), along with three second highest grosser of the year – Ready (2011, overlapping with Bodyguard), Kick (2014) and Sultan (2016) – indicating that 7 of the 10 years belonged to him, an unheard phenomenon in Bollywood history, easily putting him in the list of all-time greats. Aamir comes at the third spot with three highest grossers of the year, which all proved to be all time grossers – Dhoom 3 (2013), PK (2014) and Dangal (2016). 8 of the 10 years belonged to these two mighty Khans, dominating like no other decade post-Independence. Hrithik Roshan took the tally of his highest grosser of the year to 4 films with War becoming the highest grosser of 2019. He is just a film away to tie with Raj Kapoor, Dharmendra and Shah Rukh Khan, and all this within a period of 20 years. Ranbir Kapoor opened his account this decade with his first highest grosser of the year with Sanju (2018), and Ajay Devgn too, after an illustrious career of over 25 years, delivered his first highest grosser of the year with Tanhaji (2020).
To put the last 3 decades in a nutshell, Salman Khan (10 films) + Aamir Khan (7 films) + Shah Rukh Khan (5 films) topped the year 22 times since 1989, whereas Hrithik topped it 4 times since 2000 – Putting these 4 as the top 4 stars of Hindi cinema since the new millennium aka 2000. While the three Khans have at most 5 more years to continue as leading heroes until they reach the age of 60, Hrithik still has ample of gas left in his tank to keep climbing the ladder, and aim at the sky. Salman, Aamir and Shah Rukh can add a film or two more to their kitty and in the years to come. Given the current pattern of working adapted by the actors, it would be near impossible for anyone to reach the double-digit mark in terms of highest grosser of the year and dethrone Salman from the top spot with 10 films at the moment, which is highest for any actor in history of Hindi cinema. Aamir, with 7 films as biggest grosser of the year at present, however can aim at the second spot - a tie with Dilip Kumar, who has ended his career with 9 highest grossers of the year.
Also Read: Highest Grosser of the Year from 1947 to 1989: Dilip Kumar's dominance, Dharmendra's longevity, Amitabh Bachchan's mega stardom and Salman Khan's entry