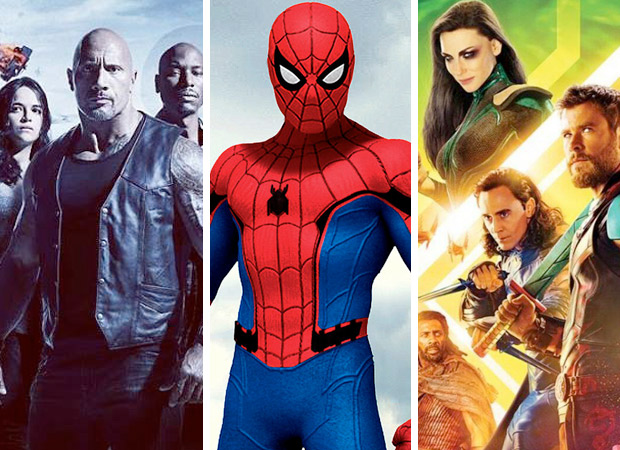 2017 proved to be a mixed bag for Bollywood, with certain big ticket releases fading without much flourish, while at the same time some other smaller release shot into the limelight with stellar box office collections. On the other hand Hollywood films that released through the year seem to have fared a better fate with most releases keeping to expectations.
In this box office special report we take a look at the top 10 Hollywood grossers of 2017 within the Indian market. Leading the list with a collection of Rs. 91.5 cr is the eighth instalment in the Fast And Furious franchise which released under the title of Fate of the Furious. However, unlike last year which saw The Jungle Book rake in a staggering Rs. 188 cr, the business of films that released in 2017 seems to be considerably lower.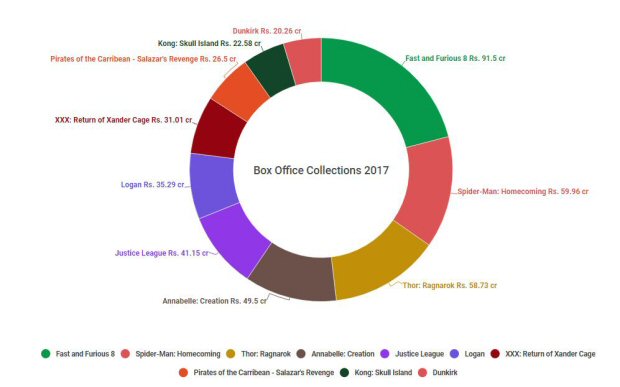 However, while there was a considerably large gap in the collections of the highest grossing films from 2016 to 2017, coming in second is the film Spider-Man: Homecoming that collected Rs. 59.96 cr, which interestingly, isn't much lower than last year's second highest grosser The Conjuring 2 that had collected Rs. 61.78 cr. Similarly like 2016, this year too saw a horror thriller making it to the top 10 list with Annabelle: Creation raking in Rs. 49.5 cr to claim the fourth spot, while Thor: Ragnarok that was the third instalment in the Thor franchise claimed the third spot with a collection of Rs. 58.73 cr.
The rest of the top 10 Hollywood grossers of 2017 include films like Justice League that collected Rs. 41.15 cr, Logan that collected Rs. 35.29 cr, XXX: Return of Xander Cage that collected Rs. 31.01 cr, Pirates of the Carribean - Salazar's Revenge that collected Rs. 26.5 cr, Kong: Skull Island that collected Rs. 22.58 cr, and Dunkirk that collected Rs. 20.26 cr. However, an interesting point to note here is the fact that seven out of the ten films happen to be sequels of hit franchise or a reboot of a popular one in the case of Spider-Man: Homecoming.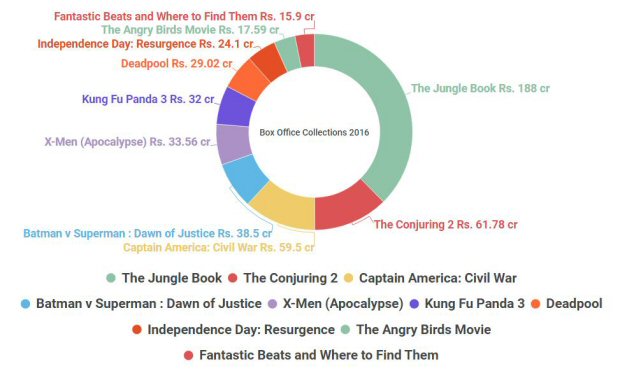 Speaking of studios, Warner Brothers India seems to have had a good year, with four of their releases viz. Annabelle: Creations, Justice League, Kong: Skull Island and Dunkirk finding a place among the top 10. Disney on the other hand takes second place with two of their films Thor: Ragnarok and Pirates of the Carribean - Salazar's Revenge making it to the list. But on the other hand Fox Star Studios that had a stellar 2016 seems to have slowed down with just one release Logan making it big at the Indian box office.
On the whole, while 2017 has been a good year for some studios the overall business of Hollywood films in India has seen a slight increase in collections from 2016. In fact, the total box office revenue that Hollywood films earned at the Indian box office in 2017 is Rs. 592 cr, just Rs. 4 cr more than the previous year that drew in Rs. 588 cr. However, unlike 2016 that saw The Jungle Book comprise of a major chunk of the year's collections, 2017 sees a more distributed spate of box office collections.
Movie Name – Lifetime collections
Fast and Furious 8 – Rs. 91.5 cr
Spider-Man: Homecoming – Rs. 59.96 cr
Thor: Ragnarok – Rs. 58.73 cr
Annabelle: Creation – Rs. 49.5 cr
Justice League – Rs. 41.15 cr
Logan – Rs. 35.29 cr
XXX: Return of Xander Cage – Rs. 31.01 cr
Pirates of the Carribean - Salazar's Revenge – Rs. 26.5 cr
Kong: Skull Island – Rs. 22.58 cr
Dunkirk – Rs. 20.26 cr