Happy Phirr Bhag Jayegi is the first choice of audience amidst all the new releases in the running. The Sonakshi Sinha starrer collected Rs. 1.71 crore more on Tuesday and that's a good hold considering the fact that Friday numbers were Rs. 2.70 crore. The film needed this kind of stability in order to have some kind of showcasing in the second week and in that aspect it is doing fine.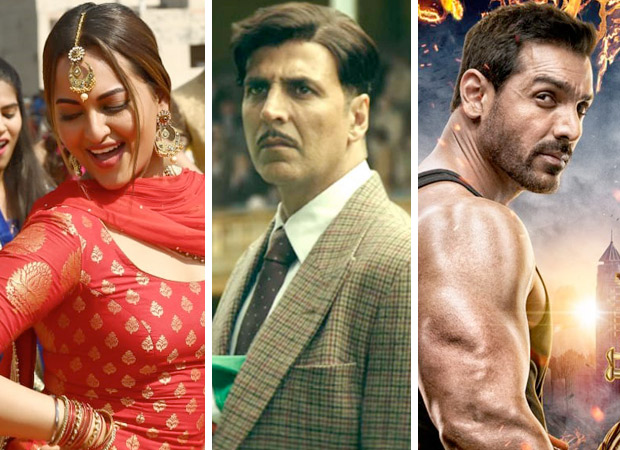 The Mudassar Aziz directed film has already accumulated Rs. 15.54 crore and though a Rs. 20 crore Week One would have been really optimal, it would just fall a bit short. Nonetheless, the film is doing just well enough to ensure that it may end up having a lifetime better than its predecessor Happy Bhag Jayegi [Rs. 28.82 crore]. Considering the fact that today there are added avenues that have opened up for a film viewing, especially when it comes to digital medium, this mid budget affair by Krishika Lulla and Aanand L. Rai is a profitable venture for all involved.
Meanwhile other two films in the running are making profits as well. Gold collected Rs. 1 crore more on Tuesday and would be hoping that it keeps its head over the Rs. 1 crore mark right through the end of week. Currently, the Akshay Kumar starrer stands at Rs. 101.45 crore and is seeing a lifetime of around Rs. 110 crore in the offering.
On the other hand Satyameva Jayate collected Rs. 1.46 crore on Tuesday and has accumulated Rs. 86.94 crore so far. The film would be close to the Rs. 90 crore mark before the close of second week. From there, it has to be seen how much further does it go past the Rs. 95 crore total. It would face quite some challenge at the single screens, which is its key market, from Yamla Pagla Deewana Phir Se from Friday onwards. That could well impact its journey towards the Rs. 100 Crore Club.