Secret Superstar Review {3.0/5} & Review Rating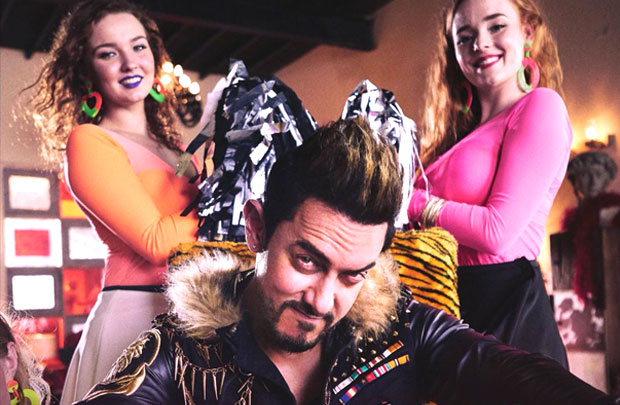 EXPECTATIONS
Considering the fact that Secret Superstar has its central protagonist playing a singer, you expect music to be integral part to the film's narrative. Aamir Khan, who is the producer as well as the actor in the film, ropes in composer Amit Trivedi and lyricist Kausar Munir for the soundtrack that comprises of six songs.
MUSIC
Meghna Mishra is the voice of Zaira Wasim in the film and she bags as many as four songs in the album. Her voice is absolutely perfect for the teenage singer that Zaira is playing in the film and she does complete justice to the responsibility that is thrust on her. She starts off quite well with 'Main Kaun Hoon', a song about self-discovery which has a good pace and flow to it with the kind of sound that blends in rather seamlessly. Written quite well too by Kausar, this one carries a euphoric feel to it.
A situational song comes in next with Meghna paying tribute to the mother in 'Meri Pyaari Ammi'. Though this one has a jingle sound to it, one is fine with that since it flows in naturally from the last song and carries over well to the next in line as well. With a poetic feel to it, 'Meri Pyaari Ammi' is well worded. Moreover, with minimal instruments in the background, this one also sounds serene and is easy on ears.
'Sapna Re' is the song that follows next and this one has a traditional 'pahadi' feel to it. It takes some time though to adjust to the mood of the song but eventually it turns out to be a pleasant hear. A song about looking forward to one's dreams to come true, 'Sapna Re' is yet another song that is rendered well by Meghna. Overall, the song has a 60s/70s feel to it and somehow you remember Jaya Bhaduri from the days of Mili and Guddi as somehow you end up remembering the song 'Maine Kaha Phoolon Se'.
"I'll Miss You", that comes in next, turns out to be rather forgettable though as it doesn't really fit into the scheme of things at Secret Superstar. A teenage romantic song, this too has an easy flow to it but doesn't really carry much ammunition in it to entice you into listening to it repeatedly. Passable.
Meghna Mishra returns on the scene with 'Nachdi Phira' which is expected to be the flagship number of the album. However, the kind of punch that one expected from the song - given the fact that it has a good hook to it - is missing in here. It takes quite some time to reach to the point and eventually when it does, the follow through isn't anything great. One expected better from it.
Last to arrive is Mika Singh's 'Sexy Baliye' which has just been unveiled and features Aamir Khan as the performer. A music video that has a fun feel to it, this one is 'made for mobile' in its look, feel and presentation, and that is exactly the messaging that Aamir Khan conveys in there with the picturisation featuring just 2-3 cuts. As a song, this one isn't phenomenal but does its job well in energizing the proceedings.
OVERALL
Secret Superstar boasts of a decent to good soundtrack and though this one isn't really a major musical that one would have expected out of it, as an overall package it should make an impression in the film.
OUR PICK(S)
'Main Kaun Hoon', 'Sapna Re', 'Sexy Baliye'