EXPECTATIONS
When a film is delayed as much as Bhaiaji Superhittt has been then all that you expect is a dated score. Still, you hope that there is a surprise or two in store. Amjad-Nadeem are the lyricists and composers for the soundtrack with certain guest artists chipping in as well.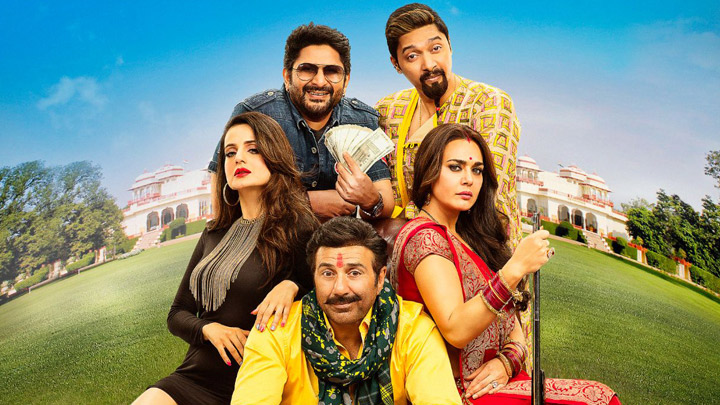 MUSIC
A celebration dance number kick-starts the proceedings with composer Jeet Gannguli and lyricist Kumaar coming together for 'Sleepy Sleepy Akhiyan'. A 'desi' number to the core, this one is an all-around average number, be it in terms of writing, composition or even rendition by Asees Kaur & Yasser Desai. With the kind of sound that may have found some takers a decade ago, 'Sleepy sleepy Akhiyan' is truly passe.
A love song with a 'sufi' touch to it comes in next, what with Yasser Desai & Aakanksha Sharma coming together for Amjad-Nadeem's 'Do Naina'. Yet again, this is a kind of number that was in vogue when it featured on Emraan Hashmi back in time. However, there isn't much exciting about this today even though as a core composition this one is still a reasonable hear. Later Shafqat Version comes up with a version of his own and does manage to make a good impact. This one also turns out to be a better hear when compared to the one before.
Raghav Sachar pairs up with lyricist Shabbir Ahmad for 'Om Namah Shivay' and it is surprising to hear a devotional number in a film like Bhaiaji Superhittt which is meant to be a hardcore masala entertainer. With rap By Raftaar, this one has the team of Sukhwinder Singh, Raghav Sachar and Aakanksha Sharma coming together. However, this one really exude the kind of energy that one would have expected out of a song belonging to this genre and one waits to see how it actually fits into the film.
Director Neerraj Pathak turns composer and lyricist for the title song 'Naam Hai Bhaiaji' which has Sanjeev-Darshan and Sanjeev Chaturvedi as the co-composers and co-lyricist respectively. Yet again, Raftaar steps in for the rap portion in this average sounding number that is rendered primarily by Amit Mishra. It tries to be all cool and contemporary but falls flat even as it tries to establish Sunny Deol as 'UP Ka Superman'.
Amjad-Nadeem are back for the last song of the album, 'Baby Jaanleva Hai' and the lyrics here go as 'Aaja Na Mujhko Touch Kar Le, Dream Tu Apna Sach Kar Le'. With this, one can well imagine the kind of stage, setting and situation for this song would have been put together. A number that would have struggled to gain popularity even 20 years ago, this Yasser Desai and Pawni Pandey sung number is best forgotten.
OVERALL
This is how the overall soundtrack turns out to be as well, just plain and simple forgettable.
OUR PICK(S)
'Do Naina'