Badrinath Ki Dulhania Review {3.5/5} & Review Rating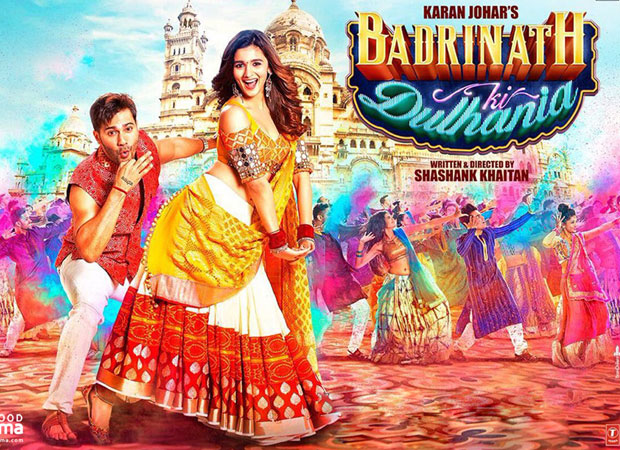 EXPECTATIONS
Music of Humpty Sharma Ki Dulhania was quite popular and a couple of its songs, 'Saturday Saturday' and 'Samjhaawan', are played till date. It is different matter though that both of these were recreated versions of the past hits. Now that the second in the franchise, Badrinath Ki Dulhania, is gearing up for release and that too with the same lead pair of Varun Dhawan and Alia Bhatt, one waits to see what does the team of producer Karan Johar and director Shashank Khaitan have to offer with multiple composers and lyricists pitching in.
MUSIC
It is the mood of 'masti', 'dhamaal' and a lot of fun that is created by composer-singer Amaal Mallik for 'Aashiq Surrender Hua'. The kind of music that could well have been created for a 'dandiya night' outing, it is shows a different side of Amaal. That said, it is tough not to find similarities with 'Fevicol Se' [Dabangg 2], especially when it comes to the opening lines. Soon enough though the song takes its own route as Shreya Ghoshal too lets her hair down for this let's-play-to-the-gallery number.
The mood of the soundtrack changes immediately though with Amaal Mallik bringing a sad song into play, 'Roke Na Ruke Naina'. An Arijit Singh solo which has lyrics by Kumaar, it surprisingly comes quite early in the soundtrack. Typically, a pathos-filled number belonging to this genre and style is placed towards the middle of the end of the album. However, in this case it is the second track itself, and hence one is a little taken aback as you expect a much happier soundtrack from a film that promises to be a fun entertainer. A decent track, it is primarily situational and one waits to see the distance it eventually manages to cover.
Newcomer Akhil Sachdeva debuts on the Bollywood scene with 'Humsafar' while playing the triple role of composer-lyricist-singer. An indie outing which has been placed in a conventional Bollywood narrative, 'Humsafar' is a love song that could well have been designed as a bonfire outing. Maintaining a consistent pace right through its duration, 'Humsafar' is easy on ears and though it has a conventional tune, you don't mind what you hear due to the inherent simplicity that it carries.
Next to arrive is the title track 'Badri Ki Dulhania' and along with it brings all the fun that is just the right kind for a 'holi' outing. There is renewed energy that fills the scene as the team of Dev Negi, Neha Kakkar, Monali Thakur and Ikka with Rajnigandha Shekhawat as the back-up vocalist sings in tandem to result in a rollicking outing. The song is as 'desi' as it gets, what with the folk flavour from 50-60 years back being revisited for this celebration number. Moreover, one can see the kind of comfort zone that Varun and Alia share in this song which sets your foot tapping from the word 'go'.
The best is reserved for the end as the much awaited 'Tamma Tamma Again' is heard in today's avtar. What truly works for the song is the fact that the core sound of Bappi Lahiri's 'Tamma Tamma' is kept impact and it is primarily the 'remix' effects that are placed. So what one evidences is Tanishk Bagchi bringing on some new beats and giving the song a radio feel by even bringing on Ameen Sayani as the presenter. Moreover, there is Badshah who intersperses his rap portion even as Bappi Lahiri and Anuradha Paudwal are heard as per the original version. A good experiment, this one is bound to top the charts.
OVERALL
The music of Badrinath Ki Dulhania is already getting popular and is bound to soar further in weeks to come. The album boasts of at least a couple of chartbusters with others fitting in well too. That should ensure that youngsters are attracted well towards the soundtrack which should turn out to be popular for the dance floor as well.
OUR PICK(S)
'Tamma Tamma Again', 'Badri Ki Dulhania', 'Humsafar'