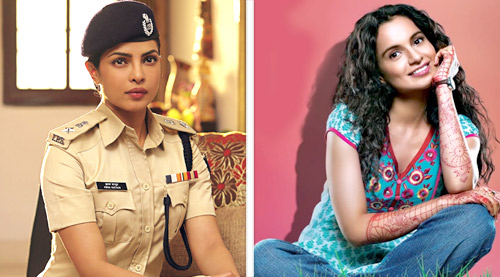 Turning the female protagonist into the hero of the film is a wonderful way of celebrating women's empowerment. We have seen it being done with tremendous panache in films as far-ranging as Ramesh Sippy's Seeta Aur Geeta and Vikas Bahl'sQueen.

The problem arises when the female hero is completely de-sexualized for the sake of appearing 'equal' to her male counterparts. This is the predicament that finally killed the impact of Priyanka Chopra's character in Prakash Jha's Jai Gangaajal.

Priyanka is given no concession for femininity. She dresses in a khaki uniform through most of the film except a big fight on the roads where she wears a unisex Pathani suit. Not once does the film show her in a saree or a salwar-kameez.

Doesn't the cop ever unwind? Or stop being the man of the chowki?

Women professionals in Hindi films are known to sacrifice their personalities to feel a sense of belonging in their place of work only when they play cops. It is presumed that any effort to cling to the femininity of a female cop would make her look less than equal to her male counterpart. So Priyanka Chopra's Abha Mathur in Jai Gangaajal is variously described by critics as a "male Singham" and "The new Dabangg", alluding to the popular cop figures played by Ajay Devgn and Salman Khan.

She is also a less foul-mouthed version of Devgn from Prakash Jha's Gangaajal where the hero had handled 'mobocracy' with steel gloves. Mob fury strikes Abha Mathur also, when farmers' suicide gets a retaliatory retort from the harassed and hounded residents of a constituency crime-lorded by an evil MLA and his brother. The 'suicide' of criminal elements leaves Aabha gnashing her teeth in frustration. She is not foul-mouthed as she would have been if Ajay Devgn had the sequel to Gangaajal. But that's because the censor board would not allow Abha to abuse and cuss.

It isn't very clear if Priyanka plays Abha, or is it the other way around. Instead of creating Abha's destiny as the destroyer of diabolism, she is often seen surrendering helplessly to forces that run the corrupt constituency.

If you are a female cop in our films why do you have to be shown so distanced from your sexuality? Priyanka's Abha doesn't even have a boyfriend. Her only attachment in life is her mother. She forms no lasting bonds with her colleagues in her police station, although some of them are quite taken up with their new 'Madame Sir'.

However, Prakash Jha has no interest in his female protagonist's life. While his cop's character is worldly wise and flexible of spirit with a wife he's seen sleeping with, Abha has presumably no boyfriend, and no sex life.

With savage irony the only other female character in Jai Gangaajal is an obstinate farmer's daughter Sunita (Vega Tomatia) who won't sell her land to the goons at any price. So what does the script do to her? In a gruesome delineation of bullied sex, she is kidnapped by the MLA-goonda's younger brother who proceeds to show her what is done to girls who don't comply.
This disgusting display of incendiary machis-imo is downright reactionary. Why must rebellious women be cut down to size in our films? Amrita Singh in Betaab was the shrill shrew whom Sunny Deol had to tame. And in Ladla, Sridevi's haughty affluence in smart executive suits disappeared when she fell in love with Anil Kapoor.
A more important question: why are there only two female characters in Jai Gangaajal? With time, Prakash Jha's films have become increasingly masculine. True, Raajneeti had Katrina Kaif. But she had a minuscule role, so minuscule that Priyanka Chopra had said no to it. The entire script was all about guys playing politics. Jha's Satyagraha focused on the moral conflict between Amitabh Bachchan and Ajay Devgn while Kareena Kapoor, playing an investigative reporter was relegated to the shadows. Apaharan was all about Nana Patekar and Devgn while Gangaajal had poor Gracy Singh being sidelined to the extent of being a decorative presence.
Yes, Jha's Chakravyuha did have strong female character played by Anjali Patil. But where are the truly memorable women we saw in Prakash Jha's earlier films: Srila Majumdar and Deepti Naval in Damul, Shabana Azmi and Madhuri Dixit in Mrityudand and Surekha Sikri in Parinati? Abha Mathur in Jai Gangaajal is just the hero with her balls in a place where they are not visible.
It's time for this important storyteller to explore the more sensitive side to his creative personality. Brutality is not always the right vehicle for social protest.
BOLLYWOOD NEWS
Catch us for latest Bollywood News, New Bollywood Movies update, Box office collection, New Movies Release , Bollywood News Hindi, Entertainment News, Bollywood News Today & upcoming movies 2020 and stay updated with latest hindi movies only on Bollywood Hungama.