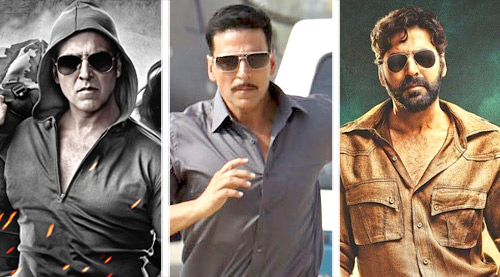 Forget for a moment the fact that small films like Tanu Weds Manu Returns or Grand Masti, or the dubbed Bahubali-The Beginning (minus top stars), or the films of GenY stars like Ek Villain, 2 States and ABCD 2 are touching or crossing Rs. 100 crores in lifetime nett business in India.

What we really wonder about is how and why Akshay Kumar's films do not reach that coveted mark! After Holiday in mid-2014 crossed that figure, we had the tepid It's Entertainment that stopped at around Rs. 70 crores and the actor's home production The Shaukeens that flopped.

Why do Akshay Kumar's films underperform?

2015 had a beginning that was promising in theory-the actioner Baby, a patriotic espionage drama directed by Neeraj Pandey, who had spun out two winners earlier, one of which, Special 26, had been a clean hit with Akshay himself.

Next up was the South remake Gabbar Is Back, a powerful social that hit hard at corruption. After this, came the gritty American film remake Brothers, complete with GenY actor Sidharth Malhotra also in the cast. Last, but not the least, was the whacky Singh Is Bliing, a film in the mould of Singh Is Kingg's genre of a mad, family comedy that accentuated the golden-heartedness of Sikhs. Each one of these films stopped between Rs. 75 to Rs. 90 crores!

Of course, terms and conditions apply when we say this. A Rs. 100 crore (or even a Rs. 150 crore-plus film) does not always mean a hit or even a success, and we have several examples of such cases that are irrelevant here. And yet, we must stress that the figure is still an index of the sheer theatrical volume of business done by a film, which in turn reflects on how many film buffs wanted to watch the film and did so.

Here, then, are some cogent reasons why, when the 100 crore club still remains relevant and a kind of yardstick at least for the layman who is getting more and more interested in figures, Akshay Kumar is fast becoming the Rs. 70 to Rs. 80 crore man.

1. Overexposure

"The days are gone when actors routinely did 6 to 12 films a year!" observes Amod Mehra, trade analyst. "Today, Akshay Kumar does three to four films a year, and that makes him lose his charm, for we know that he will come again in another movie within three months. There is no audience hunger for him anymore!"

Akshay Kumar compounds this with the fact that, somehow, he is still not in the extraordinary league of the three Khans. And but for a Salman Khan who has two big releases every year as a rule, the remaining two (Aamir Khan and Shah Rukh Khan) and even Hrithik Roshan come on the marquee a maximum once a year.

And in these days when stars interact with and are followed by fans and audiences on Twitter et al, are seen on television and at events and in newspapers all the while, such overexposure is even less desirable.
2. Lack of Premium Release Dates
Mehra feels that with the Khans annexing all the big dates-Idd, Diwali and Christmas, Akshay Kumar, like everyone else, has an unfair disadvantage. "These dates as well as the first week of June are the best. In comparison, Republic and Independence Day or 2nd October are like one-day T20's compared to five-day test matches. So to be frank, if an Akshay Kumar film releases on such dates, there is no reason that many will not reach the 100 crore mark."
Adds Mehra, "For Baby to make Rs. 82 crores with a January release, a dry genre and long length of 2 hours and 40 minutes and no songs, is mind-blowing, if you ask me!" Seconds fellow trade analyst Vinod Mirani, "Very few of Akshay's films actually lose money-this year, Brothers was an expensive film because of Karan Johar's association with it and might end up as a loser."
Mirani adds, "But Baby, despite its production and (P & A) Publicity & Advertising budget of Rs. 80 crores, was sold for Indian theatrical rights for about Rs 45 to Rs 50 crores, and could be considered on the plus side. Most of Akshay's films are sold between Rs 30 to Rs 50 crores, unlike the much more expensive films of the Khans. So the fact that his films do not cross the hundred-crore mark is not really important. And even average performers like Singh Is Bliing will ultimately break even, as they have a running star, which explains why we call them average."
3. The Price Factor
Mehra, however, does feel that Akshay Kumar overcharges for the kind of returns his films get. "In the last four years, Akshay has gone overboard and demands astronomical fees. Producers are willing to dole out what he wants as he is a dedicated actor and they know that their film will be completed and released fast. But if Akshay charges reasonably, most of his films will emerge as super-hits!"
4. The Heroine Factor
Barring a Kareena Kapoor Khan in a fleeting cameo as his wife in Gabbar Is Back, Akshay, off-late, has had no A-list actress as his co-star. And while Mehra dismisses this factor by stating that "Heroines do not matter at all!", an overall look at the big hits of even the top stars in the last five years proves that in the overwhelming majority of cases, the presence of a top female star did, despite what Mehra says, make a difference.
So, if Akshay is stuck on Madhurrima Tuli, Tamannaah Bhatia (in last year's It's Entertainment), Shruti Haasan, Jacqueline Fernandez and Amy Jackson, there is a bit of regress vis-a-vis the presence of a Kareena Kapoor, Sonakshi Sinha (who did both his solo 100-crore films Rowdy Rathore and Holiday), Priyanka Chopra, Akshay's past favourite Katrina Kaif or Deepika Padukone.
5. The Music Factor
Some stars in Hindi cinema have a music sense, most do not. This has been the case down ages, but the scenario is ambiguous in today's times when music preferences have become confused, and so have the music makers. And Akshay, just like the Khans and Hrithik Roshan, is known to get "involved" a lot in his songs, usually with a negative result.
Overdose of Punjabi and bhangra-pop, rap, crossover musicians, and musical gimmicks galore-all this has led to a lack of even a modicum of quality or lasting appeal in his songs, especially in the Akshay-centric movies like Gabbar Is Back and Singh Is Bliing. And the actor has only intensified his role in this department for the last six years or more and made it worse!
6. Lack Of Marketing After Release
Overtly or subtly, Akshay Kumar is said to not promote his film at all once it releases in the theatres. This robs the film of the push it needs in these days when the first three days are vital and the first week is important.
7. Film-Specific Factors
A lack of attention to obvious individual factors in specific films (unlike the acumen of the three Khans again and even in most cases of Ajay Devgn) is the final reason why Akshay Kumar's films rarely reach their own potential. This is an area that Akshay should ideally reflect upon while green-lighting a film.
As an industry observer shrewdly says, "Besides Prabhu Dheva's recent abysmal record, Singh Is Bliing did not promise anything fresh enough for me to want to watch it, especially at current ticket rates. We have had enough of such comedies, and of Akshay doing them. The same thing was there in Gabbar Is Back-that pronounced and dated South flavour that put me off. Brothers, for an emotional film, was too dark and dry, and Baby was overlong and had a hangover of the far-more entertaining Holiday. The basic point is that thanks to the money needed for watching a film, audiences are forced to become ruthless and pass a verdict on a film even before release nowadays. After that, even if the film has a decent word-of-mouth, they will stay away."
In short, then, Akshay Kumar needs to get his act into order quickly. For while every star has a flop phase, Akshay's films see him at a disadvantage even when they recover money or make a profit! And that's truly a crucial and critical reason for a career-rethink.
BOLLYWOOD NEWS - LIVE UPDATES
Catch us for latest Bollywood News, New Bollywood Movies update, Box office collection, New Movies Release , Bollywood News Hindi, Entertainment News, Bollywood Live News Today & upcoming movies 2022 and stay updated with latest hindi movies only on Bollywood Hungama.