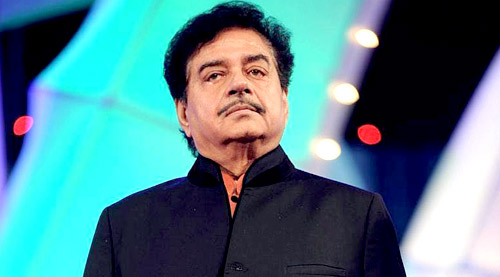 2015 has been a year of mixed blessings for Shatrughan Sinha. While his daughter Sonakshi continued to rock stardom the father was in
the news for the backlash he faced within his political party the BJP, for his rebellious stand on several issues. Unfazed the actor-politician
dares his parent party to dismiss him. More excitement comes from Shotgun Sinha with the publication of a tell-all biography due to be out next
week.


As the year draws to a close Shatrughan Sinha is thrilled with Prime Minister Narendra Modi's visit to Pakistan. He won't buckle under pressure to tow the
party-line and he will also back Kirti Azad, come what may. He explains to Subhash K Jha why.


As a champion of improved relations between India and Pakistan what do you feel about the PM's flash-visit to Lahore?

I am so happy. It's wonderful to see talks between the two countries resume again. Our honourable Prime Minister Sri Narendra Modi's unexpected visit to
Lahore to meet our friend the honourable prime minister of Pakistan Nawaz Sharif on the latter's birthday is a most
welcome.


You've always been a vocal supporter of better relations between the two countries?

We are neighbours! Why should we be enemies? In fact Nawaz Sharif has spoken very highly of me in my biography which releases next month.


What has Nawaz Sharif said?

He says even if there was one person like me in Pakistan all problems would have been sorted out between the two countries. So sweet and generous of him. I
remember once at a meeting in Pakistan Mani Shankar Iyer had said that talks between the two countries should be uninterrupted. I am happy to see our Prime
Minister resume talks with Pakistan. May this be a happy year for both countries…


Your biography by Bharti S Pradhan releases next week. What should readers expect?

Honest and transparent revelations on my humble achievements in politics and cinema and without any godfather in either field. The foreword is written by
Shashi Tharoor. L K Advani Saab will be releasing the book.


You continue to back Kirti Azad in spite of his expulsion from the BJP?

I've called him a hero, and I see no reason to withdraw my statement. From being a party that made a difference it seems we've become the party with
differences. My gut-feeling is that Kirti will manage to get out of this crisis. He is a sensible man. Ultimately the truth will prevail. The sooner it
happens the better. And the matter would be brought to a logical conclusion. If the decision of expulsion has been taken by the parliamentary board, and if
it has the blessings of the
senior most leaders of the party like Advaniji, Shantaramji and Murli Manohar Joshiji, then the decision has to be respected even if in our hearts it is not
accepted.


Do you feel Mr Arun Jaitley should resign?

With due respects to Mr Jaitley whom I've always held in the highest esteem, and so far his track-record has been impeccable, he needs to step down to
strengthen his clean image in the larger interest of the party and for the sake of his own future. I wish to see him come out clean. He has the example of L
K Advanji, the epitome of honest leadership, before him.


What is your stand on the protest by artistes who have returned their national awards?

There are many ways to protest against intolerance. Returning awards is no solution. When the Sikh riots took place in 1984 where were these protesters? So
many crisis have come and gone…where were these intellectuals and pseudo-intellectuals? Yeh kya tamasha hai?


Shah Rukh Khan and Aamir Khan were slammed for speaking against intolerance?

They should be forgiven. They are well-intended people. They are intelligent people, but when they try to comment on issues that they don't know about they
cut a sorry figure. But they are nice filmy people. They are artistes par excellence. And they should be asked mostly about cinema. Aamir Khan talking about
intolerance and breaking his fast with Anna Hazare in full public view are not my idea of a politically aware actor. As for energy-king Shah Rukh he says
anything and everything in a light vein. His words shouldn't be taken seriously.


How was the year for you?

This year has certainly been eventful for and some others of my party members. I hope the coming year would be fruitful for me. Stones have been hurled at
me. But these attacks have earned me the respect of the people. People like Abhigyan Prakash repeatedly want to know why I am not being expelled.


If your party is unhappy with you, why don't they expel you?

Only they can answer that. Maybe they feel if I go many from our party in Bihar would also go with me. Our troika in Bihar has done more damage to the party
than we could ever imagine. But we being the senior and mature members of the party must forgive them for they know not what they're doing.


Finally your thoughts on Bollywood?

It was a terrific year for my daughter Sonakshi and for the film industry. I just saw Sanjay Leela Bhansali's Bajirao Mastani and I am absolutely
bowled over.
BOLLYWOOD NEWS
Catch us for latest Bollywood News, New Bollywood Movies update, Box office collection, New Movies Release , Bollywood News Hindi, Entertainment News, Bollywood News Today & upcoming movies 2020 and stay updated with latest hindi movies only on Bollywood Hungama.