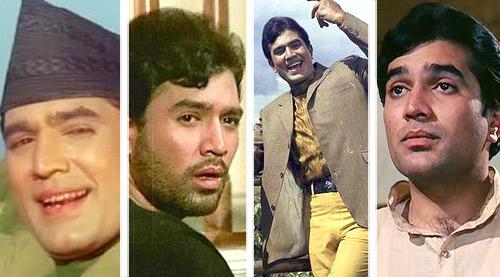 Indian cinema has known no bigger star than Rajesh Khanna. Between 1969 and 1974 he had to his credit a staggering 16 blockbusters, most of them record-breakers. Men women and kids alike were under the Khanna spell. And while the magic lasted all other actors were eclipsed. Then one day, it all evaporated. Just why Rajesh Khanna lost his superstardom is a subject for another day. Here we list the 10 most powerful films of the actor for whom the epithetic 'superstar' was coined.

1. Aradhana (1969): Here is where it all began. Though Khanna had earlier given measured muted sensitive performances in Chetan Anand's Aakhri Khat and Nasir Hussain's grim and most atypical film Baharon Ke Sapne, it was Aradhana where the actor was overnight turned into the most sensational matinee idol of all times. Yes, the songs helped. Kishore Kumar's voice in 'Mere Sapnon Ki Rani', 'Roop Tera Mastana' and 'Kora Kagaz Ttha Yeh Mann Mera' lent a lilting lure to the charismatic persona. And Khanna's coupling with Sharmila Tagore was to some, like me, the best star pair of Indian cinema. With Aradhana began Khanna's fabulously fruitful association with Kishore Kumar and director Shanti Samanta. The superstar was directed by Samanta in 8 films, most of them blockbusters.

2. Ittefaq (1969): It took a devilish amount of daring for the superstar to move away from his lately-acquired image of a romantic star to play a neurotic murder suspect on the run. The entire
experimental film directed by Yash Chopra unfolded during one stormy song less night. Incidentally Khanna sported a beard for this role which caused continuity problems with Raj Khosla's Do Raaste which he shot simultaneously. Though Do Raaste is one of Khanna's biggest hits the central role was performed by Balraj Sahni.

3. Kati Patang (1971): In most of his biggest hits Khanna played variations of Devdas the long-suffering tragic hero pining for a lost love, who dies at the end. No, he didn't die in this, his second hit collaboration with Shakti Samanta. But he played a lonely man who drowns his sorrow in alcohol. Never one to shy away from heroine-centric films, Khanna gladly and convincingly took second lead to Asha Parekh. But he had all the R D Burman-Kishore Kumar songs 'Yeh Jo Mohabbat Hai', 'Yeh Shaam Mastani' and 'Pyar Deewana Hota Hai'. What more
can a superstar want?

4. Anand (1971): Many, including your truly, consider Hrishikesh Mukherjee's Anand to be Khanna's most memorable film and character. The terminally ill ultra-gregarious Anand Sehgal's kinship with the sober and reticent Babu Moshai (Amitabh Bachchan) was modeled on
director Hrishikesh Mukherjee's friendship with Raj Kapoor. Anand's role was first offered to Raj Saab, then Kishore Kumar and Shashi Kapoor. In hindsight it's inconceivable to imagine anyone but Rajesh Khanna as Anand. No Kishore Kumar to aggrandize the romantic image here. But Mukesh sang 'Kahin Dur Jab Din Dhal Jaye' and 'Maine Tere Liye Hi Saat Rang Ke Sapne Chuney' to everlasting fame. Khanna collaborated with Hrishikesh Mukherjee in Bawarchi which was more of Anand served up on a platter (Khanna played a gregarious cook) and Namak Haraam where the Bachchan overshadowed Khanna.

5. Sachcha Jhutha (1970): In 1970 Rajesh Khanna had two blockbusters the suspense thriller The Train and Manmohan Desai's Sachcha Jhutha, and two highly acclaimed performances in Khamoshi and Safar, both directed by Asit Sen (not the comic actor of the 1950s but the acclaimed director). Khanna in Sachcha Jhutha was a rage singing 'Meri Pyari Beheniya Banegi Dulhaniya' to his screen sister Naaz. This was his third double role after Aradhana and the pre-stardom suspense film Raaz. Manmohan Desai and Rajesh Khanna collaborated again for Roti
in 1974 which was also a big hit.
6. Safar (1970): A masterpiece on the existential dilemma: how long does one live for life to acquire significance? Yet one more tragic role for Khanna where he dies at the end. This delicately drama was powered by his understated performance and complemented by Sharmila
Tagore's serene presence. And yes the Kishore Kumar songs 'Zindagi Ka Safar' and 'Jeevan Se Bhari Teri Aankhein' composed not by RD Burman but Kalyanji-Anandji.
7. Haathi Mere Saathi (1971): During 1971 Rajesh Khanna featured in a staggering 10 films! Haathi Mere Saathi was complete kitsch about a man's obsession with his pet elephant at the cost of his marriage. Perhaps the biggest of all the Khanna blockbusters this film endeared the superstar to kids and animal lovers. He teamed up with Tanuja again in Mere Jeevan Saathi with far less success, in spite of the chartbusters 'Oh Mere Dil Ke Chayan' and 'Chala Jaata Hoon Kiskiki Dhun Mein'.
8. Amar Prem (1972): My favourite film of all times. At the peak of his popularity Rajesh Khanna did this, the best film of his career about a lonely man in a sterile marriage and his platonic relationship with a nurturing prostitute. Khanna and Tagore were simply magic without one intimate moment as Man & Beloved. And the songs....oh my God, those immortal Kishore Kumar-R D Burman melodies 'Chingari Koi Bhadke', 'Yeh Kya Hua Kaise Hua', and 'Kuch Toh Log Kahenge'....Khanna's Anand Babu in Amar Prem hates tears. But we don't mind them flowing each time we view this imperishable classic. Khanna could balance out a classic Amar Prem and a corny Apna Desh during the same year. The audience loved everything he did.
9. Aavishkar (1974): Stripped of all the super starry mannerisms that turned India into a Khanna-obsessed nation, this Basu Bhattacharya-directed marital drama saw Khanna and Sharmila Tagore do a Richard Burton and Liz Taylor from Who's Afraid Of Virginia Woolf. The implosive anger was redemptive in its recriminations.
10. Aap Ki Kasam (1974): One of Rajesh Khanna's last blockbusters, it featured him with his other favourite co-star Mumtaz (apart from Sharmila Tagore), in a grey role as a suspicious husband whose jealousy ruins the marriage. In hindsight the Kishore Kumar song 'Zindagi Ke Safar Mein Guzar Jaate Hain Jo Muqaam Wohphir Nahin Aate' (in the journey of life the milestones that are crossed never come back) seems poet Anand Bakshi's anthem for Rajesh Khanna's career. If only he hadn't allowed the stunning success to go to his head.
BOLLYWOOD NEWS
Catch us for latest Bollywood News, New Bollywood Movies update, Box office collection, New Movies Release , Bollywood News Hindi, Entertainment News, Bollywood News Today & upcoming movies 2020 and stay updated with latest hindi movies only on Bollywood Hungama.