The web space has exploded in India big time. Yet, the number of subscribers is still miniscule as it's still expensive for people to subscribe to the various platforms. However, MX Player has proved to be an exception. It is free for all and hence, its content is widely consumed by many across the country. It released AASHRAM on August 28 and its performance surpassed expectations. It featured popular Bollywood actor Bobby Deol in the role of a godman. Reputed filmmaker Prakash Jha was the director of the ten-part series. The theme of the film, Bobby's presence and most importantly, the massy treatment of the show, helped the series garner nearly record streams, as per MX Player. It prompted them to advance the release of the sequel by almost six months. AASHRAM CHAPTER 2 - THE DARK SIDE releases today, around the festival of Diwali. Obviously, the hype is tremendous and moreover, it has a readymade audience base that has seen and enjoyed the first part. But the main questions remain. Does AASHRAM CHAPTER 2 - THE DARK SIDE manage to be as captivating as its predecessor? Or does it fail to impress? Let's analyse.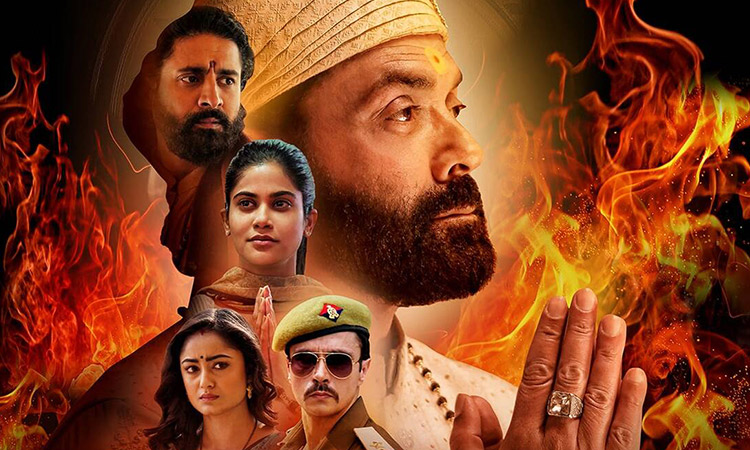 AASHRAM CHAPTER 2 - THE DARK SIDE is the story of how a corrupt godman attempts to violate his most loyal devotee, resulting in disastrous consequences. Babita (Tridha Choudhury) goes into trauma after being violated by Baba Nirala Kashipur Waale (Bobby Deol). Later on, she realizes that revolting against the situation will not help. Hence, she pretends to be enjoying Baba's 'blessings'. This doesn't go well with Sadhvi Mata (Parinitaa Seth). She tries to stop Babita from meeting the Baba but is rebuked. When Baba learns of Sadhvi's actions, he tells her to hand over the responsibility of doing the aarti to Babita. Meanwhile, Pammi (Aaditi Pohankar) is unaware and is still a loyal follower of Baba. During the selection wrestling match, Baba attends as a special guest. Pammi wins the match. Baba comes on stage to felicitate her and also plays a friendly wrestling match with her. Baba enjoys the physical proximity of Babita and decides to sleep with her. The same night, Sadhvi Mata feeds her spiked kheer, rendering her unconscious. Baba then rapes her and in the morning, tells his men to take her back to her room. Pammi wakes up with a lot of pain and bleeding. She realizes that she has been violated but is unable to understand who it could be. On the other hand, Ujagar Singh (Darshan Kumaar) and Sadhu Sharma (Vikram Kochhar) infiltrate into the Aashram's drug addiction centres by masquerading as drug addicts. They win the confidence of Malang (Midhat Khan), an old serviceman who feels he hasn't got his due in the Aashram. Through Malang, they find out that a person called Ishwarnath had an important part to play in the emergence of Baba Nirala. Ujagar and Sadhu, meanwhile, get help from Dr Natasha (Anupria Goenka) and she is also coordinating with Sohini (Kanupriya Gupta), who is hiding in Akki's (Rajeev Siddhartha) ancestral village. Sadly, Aashram's goons find out about her hideout. In Akki's absence, they enter the house and finish off Sohini. Akki's mother dies in shock. Akki is shattered and is determined for revenge. He, too, infiltrates the Aashram by masquerading as a Sardarji electrician named Tejinder. Lastly, Baba decides to host numerous music concerts of musician Tinka Singh (Adhyayan Suman) in all the districts of the state. He uses these concerts to promote both CM Sundar Lal (Anil Rastogi) and his rival Hukum Singh (Sachin Shroff) separately. It leaves the media, devotees and even Sundar Lal and Hukum bewildered and all begin to wonder who Baba actually supports. What happens next forms the rest of the web series.
Habib Faisal's story is decent. Kuldeep Ruhil's screenplay, however, fails to do justice, especially when compared to season 1. The previous instalment had well fleshed out characters and some excellent dramatic moments in abundance. In season 2, such moments are few and far between. Sanjay Masoom's dialogues are sharp and keep the interest going.
Prakash Jha's direction is alright. He's let down by a not-so-exciting script. However, with not much excitement happening, he should have ideally curtailed the length of the season and not dragged it till 9 episodes. And one of the biggest complaints with AASHRAM CHAPTER 2 - THE DARK SIDE is that some of the important characters of the series are barely utilized to the optimum. These characters had so much to do in the first season but in season 2, they have cameo-like appearances, shockingly. Viewers, who have been emotionally attached to these characters, would therefore feel shortchanged. Also, the cinematic liberties are aplenty. It is amusing to see how easily Ujagar and Sadhu pretend to be drug addicts and get enrolled for rehab in the Aashram. They, then, very easily even leave from the rehab centre. Pammi's escape too is hard to digest, especially when the whole premises is covered by CCTV cameras. Yet, she coolly enters the ICU of the Aashram hospital to meet her father and no one gets to know! Another problem with the series is that viewers might not be ready that there would be a third season as well. They must be eager to know how the unanswered questions raised in part 1 are answered. Sadly, most of these queries still remain unsolved till the very end and not just that, a few more questions, too, get added to the list! On the positive side, Prakash Jha handles some scenes with panache. The manner in which Pammi gets a shock after she gets raped and her transformation is well executed. The final episode is very engrossing.
The first season of AASHRAM ended on a high with the trailer promising that the next instalment will be even better. Sadly, AASHRAM CHAPTER 2 - THE DARK SIDE lacks the punch. The beginning portions are not that exciting. The length of the initial episodes is shorter and even then, the series seems longer. It's only when Baba gets attracted to Pammi is when the series actually arrests attention. But later, the scenes of Baba getting intimate with the unconscious Pammi get prolonged, making you question whether the idea here is to needlessly titillate the viewers. The scenes of Ujagar and Sadhu in the rehab are also fine but could have been more thrilling. Thankfully, the fight sequence in the secret room of the Aashram is exciting. From here on, the series gets a little better but again stagnates in the middle. The finale episode is nailbiting and the season ends on a shocking note. It has a cliffhanger culmination with the promise that the next season will be even better.
Speaking of performances, Bobby Deol yet again nails the part. There were apprehensions when the first season dropped whether he'll be able to be convincing as the conniving godman. In this season, he's free of that pressure and continues with his good work. Watch out for when he views Pammi with lust and yet keeping the serene smile intact. This season might prove disappointing but viewers are sure to lap up his performance. Chandan Roy Sanyal (Bhopa) too does a fine job yet again. It's interesting to see cracks developing between him and Baba and that can be a promising confrontation in Season 3. Aaditi Pohankar is first-rate. Her transformation is well executed and also performed. She dominates the finale of the show. Tridha Choudhury has a crucial part and as expected, is excellent. Darshan Kumaar and Vikram Kochhar are fine but their track is underwhelming. They were very entertaining in the previous season and here, their act barely manages to make an overall impression. Anupria Goenka has a fine screen presence but sadly, her role is very limited. Adhyayan Suman is royally wasted. His entry into the narrative was hilarious but in this season, he's just performing the same song again and again and has nothing else to do. Tushar Pandey too is barely there. Rajeev Siddhartha, however, is impressive and gets some important scenes to his credit. Anil Rastogi, Ajay Singh (Sumit Kaushik; CM's PA), Sachin Shroff and Tanmay Ranjan (Dilawar) are decent as the political figures trying their luck with the upcoming elections. Parinitaa Seth's role is well etched this time and is great. Anurita Jha (Kavita) hardly has dialogues but leaves a mark. Navdeep Tomar (Sunny) is okay and his attempt to repeat 'safalta ki kunji' in every sentence gets to your nerves after a point. Preeti Sood (Sanober) is lovely and mysterious. Her scene with the radio is sweet. Kanupriya Gupta is there just for a scene. Dimpy Mishra (Warden) is impressive. Same goes for Midhat Khan. Khan Jahangir Khan (Michael) and Mirza Ajhar Beg (Gaba; Aashram goon) suit their respective parts. Ishwarnath (Uday Veer Singh Yadav) is shown just for a scene but his character looks promising. Nawal Shukla (Gurusharan, Pammi's Father), Puneeta Awasthy (Navjot, Pammi's Mother), Karan Dhanda (Vikas Sharma; Ujagar's senior),
Akanksha Pandey (Renu; Pammi's wrestler rival) and Dr Sharan (Devi Shankar Mishra) are fine.
Sunny Inder's music works in the narrative. 'Baba Layenge Kranti' is played repeatedly and is catchy. 'Baba Garibon Waale' has the divine feel. Advait Nemlekar's background score is dramatic. Chandan Kowli's cinematography is neat. Udai Prakash Singh's production design is in sync with the requirements of the series. The same goes for Priyanka Mundada's costumes; Bobby's clothes especially are quite appealing. Vikram Dahiya's action is not gory and adds to the thrill. Unifi Media's VFX is passable. Santosh Mandal's editing is a bit reckless at places and otherwise, it could have been crisper.
On the whole, AASHRAM CHAPTER 2 - THE DARK SIDE doesn't live upto the first part. It is bogged down by cinematic liberties, unexciting script and several unanswered questions, many of which are from season 1, although the makers indicate that the mystery will be solved in the third instalment. Nevertheless, it can work big time with the audience thanks to the record breaking viewership of its predecessor.
Rating: 2.5 stars
BOLLYWOOD NEWS
Catch us for latest Bollywood News, New Bollywood Movies update, Box office collection, New Movies Release , Bollywood News Hindi, Entertainment News, Bollywood News Today & upcoming movies 2020 and stay updated with latest hindi movies only on Bollywood Hungama.